News, Local, Group News
This article relates to Classic.

News Under this tab you can read published global news.
Local Under this tab you can read published local news.
Group news Under this tab you can read published group news.
However, employees most easily have access to news on the News pod directly on Overview/login page.

Edit news
Under this tab you can create news and share company information with the employees at local, global and/or group level. In the left drop-down list you can select to preview all, local or group news. Add news by clicking on Add.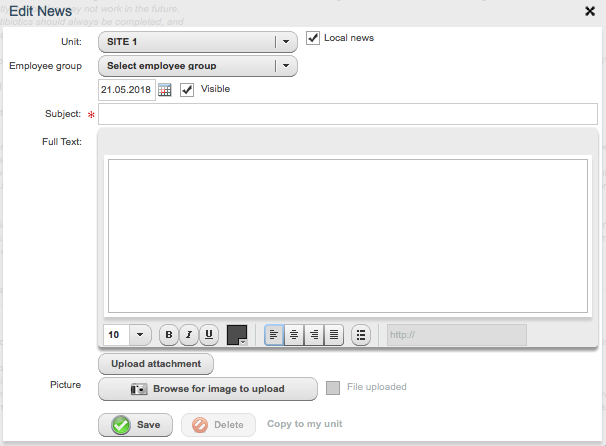 In this window you can create and edit news. To add an item of news, you first choose which store the news refers to in the dropdown list for Store. Also choose whether there is a local news item or check the box if it is to be a global news item that everyone in the company will be able to read. Select the date of the news and whether it will be visible or not.
If Quinyx Task is used a news item can be published for a specific submodule. which is selected in the dropdown list Submodules.
In the heading row a title is entered for the news. In the next box the news itself is entered. The tools available are adjustment of font size, bold, underline or italics as well as text color. It is also possible to set text adjustment and make bullet lists. To create an internet link, highlight the text that will form link and enter the link in the "http://"-field. To the news you can attach images and documents to increase clarity. Finally, save the news via the Save button, or cancel via check.
Global new can only be created at the main unit. Local news can be created at all units.
---
---