Qmail/email/SMS
This article relates to Classic.
Qmail is the Quinyx internal e-mail system for communication. A lot of Qmail is automatically created based on scheduling. For example, if the employee's schedule is changed or leave application approved he or she is automatically notified. An employee who uses the Quinyx app, can also receive a push notification on their mobile phone when a new Qmail has arrived.

The message in the inbox is by default shown in date order. You can see the sent message by clicking on Check sent Qmail. Create a new message by clicking the New message/mail/SMS button.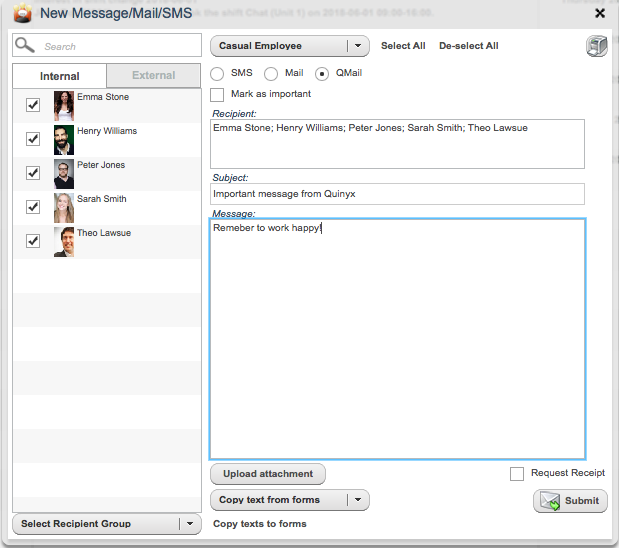 You can choose who will receive the message by checking the recipients name, filtering by staff category or selecting a recipient group - groups are created under the staff tab.
Qmail is a standard method of delivery. You can also select SMS or Email. If you select email you can click the External tab to manually add an email address, if required.
The message can be marked as important and is then displayed as pop-up in Web punch when the employee punches in and out.
Enter Subject and Message.
It is possible to attach files, or use a pre-defined form. You can also save the text you have written for a form if this is a message that will be reused.
You can choose to be notified when your colleagues have read the message by checking Request Receipt.
Click Send.
---
---