Administrators
This article relates to Classic.
Under the Time tab and the Administrators menu you can create payroll administrator groups. Payroll administrators have the right to make final approvals before payroll runs. This may be for example be a manager who will approve specific section managers. Payroll administrator groups are created as regular employee groups, except that you can also choose who will be payroll administrator for the group.
Administrator groups can be changed via Quinyx web service. Check "Changeable via API" to allow it.
Select Add New to create.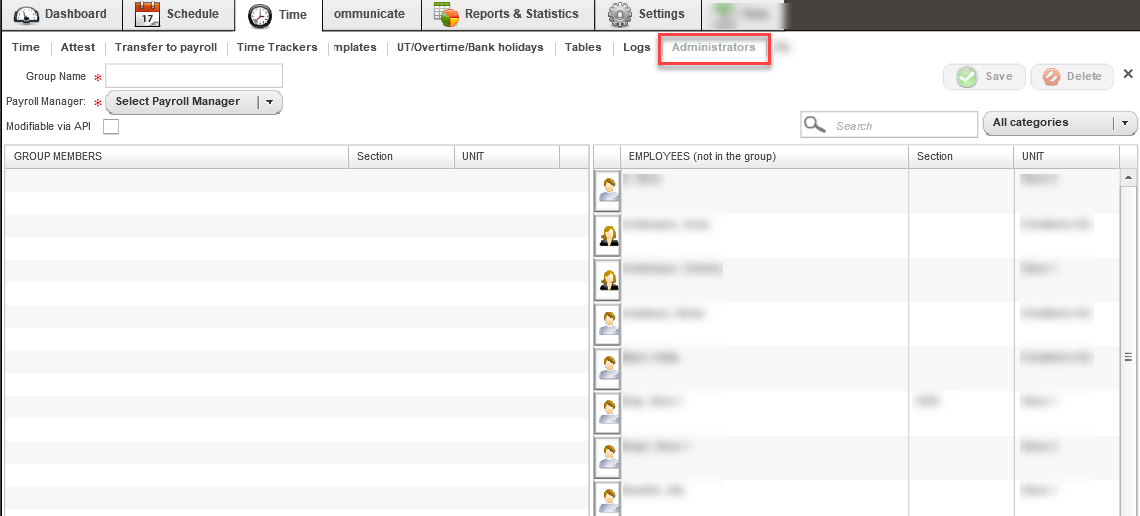 The page has two columns, group members are shown on the left and employees who are not included in the group on the right.
Start by naming the group in the field "Group name".
Members are added in the group by double-clicking on staff in the "Employees" field or use drag & drop.
If you undo a selection members can be deleted using the x to the right of each name.
You can select to search for staff via the search field, or filter by staff category via the dropdown list.
In the drop-down list "Payroll administrator" you can select the person who will attest times for the group.
Click Save when you have finished. You can also select to delete a group by clicking on Delete.
---
---