Mobile - Time reporting/approving
Punching in and out
If you have the option at your company, it is possible to punch in and out via mobile. Some companies have chosen to have another solution such as via a till in the store.
Set Allow Location Access to Always in the Quinyx app settings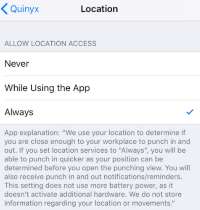 Select the Time tab. 

Select Punch In at the bottom of the page. 

Note that in order for this to function, you need to have GPS activated on your phone and your Manager must have activated the right settings. Often, you cannot punch in before you are geographically close to your workplace. If the button is grey and you cannot click on it, double check your GPS settings and contact your manager.
When you then go to punch out, go to the Time tab again, and select Punch Out 
Approving 
You can approve and view your previous times in the mobile app or Employee portal.
Select the Time tab 

Select Attest. 

Previous punching in/out is shown weekly. Scroll to view other periods. You can also approve a period. To approve a punch in/out, select the circle for Employee so that it turns green and ticked. 
Time in lieu, holiday balance and accumulated salary types
Select the Time tab
Click the icon showing $ with a ring.   

Here there are 2 menu choices - Time Trackers and Salary Types 
Time Trackers
Here you can view your current Time Trackers if they are saved in Quinyx. Examples could be remaining holiday allowance, flexitime or time in lieu.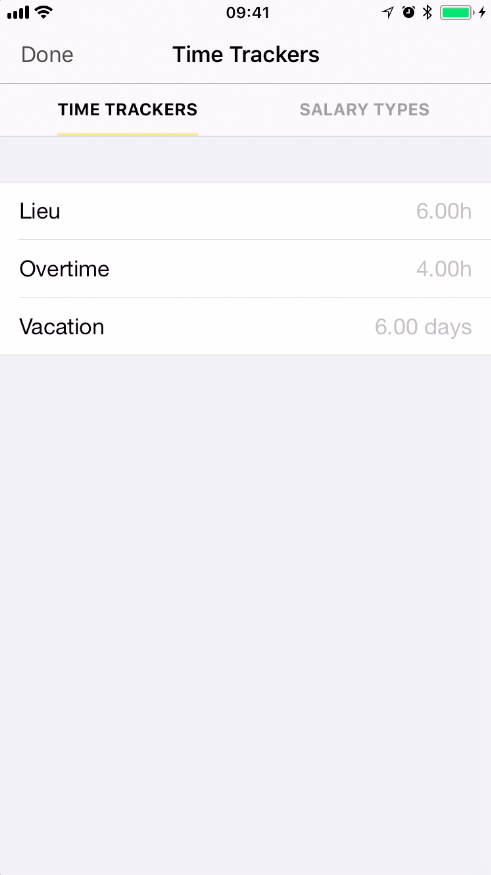 Salary types
Under the Salary Types menu, you can view which salary types have accumulated for a particular period. For example, you can check how many UT hours you have worked. Click on the arrow to the left to see previous periods, or on the calendar icon on the right to go back to the current period.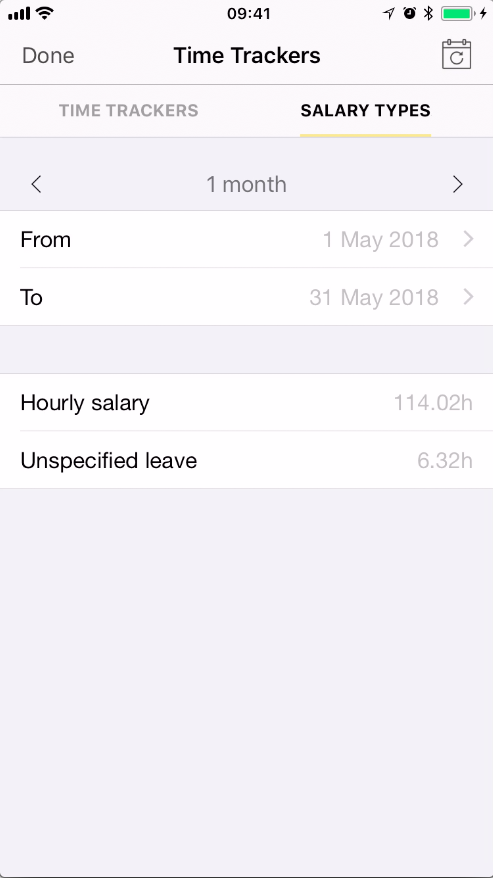 Estimated salary
Under the "Estimated salary" menu you view your estimated salary for a longer period of time in the mobile apps. The maximum amount of days you can view is a full month. This function is available in the tab "salary types" in the attest view.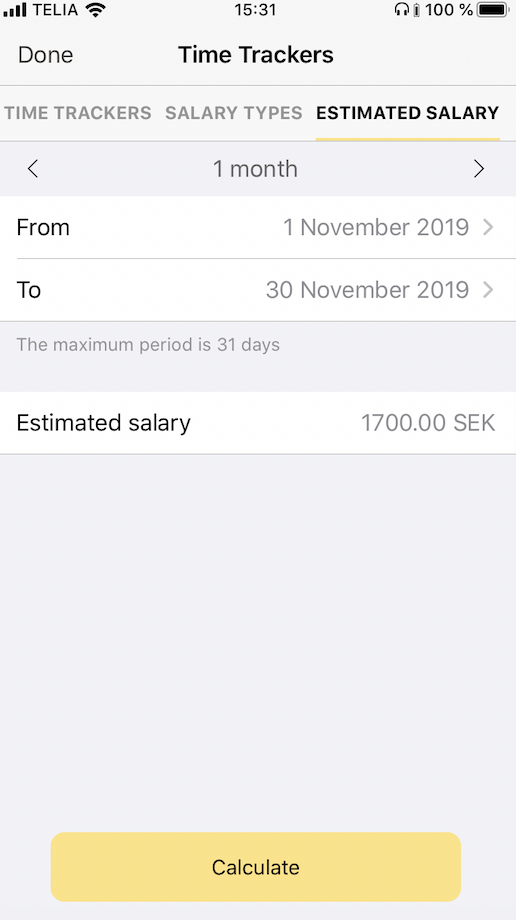 Be able to see, add and edit generated salaries per day in the mobile attest view
It is possible to click on a day in the attest view to get into a separate view where you can see the salary type fallout for that day. You can jump between different days in this view but you will only see the salary type fallout for the specific day.
In addition to this it is also possible to add and edit a manual salary type transaction for a specific day. The manual salary transactions are indicated in a specific way compared to regular salary type fallout so that you know which ones are editable. When adding a new manual salary transaction you are able to set the following options:
Which punch it belongs to
Choose which salary type (from all available salary types)
Quantity (hours, minutes)
This functionality is ruled by access rights and is turned off by default.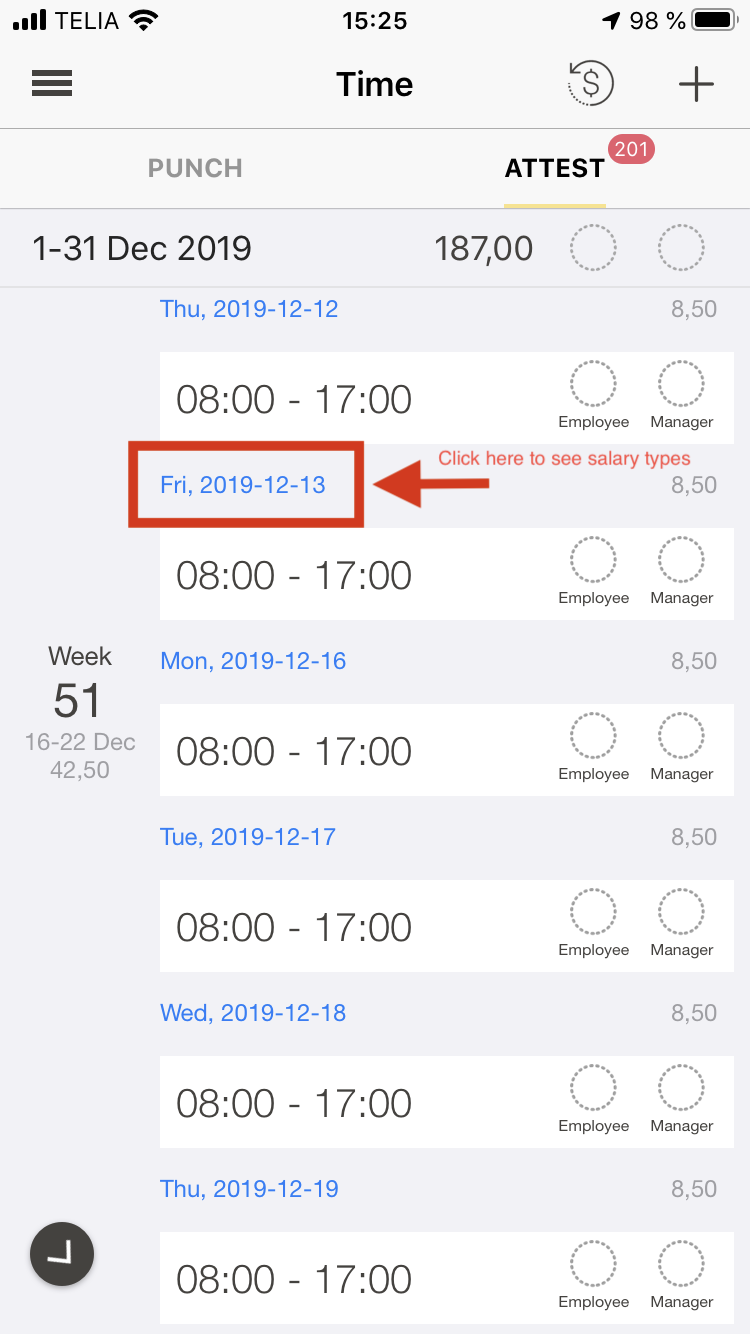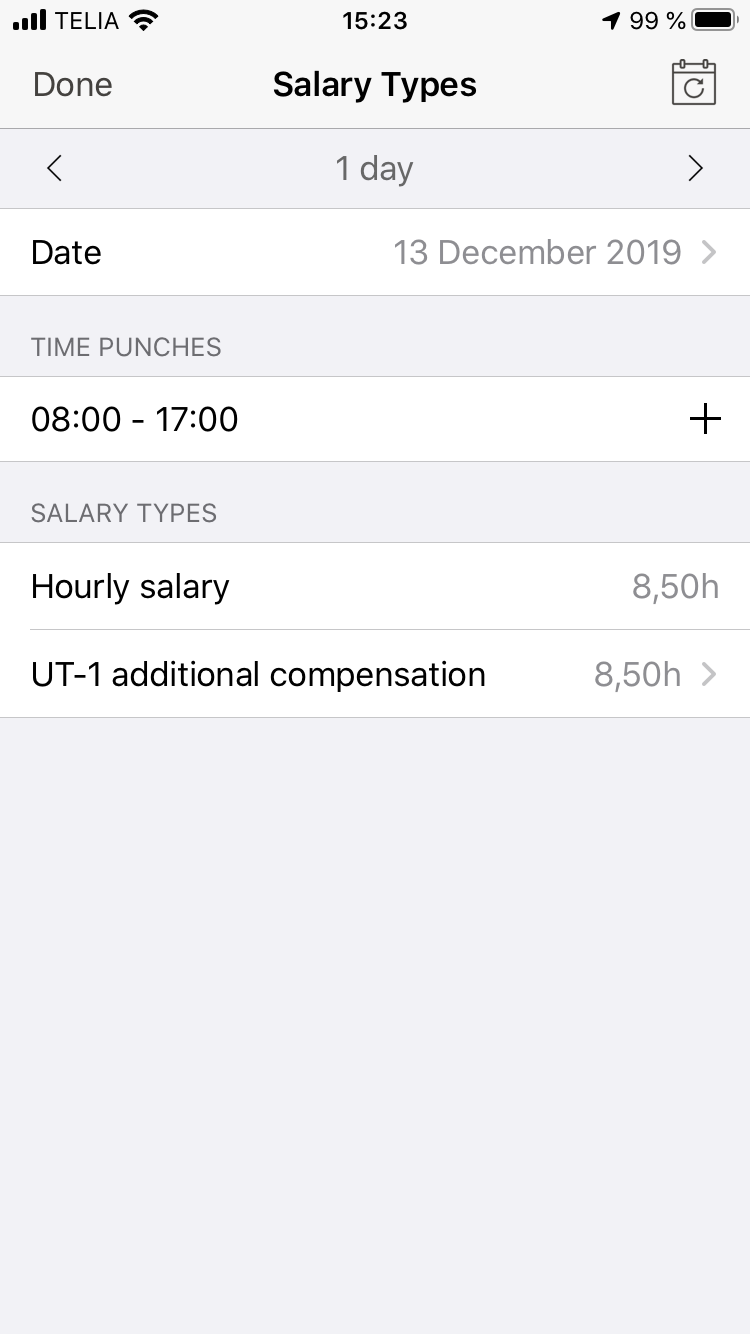 ---
---