Employees Can Not See Their Schedule
This article relates to Classic.
Publish main schedule
The most common cause for why your employees are unable to see their schedule is that the schedule has not yet been published. To publish a schedule, follow the steps below!
Login as a local manager or manager in the Admin Portal, then go to Schedule. In the first view, Schedule, look at the bottom right-hand side of the page and you will see a date picker, select the date until which your employees should be able to see their schedules and click the "Publish" button
Publish schedule by section
A less common reason you employees cannot see their schedule is because you have set a separate publish-date on one or more sections.
The publish by section function can be found in Settings, Sections. Now open the section and select a new publish date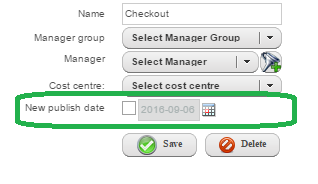 ---
---