Self Scheduling
This article relates to Classic.
To allow greater flexibility and maximize the staff's availability, managers can allow their employees to schedule themselves in an unpublished schedule period.
Note that the function is disabled by default but can be activated under settings → Access rights.


Self-scheduling is activated in the admin portal under Schedule → Schedule via the icon at the top on the right. A dialogue box is then shown below. If the function is activated this is marked with green icon instead of read.
Active indicates whether self-scheduling is active for the employees
Open from and Open to indicates during which period the employees will have the possibility to self-schedule and the unpublished schedule is "open".
Self-scheduling to date indicates the self-scheduling period which is referred to. Self-scheduling can only be done in an unpublished period, which means the day after the last publication date up to and including the selected date.
Click Save.
Staff portal
In the staff portal under the MyWorkmates tab and the Scheduled staff menu, the employee has the possibility to assign open shifts to themselves and unassign shifts that they themselves have assigned themselves.
Select Scheduled staff under MyWorkmates
Select Open shifts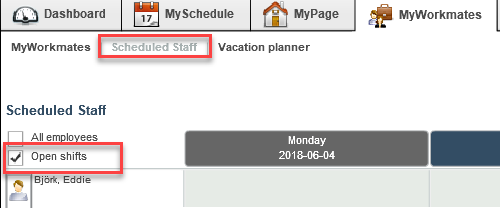 The employee can themselves assign desired shifts in the period by double-clicking on them. It is also possible to undo by double-clicking on the shift again which has then been moved to the employee's row.
Open and self-assigned shifts are shown with a small icon on the right.
The open period is displayed under the schedule.
When the schedule is later published, the employee is only assigned requested shifts, if the manager has not made any changes.
Request a shift from another employee
In the employees portal → MySchedule employees can submit the shift request to employees who have not marked their shift as made available. This option is available during the self-scheduling period specified under MyWorkmates → Scheduled staff.
Activation
This function is set as "Not visible" by default and is activated under Settings → Rights → Employees portal → MySchedule → Request to take the shift.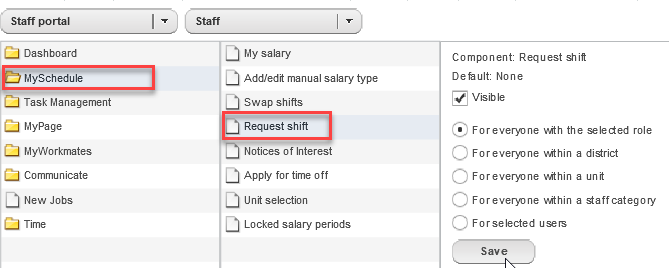 To make a shift request
The employee can choose to book shifts in the same way as if the shift had been unmanned by clicking on it under scheduled staff. 

To remove a shift request, double-click the shift and answer the question concerning the shift request.
Shifts that the employee has submitted a request for are marked with an orange flag.

Reply to the shift request
For the employee who receives a shift request there is a pod in the overview with Shift to approve where the employee can select to approve or reject the request.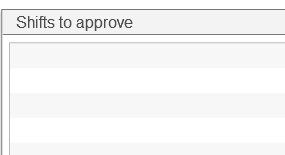 Note: For each shift request a check is made concerning nominal hours, skills, etc. If the selection Auto-approve is selected under Unit settings → Functionality, a change where the requirement is fulfilled will be implemented without manager's approval.

---
---