Password Management
This article relates to Classic.
Create password
You can generate new passwords for a large group of employees when you initially roll out Quinyx, for example.
After the employee cards have been entered in Quinyx. Distribute passwords under the Employees menu.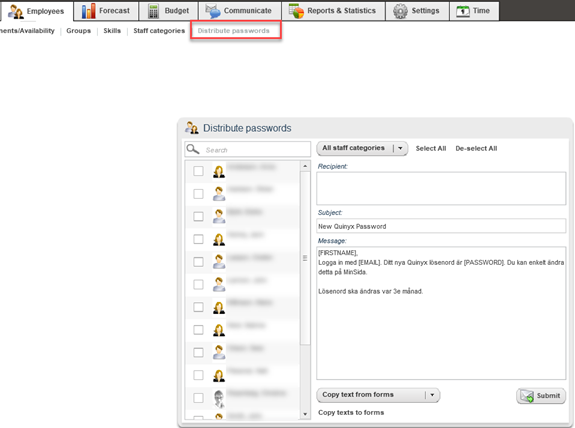 Select specific employees or filter on a specific staff category.
Click the Submit button.
A message containing a new, temporary password will be sent to the email address specified in the employee card, or as a text message, depending on the selected settings.
Reset password
You can reset an employee's password in several different ways
Option 1
Open the employee card under Employees and enter a new password that is at least 6 characters long. Then click the Save button. Inform the employee of what password you have entered. When they use the new password for the first time, Quinyx will require that they change it to something that they choose themselves.


Option 2
Open the employee card under Employees and select Submit password. This generates an email or a text message with a temporary password. When the employees uses the temporary password, Quinyx will require that it is changed to something elected chosen by the employee.        
---
---