Staff Portal
Dashboard        
This article relates to Classic.
On the dashboard/landing page you can see a number of pods. You can also click on different tabs.
The New QMails pod shows your inbox. Click on a message to read it and to reply.
Shift to Approve is used if your organisation permits employees to apply for shifts from each other. If this is the case, you will see shifts that your colleagues want to request from you, and this is where you have the option to approve or reject their requests.
Under News you can see any news that your company has chosen to share.
MySchedule shows an overview of your upcoming shifts, whether there are free shifts available to request and which colleagues are working today.
The Control Points pod shows your allocated tasks for the day, if the Tasks module is used.

MySchedule
Under the MySchedule tab, you can see your schedule. Here you can also send notices of interest, swap shifts and apply for time off.


MyPage
MyPage contains information about you. Depending on your level of access, you can upload a picture and update fields. You can also view previous applications for time off and subscribe to your schedule to an external calendar in ical format.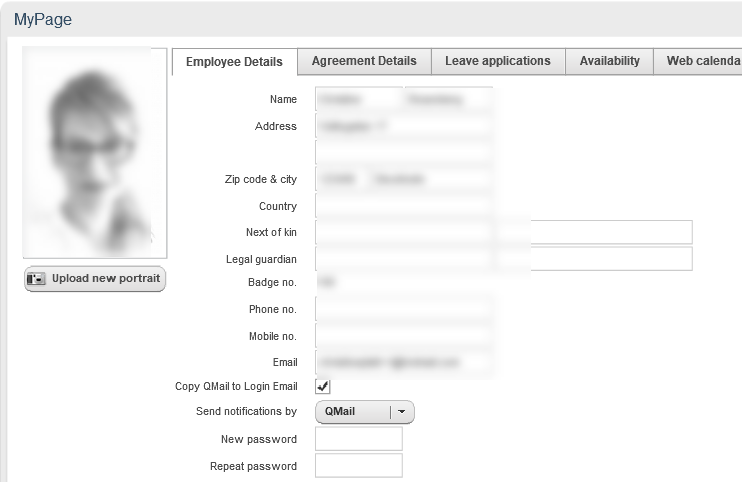 MyWorkmates
Under MyWorkmates, you can search for and find contact details for your colleagues. You can see an overview of the schedule under Scheduled Staff, see and add time off under the Absence Planner.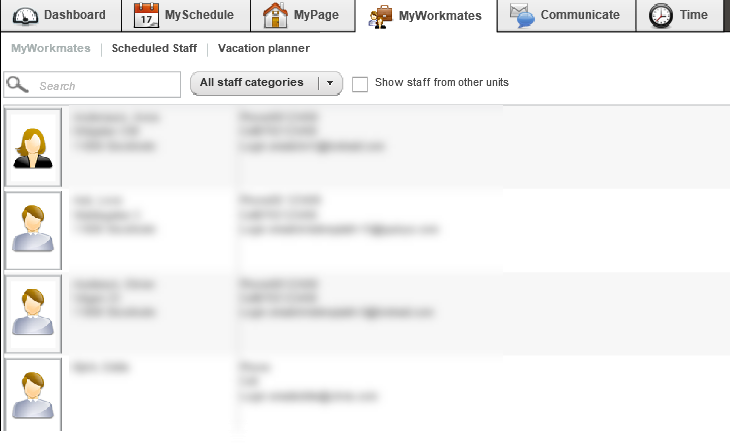 Communicate
The Communicate tab compiles all your messages, news, documents and other information.


Time
In Time, you attest (approve) your hours worked.

You can punch in via your mobile device, via Web punch and/or the Staff Portal, depending on your company setup. Some companies choose to use a different solution, such as punching in via a till in the store. Clarify this with your line manager.
---
---