Quinyx features overview
With Quinyx WFM you are able to tailor the functionality based on the needs of your organization and employees. Whether it's scheduling, getting data-driven insights, or simply engaging with your workforce.
Contact your Quinyx representative or the
Customer Support team
for more information about our features and pricing.
Features
Quickly create fair and reliable schedules to match your business practices. Reduce risk and schedule from the big picture to individual employees, happier customers, happier business.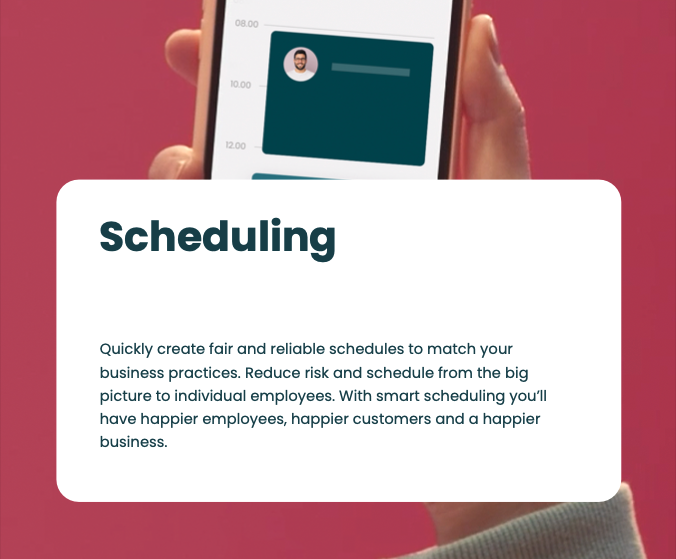 Staff portal
Quick overview of all employees' schedules and contact information
Quick access to absence requests and Qmail
Scheduling
Book, view, edit and manage schedules for your employees from a mobile device
Schedule faster by reusing your schedule templates
Get a warning when you schedule employees that may not be available according to contract or available hours
Easily create yearly schedules for all employees
Fill shifts based on employees' skills
Set the schedule for your entire organization or individual departments with a simple click
Get complete control over your employees' exact working hours with detailed schedules
Enable employees to swap and trade shifts
Remind employees to set their availability and lock availability setting periods to start scheduling
Task scheduling
Easily plan recurring tasks for your whole organization
Improve efficiency by creating workflows for your employees
Enable managers to track important daily tasks being completed
Absence management
Manage absence reports and absence requests
Automatically calculate absence rates and balances with Time Trackers
Configure business-specific rules for paid and unpaid absences
Experience fully integrated time reporting and time approval, allowing you to plan better and receive a flawless payroll. Your employees can even punch in and out directly using their mobile phone.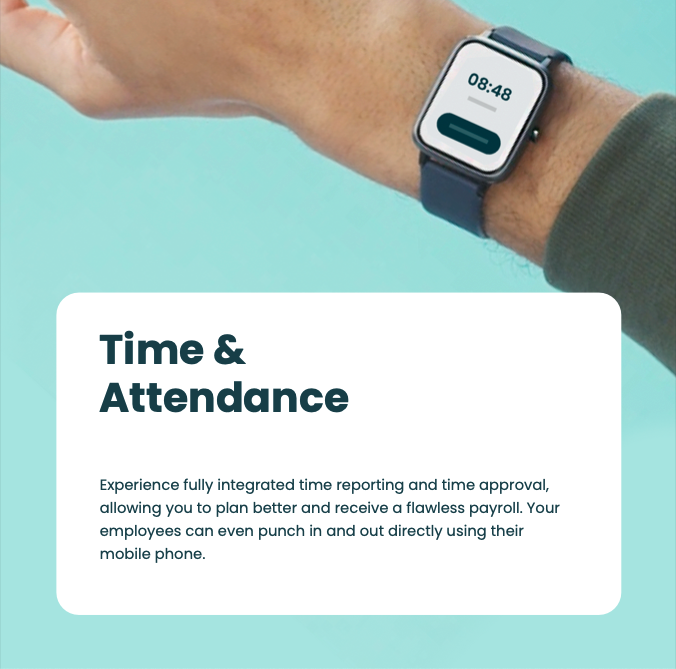 Time sheet
Quick overview of all employees' worked hours
Set up time reporting routines and settings to perfectly suit your organization
Approval of time - both for employees and managers
Real-time cost follow-up of actual staff cost
Advanced salary type calculation, including support for calculating overtime/additional time, UT, bank holiday compensation, manual compensation
Support for multiple time reporting alternatives
Compliance
Automatic compliance checks against company agreements, collective agreements and legislation
WebPunch
Web/tablet based time clocking terminal
Capture reasons for late/early starters in real-time
Important Qmail messages appear when clocking in
Geo location punching
Use Quinyx Mobile app to prevent employees punching in from outside the business location
Prevent buddy punching
Payroll export
Seamless payroll system support ensuring easily generated and accurate payroll files
Generation of payroll files to a large number of payroll systems, with more being added regularly
Accurate and effective forecasting can mean the difference between turning a profit and making a loss. With AI-powered Demand Forecasting in Quinyx, you can create the most accurate future outlook yet. The perfect base to staff against and create schedules that follow.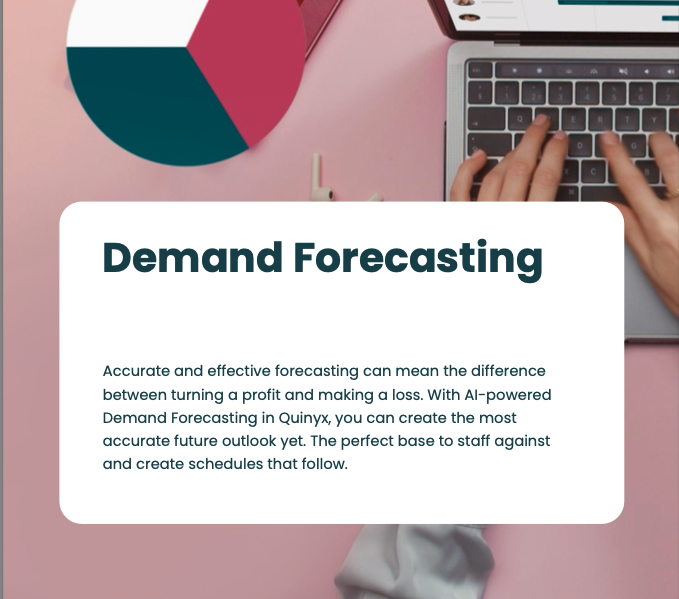 Hyper local forecasting
Capture forecasts for different demand drivers like transactions, footfall, and revenue per location and department
Identify peak and dull periods on 15 minute, day, and week level
Industry-leading accuracy
Powered with more than 39 forecasting methods
Automatically pick the best forecasting method to get the best results
Event tracking
Log the impact of any event, holiday promotion to improve future forecasts
Automatically detect demand outliers and log causes
Labor standards
Find the optimal labor hours to staff against demand
Calculate the required headcount based on your labor standards
Unintentional over and understaffing are officially a thing of the past. With Labor Optimization in Quinyx, you only have to choose your business objectives, our technology does the rest. Make the automated schedules in minutes and minimize manual changes mid-operations.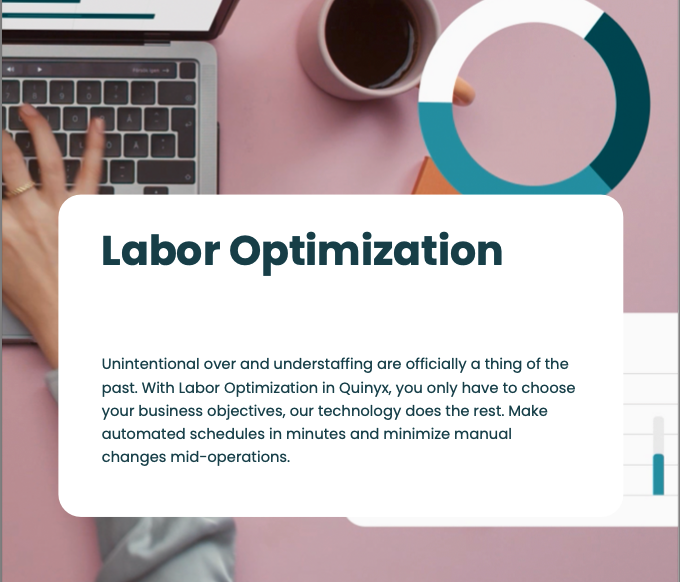 Auto schedule
Automatically create shifts that cover demand based on your strategic goals, labor laws ,and business specific scheduling rules
Instantly build shifts for every department, role and skill set
Measure the impact of adding or removing a shift/overtime on costs and service levels
Auto assign
Automatically assign your employees to shifts based on scheduling rules, contracts, skills and availability
Adhere to as many employee preferences as possible to cater to your employees' needs
Get notifications when soft role violations occur
Review your costs and service levels
Compliance checking
Global compliance templates available
Labor laws automatically applied to each location
Notifications on violating labor laws
Break scheduling
Automatically schedule breaks based on your preference and labor rules
Optimize breaks to fit with demand and required headcount to avoid lost sales or compromised customer service
Optimal break distribution over the day to minimize labor costs
Remove gut feel and make calculated decisions for multiple long-term strategies. With Quinyx's Strategic Planning you know exactly which future staffing issues will arise. Our technology does the heavy number crunching and will give you the total labor costs per region and location.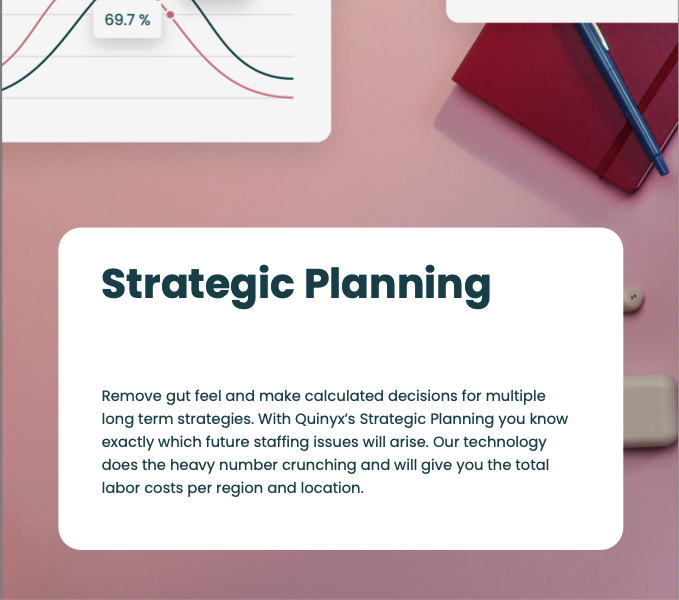 Labor budgeting
Know your current workload volumes and spending
Calculate labor budgets per region and location by automating the process
Get insights on the costs of hiring retraining and letting go of employees
Recruitment recommendations
Automatically detect gaps between your current employee pool and future staffing requirements
Get recommendations to hire, cross-train, outsource or reallocate resources across your business
Optimize your employee pool based on your optimal full-time to part-time employee ratio
Scenario planning
Compute, calculate and visualize multiple what-if scenarios
Get insights on the impact on future staffing levels per scenario
Get a 360 view on your workforce and business. This is your workforce like you've never seen it before. Empower your managers with the metrics that matter and make data-driven decisions to increase productivity, reduce employee absence, and control costs all with a few clicks.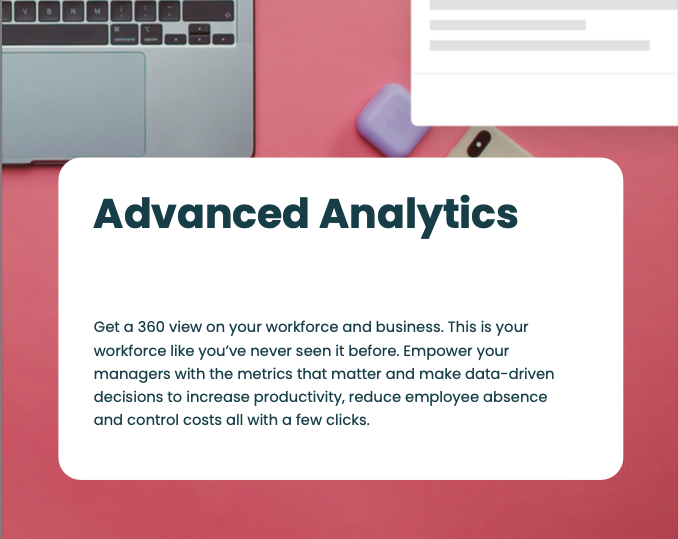 Platform
Gain deep insights into your workforce needs and pain points
Easily visualize, compare and analyze workforce data and filter between districts, units, and locations
Save time creating reports and easily share across the business
Have the most up-to-date pre-integrated data and everything in one place
Optimization
Identify opportunities to optimize your workforce and business based on the following metrics:

Scheduled vs worked hours
Absence hours
Overtime and unsocial time hours
Shift type hours
Labor costs
Compliance
Get a list of scheduling compliance violations checked post-scheduling on the following levels:

Predefined labor laws
Company rules
Employee preferences
Recognize, reward, and engage your staff. With a mix of full-time, part-time, and extra staff it is often difficult to engage your full workforce the way you want to. Quinyx offers industry-leading tools to help drive engagement among your employees, from real-time communications to company-wide surveys and recognition.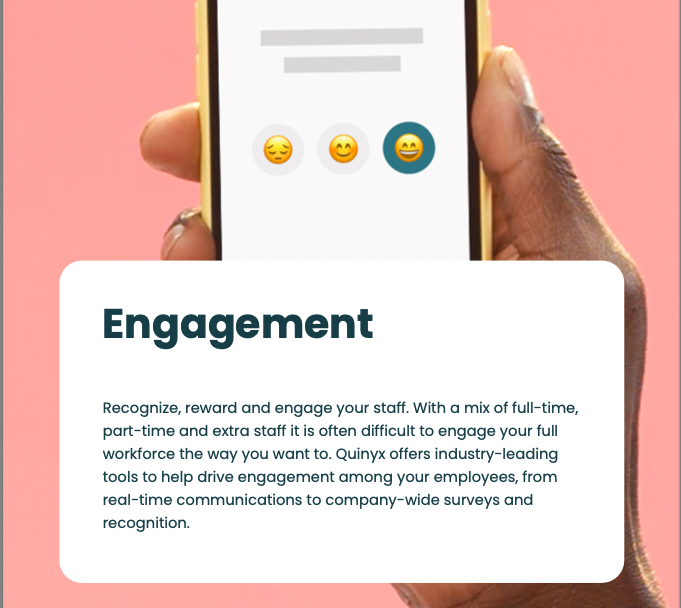 Mobile
Simplified communication between staff and managers
Communicate with colleagues via MyWorkmates
Easily send messages to your employees via sms, email or Qmail
Employee recognition
Use our badges system to allow employees and managers to instantly reward each other and promote their good behavior
Share and acknowledge the high performers in your company
See which badges have been received by whom and why
Comment and give feedback to encourage a positive company culture
Employee survey/Pulse
Quickly send surveys to your workforce
Receive feedback in the app from your workforce about their well-being and monitor improvement plans
Quickly gain insights with our 1-5 rating scale or smiley grading surveys
Increase employee engagement, satisfaction, and productivity by engaging with the workforce
Decrease employee turnover and recruitment and onboarding costs by listening to challenges and taking action
Qmail/News
Share and read news in the app to interact with your workforce
Write and read Qmails
Curious about what features and functionality is coming to Quinyx WFM in the future? Have a look at our
Product Roadmap
!
---
---