Task
This article relates to Classic.
Overview
Quinyx Task Management is a fully integrated task management module that also supports HACCP (the European Union's guidelines for food safety in food and restaurant). This module lets you create and manage version-controlled documentation directly in the system. Documentation, checklists and tasks can be distributed from central management to individual units. Central management can define the workflows for different sections/departments and local managers can then choose which of these flows apply for his or her unit. Along these choices, relevant process and routine documentation and tasks are automatically generated. Quinyx Task management includes custom hazard analyses on unit level and tasks can be delegated to employees. These tasks can be scheduled which creates deviations if they are not executed in time, which can be monitored by local managers.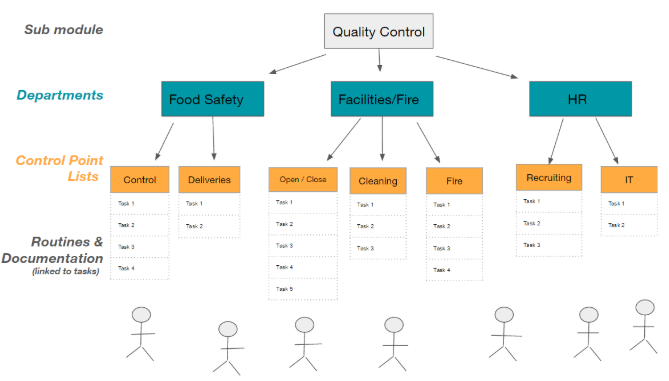 Submodule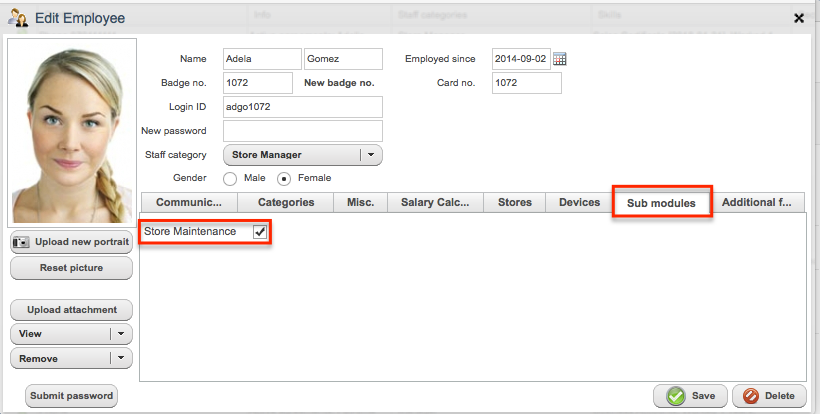 Submodules are created centrally and then need to be activated by each unit and also by the staff who will have access.
Generally, one submodule is sufficient, such as Store Maintenance, which is then broken down into different business areas. In some cases, it may be useful to have more, if it is entirely different areas of responsibility, documents and control points.
Predefined values
The manager registers the predefined values to be used in the module.

It is important to select the correct submodule
Click on the Predefined values menu on the right
Products: state the products that are current for use in the module. (e.g. fruit, meat, dairy)
Process step: state the process steps to be used. (e.g. delivery, packing, hot, cold)
Health risks: state any health risks that can be used in hazard analyses. (e.g. bacteria, dirt, contamination)
Product hazards: state the product hazards that can be applied to individual products. (e.g. salmonella, e coli)
CP categories: group control points/details.
Business areas and flows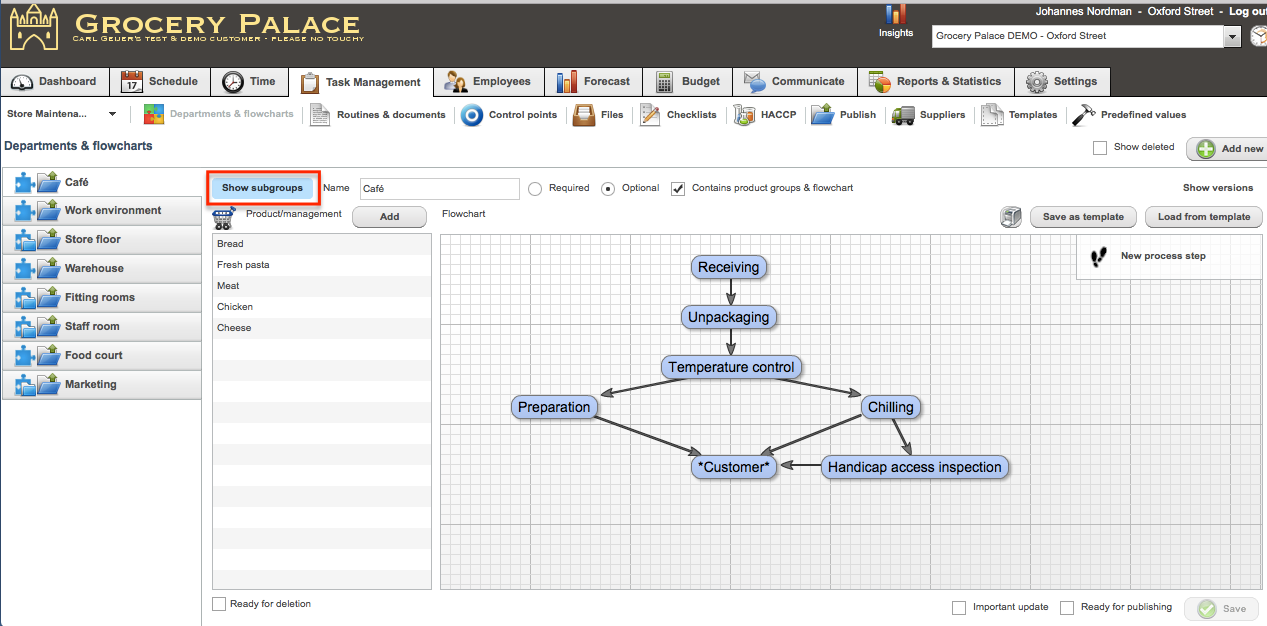 Workflows are defined centrally for different business areas/departments.
Local managers then select which departments are to be used in the unit. Basic range (obligatory) and Options (selectable).
The process steps are optional, but allow you to save documents and routines to specific steps.
At least one subgroup is needed to link documents and routines. Click Show Subgroups and then Add in order to add subgroups.
Tick "Ready for publishing" for publishing and Save for local managers to have access.
Routines and documents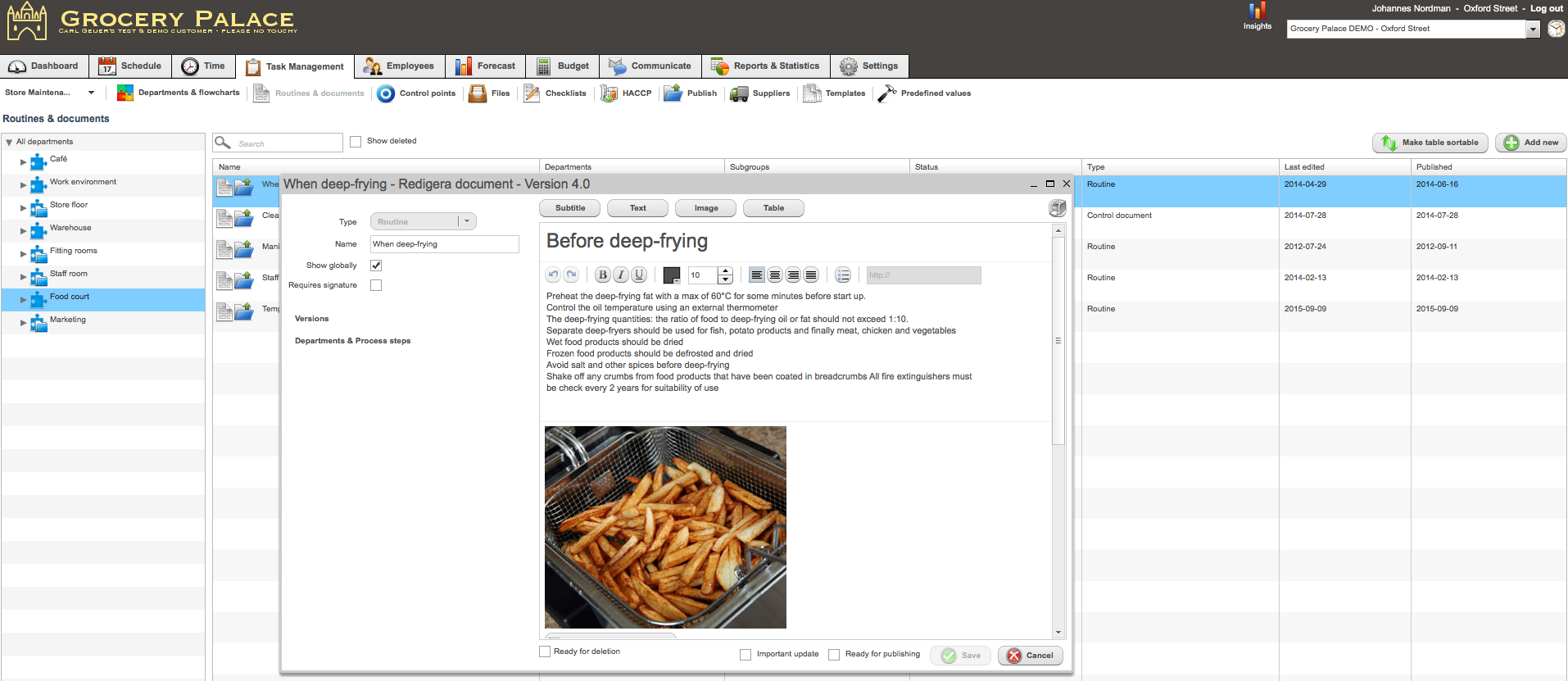 Click Add to create a new document.
A document is linked to a business area and a subgroup must be selected.
If the workflow and process steps are defined, the document can be linked to a specific step.
Suppliers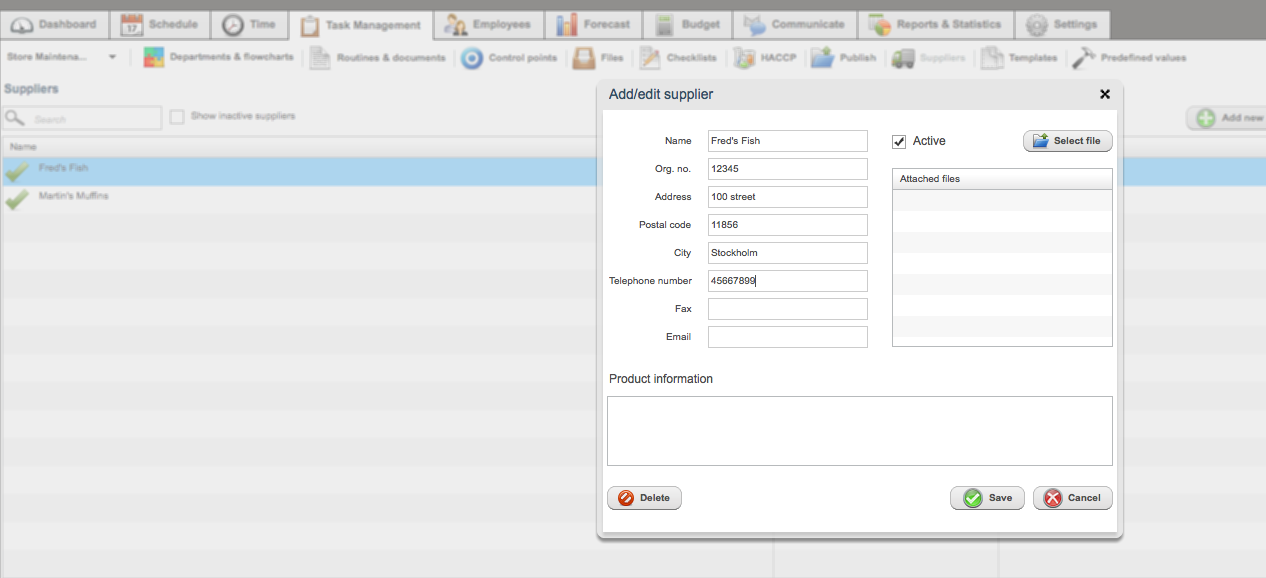 This is where suppliers are managed.
Insert contact info, attach files and information of products from the supplier.
Click Save to save the information.
Control points (details)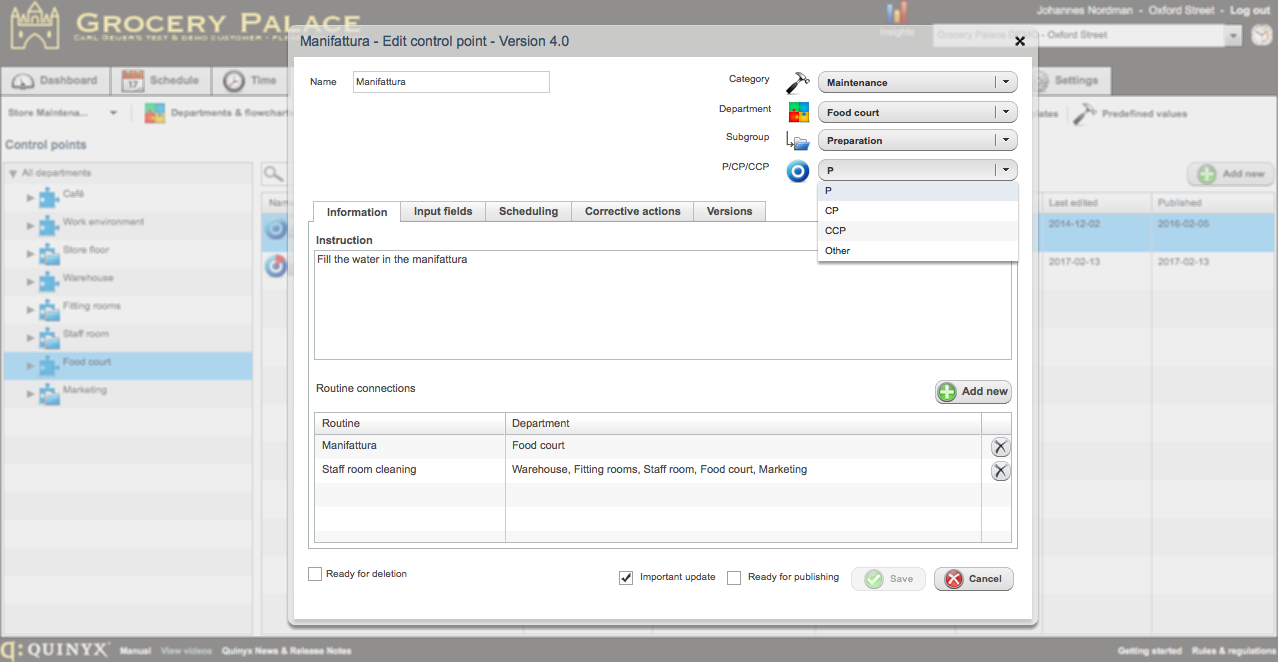 Control points are used to delegate tasks to employees.
Tasks can be scheduled, and deviations can be created if they are not completed in time.
A central manager can only create tasks. A local manager must then delegate the tasks via control point lists.
Click Add to create a new task.
Control points (tasks) are linked to a business area and subgroup.
Select how critical the task is. EC-essential condition, CP-control point, CCP - critical control point, or other.
Information and routine documents can be linked.
Input fields define what the user must respond when they carry out the task.
The task can be scheduled, such as daily, selected weekdays or months, or as needed, and which action is to be taken in the event of deviation.
Publish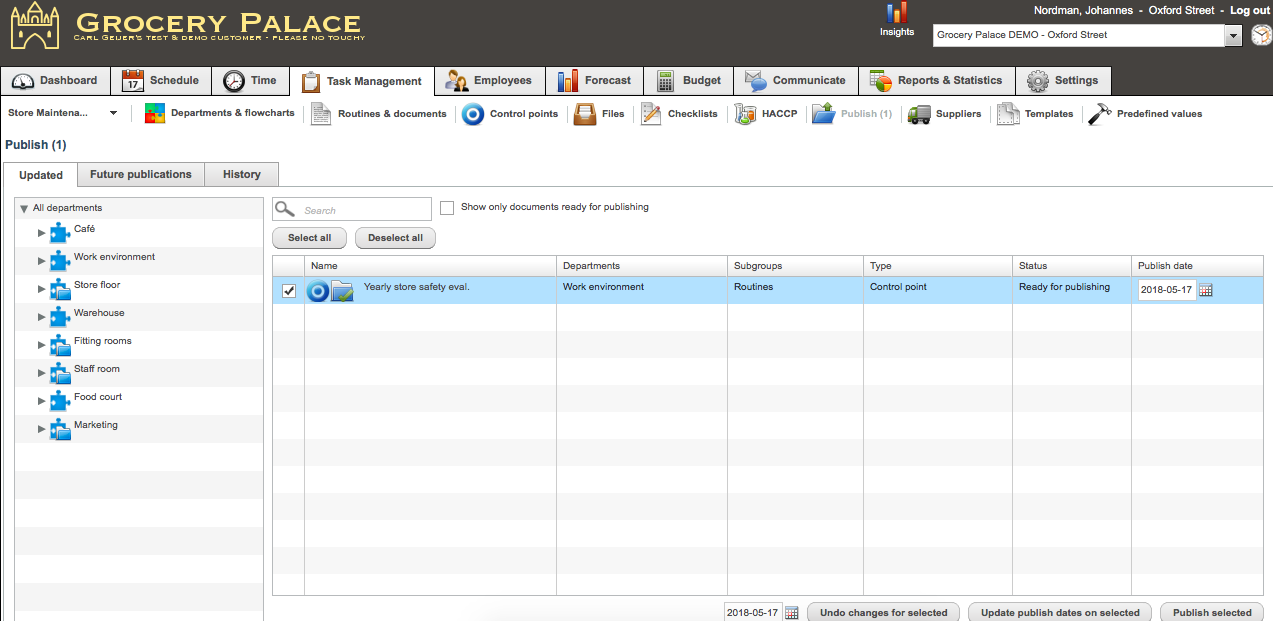 From Publish, central managers can publish new documents and updates to local managers. After that the local managers need to approve or reject the updates
Local manager

A local manager must first approve the relevant business areas, flows, documents and control points that are current for the unit.
It is easy for the local manager to view directly from the overview page what needs approving from the Updates pod.
Control points lists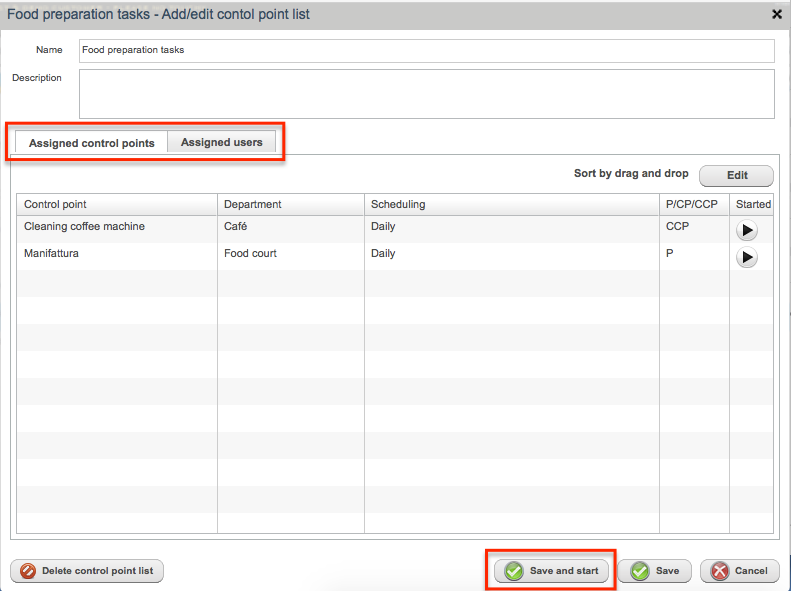 A local manager creates control points lists, task lists, for the unit and distributes them to the relevant employees.
Click Add in the Control Points Lists menu.
Name the list, and add a description if needed. Select control points, tasks to be performed in this list and click Assigned Users to define which employees will be able to perform the tasks in the list.
Click Save and start to activate the tasks immediately.
Staff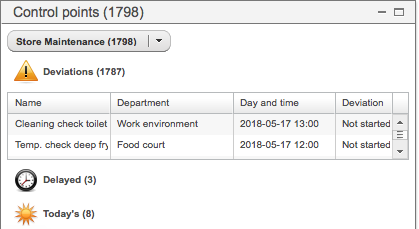 Staff perform their tasks in the Quinyx staff portal or mobile app.
Staff also have access to routine descriptions and linked documents.
If the tasks are not completed in time, deviations are created.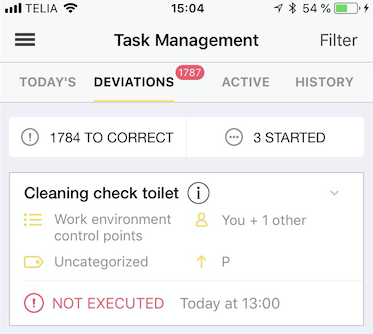 ---
---