Surveys
This article relates to Classic.
Surveys that are to be submitted to the employees can be created under this tab.

Click "Add".
First enter during which time period the survey will be active through the two calendar selections which are under "Period".
Name the survey under "Topic". It is also possible to describe the survey in more detail in the "Intro" field.
Select whether the results of the survey will be shown to the staff in the staff portal or if the survey results will be secret.
Select whether the respondents will be anonymous or whether their name will be included in the report.
If you check in "Published" the survey will after saving be published for all the staff to see and answer.
Then create survey questions. Click add a question above the field "Survey questions" to start.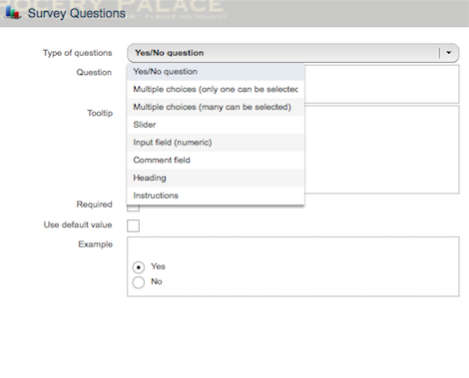 First select which type of question it is by selecting a option in the drop-down list "Type of question".
Enter your question and "tooltip" on how the question is best answered.
Select whether the question will be mandatory and/or whether there is a default answer option - "Yes" or "No". 7.
If you have selected the option multiple choice question, add the answer option by clicking and writing in the field in the right column "Response alternatives".
Click save to add the question in the questionnaire.
Repeat if more questions are to be added.
You can also ask questions about the employee.
An example of a question may be "How old is the person answering this survey?". This is done by clicking Add a question above "Questions about you".
The process is the same as when you created "survey question".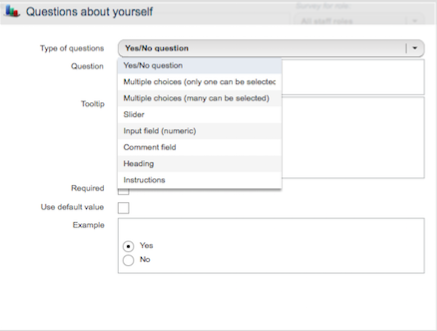 When you are almost finished with the survey you can select to preview it for the first review of the final results. This is done by clicking Preview. When the survey is complete, click to save and publish, or click on the cross to cancel.
You can then monitor the survey and how many people have answered by clicking on the survey you have just created. You then have the option to edit questions or add questions. To see the results of the survey click "Show result".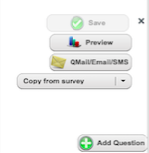 ---
---