Agreement Templates - Availability
This article relates to Classic.
In the Availability tab, the admin generally configures that employees are available for scheduling every week, 7 days a week. At an individual level you can then specify availability more precisely which is good if you have, for instance, minors, who are not allowed by law to work at night, or if we have an employee who is available for work only on certain days of the week.
Note that all the employees to be scheduled in Quinyx must have their availability completed in their agreement. Otherwise, Quinyx will generate a warning that the person is not available. In the agreement template the check box "Check availability" is checked by default. If the box is unchecked, Quinyx will only verify whether the employee has any approved holidays or other types of leave during the period.
Click the Add new button to set availability. Set the availability period per day and week.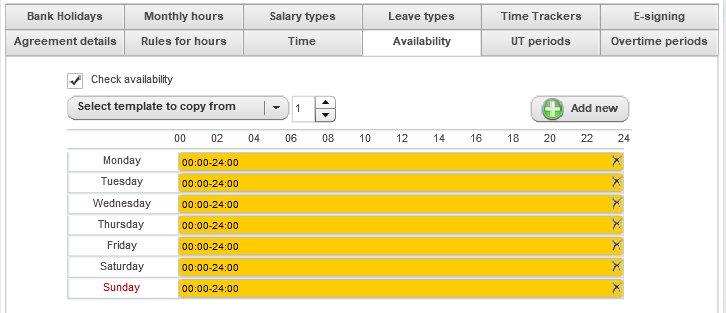 ---
---