Tables - Projects
Quinyx provides the option of tracking hours for projects. To do this, you first need to add your projects in Tables and then track time on the relevant project. You can track hours worked on a project under reports. 
Add Project
Projects are created, edited and deactivated under Tables.
Go to Settings → Tables. Click the "Project" radio button to view the project table.



Click the column under the "Project" heading and enter your project name.
Select the column on the right and enter your project number.
To enable the project, check the box in the left-hand column. To disable it, uncheck the same box.
Save


Used projects
There are a couple of different ways of reporting time per project. One option is to add the project to your shift type/shift. Another is to allow employees to select the right project along with the time punch.


Project on shift type/shift
If you have a specific shift type that should always be tracked to a specific project number, you can add the project directly in the shift type. In this case, all time punched belonging to the shift type/shift will be tagged with the same project number.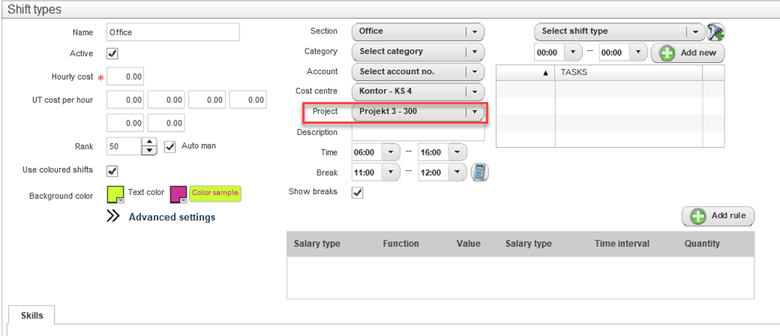 Go to Schedule -->Shift types
Choose the shift type for which you want to add a project
Select project
Save (You can also update shifts and schedules that are already rolled out)
If necessary, you can also add/change a project in a specific shift. For example, the shift type "Office" normally has Project 3, but on one particular day this needs to be changed to a different project number. You can then go into the shift for that day (via Schedule/scheduled staff and edit: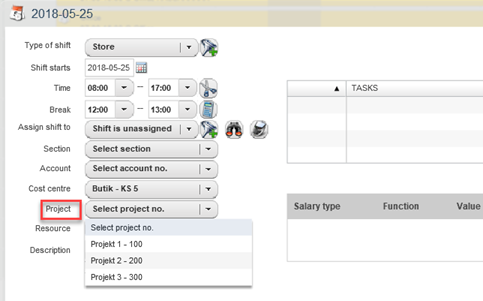 Project on a time punch
You can also select a project with a time punch. To do this, you do not need a project number for the shift. As a manager,  you can change and add projects in a time card.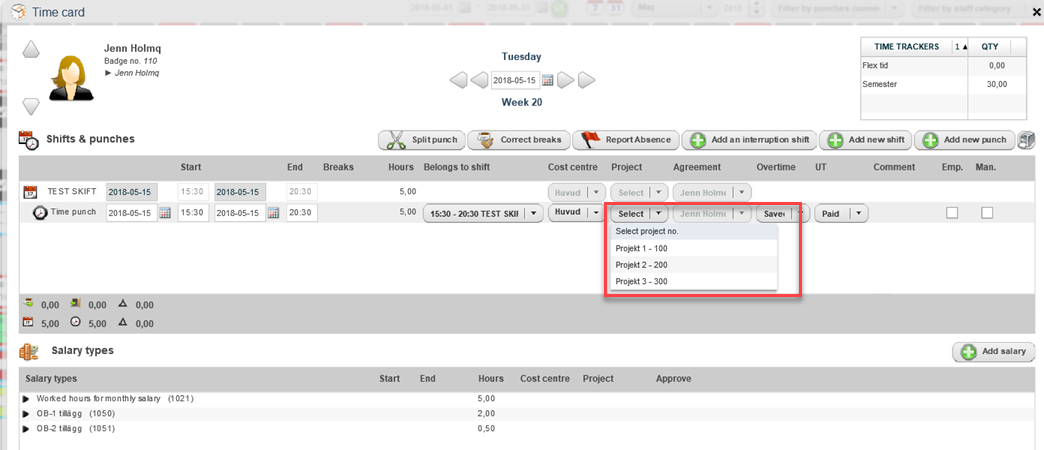 Go to Time open the relevant time card.
Make a selection from the drop-down list of projects.
Employees can also add projects to their time punches if they are permitted to do so. This can be done via the Employee Portal and via the time card, as above as well as in the mobile app or Webpunch. 
What you permit your employees to do is set in the Access rights tab. 


Follow-up on projects
Quinyx has several reports where you can track generated hours per project. These can be found under Reports/Statistics ->Reports ->Time.
You can find project hours in "Salary details", "Salary details per cost centre" and "Payroll report".



---
---