Scheduling FAQs
Q: When will the Classic "ball pit" view be available in Neo?
A: There is no current plan to recreate the ball pit as is, however we will continue to improve on existing functionality. 
Q: When will schedule time enumeration (schematidsuppräkning) be available in Neo?
A: This function is planned to be released Q4 2020. Please keep up to date on release notes.
Q: You can currently see total UT hours in a period under Scheduled Staff in Classic. When will that feature be available in Neo?
A: This functionality will be implemented in Neo during 2020. 
Q: Can I drag-n-drop in Neo?
A: The drag-n-drop functionality has been replaced with the hand icon. You can copy a shift to your clipboard and then copy or move it. The main benefit of this is it makes copying an item to multiple other days and/or employees a lot faster than using drag-n-drop. 
Q: How do I mass delete? 
A: Select which dates you want to delete (max 60 days at a time) and select More Options in the top right corner. You can also filter for specific shift types or employees for example, in order to only delete specific items.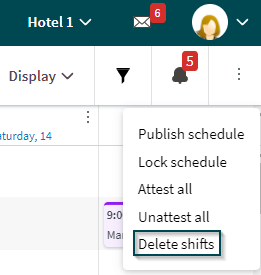 Q: Can I copy and move several shifts at once? 
A: Yes. You can copy and move shifts for an entire period by selecting more options by the employees name. 
Q: How do I create new shift types?
A: All of your current shift types in Classic are visible in Neo. In order to create a new shared/global shift type navigate to Account Settings and Shift types. Select Add. If a shift type is to be added locally, used only by a specific unit, it should be created under Group Settings.

Q: Can I sort the schedule by shift type?
A: Not currently. You can filter on shift type though. 
Q: Are all of the hours added together under nominal hours in the schedule, if the employee has several agreements?
A: No, the system currently looks at the main agreement. 
Q: How do I publish the schedule?
A: Under the Schedule, More Options in the top right hand side corner. 
---
---