Input data
Forecast input data are what drives staffing needs. Several can be configured to drive staffing in Quinyx according to your organization's needs.
To be able to add input data, the Module Forecast needs to be activated for your organization, and you need to have the role of an Account manager
From Account settings, go to Optimization settings > Variable settings.
Click Add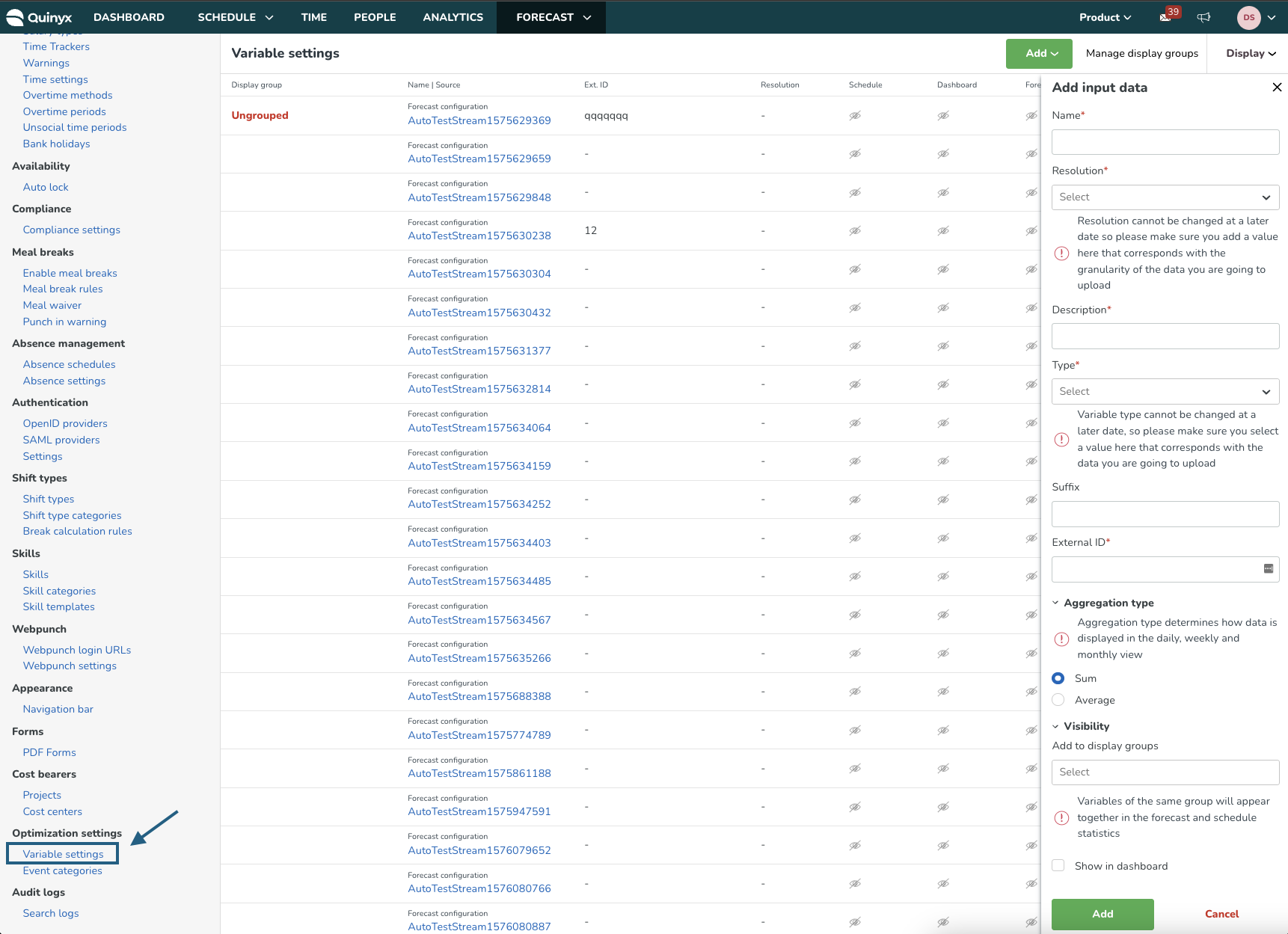 Name

This is the name of the input data, e.g., the driver you want to use. For instance. Net sales incl VAT if that will be the data you will use connected to this driver.

Resolution

You choose here on what resolution you will send in or use your data on the lowest level. If you send in one value per hour, you should choose 60 min. If you send in per 15 minutes you should choose 15 min.

Resolution cannot be changed at a later date so please make sure you add a value here that corresponds with the granularity of the data you are going to upload

Description

This is the description for the input data to be able to identify it easily in the input data list if you have multiple input data.

Type

This is the type of the input variable and for configuration uses and statistical use in analytics the appropriate type should be used that corresponds to your driver. For instance, Net sales incl VAT should be connected to Net sales whereas Gross sales incl TIP should be gross sales.

Suffix

Not used currently but will reflect currency or similar in future views.

External ID

This is the External ID for the input data. This is one of the items an integrator would need in order to upload the correct data towards the correct input data in Quinyx. For instance, in the data warehouse for the POS system (point of sales) the corresponding number for Net sales incl VAT is P3201. That number should then be entered as the external ID.
After you have added input data corresponding to the data that you will send into Quinyx, you can continue to configure or edit your forecast configuration on account manager level.
---
---