Q4 2022 Quinyx release recap
You can read about key functionality in the past few releases so that you always know about the latest functionality and don't miss out on any added value!
The fourth quarter of 2022 included several releases. The boxes in the image below represent the key functionality that we've released and in which area of the software. Please note that this doesn't contain everything. During each release, we do all kinds of bug fixes and add smaller pieces of functionality. We also make updates and performance improvements.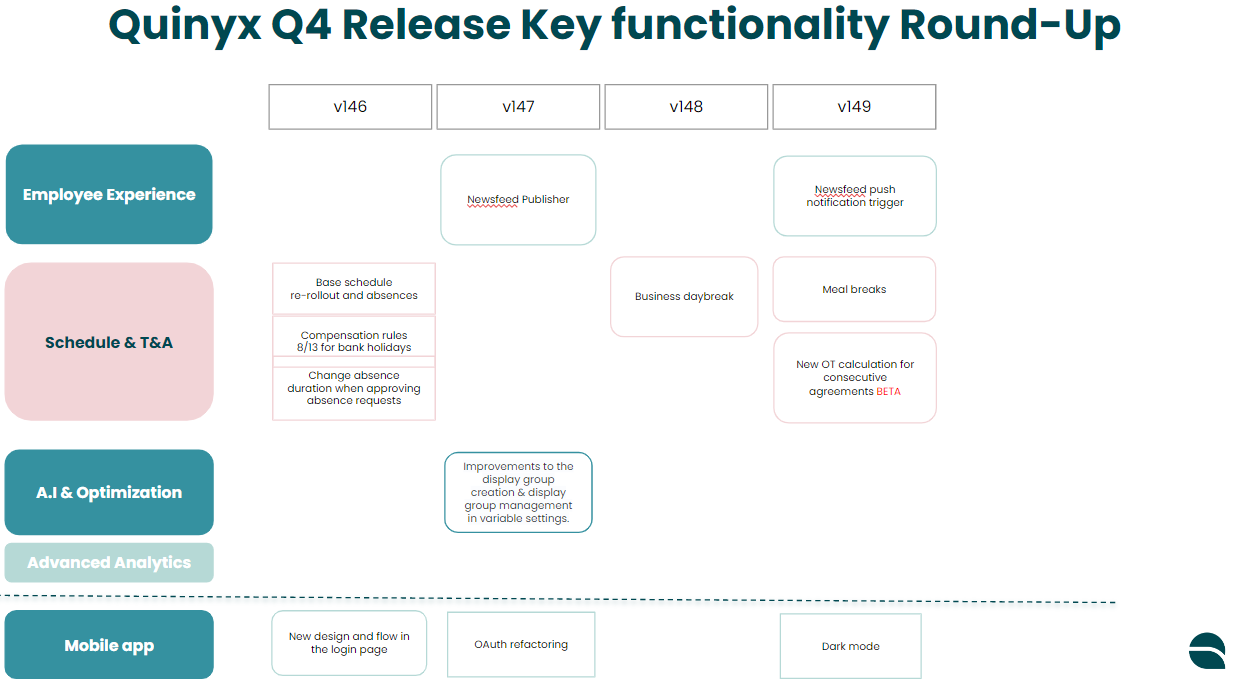 Quinyx web app
Version 0145
We didn't add any new functionality during this release because we focused on bug fixes.
Version 0146
Base schedule re-rollout logic 
Quinyx now has special logic - called re-rollout logic - for what happens when you roll out the same base schedule for the same period, employees, and base schedule week and weekday.
This is important because the base schedule re-rollout logic determines what happens when you roll out a base schedule more than once over the same time period, with the same employee(s), and using the same base schedule week and weekdays. 
Compensation rules based on worked hours
Quinyx has previously had support for compensation rules on bank holidays to create compensation based on average output on salary types during a period before the actual bank holiday. With this release, we have the first version of compensation rules that now can base the outcome on worked hours or salary types for the same weekday in the selected period before a bank holiday.
This option will, together with eligibility rules, allow customers within retail in the Netherlands to configure the "8/13 rule for bank holidays".

8/13 rule for bank holidays

So what is it? The 8/13 rule for bank holidays was created to allow our customers in retail in the Netherlands to configure a special rule so that if a bank holiday is on a Friday you have to have worked at least 8 of the previous 13 Fridays to be eligible for compensation on this bank holiday.
Absence duration
You can now change the absence duration on an absence request in the notification panel. This builds upon functionality we released in versions 0143 and 0144. Please take a look at those release notes if you want a refresher. 
This feature is useful because it allows managers to update absence duration in cases where there has been a miscommunication with the employee and where absence duration needs to be updated in order to have the correct Time Tracker balance and employee payslip.
Version 0147 
Newsfeed Publisher 
Newsfeed Publisher is our new and improved communications channel to enable you to easily create, edit, and publish news articles for your entire organization. This is perfect for large-scale communications. The Newsfeed Publisher is designed so that you can easily reach and build communications for your company, with tools to ensure you can reach exactly who you want when you want, and you can also measure employee engagement with your different announcements and communications.
Improvements to the display group creation and display group management in variable settings
Now,  instead of simply seeing a long list of variables when selecting which variables should be visualized in which display group, the variables are now sorted by variable type: standard variables, input data, forecast configurations, calculated variables, or optimal headcount. This makes variable selection into display groups smoother.
Version 0148
Business daybreak
When an absence is added, Quinyx will now look to the business daybreak of the employee's home unit when checking that the absence isn't ending after the employee has left the company and that it doesn't start before the employee has joined the company. Before this release, Quinyx looked to the calendar daybreak instead, which, for instance, generated errors when users attempted to do the same thing on the last day of an employee's employment.
Version 0149
Newsfeed push notification trigger 
With the push notification trigger, authors now have the option when creating an article to trigger a push notification when the article first goes live.
Along with the push notification trigger, we also included a few quality-of-life improvements to ensure a smooth user experience.

Improved cover image flow when creating a new article
And we made some performance enhancements to improve the speed and response rate when you create and manage articles. 
Meal breaks - We Improved meal break support!
The meal break functionality mainly exists to accommodate the labor laws in the US, however, you can of course use it even if you're not located in the US. In a very condensed sense, these labor laws guard employees' work hours, which take rest and meal breaks into account to effectively support employees with a fair work-life balance.
BETA release of new overtime functionality
We introduced the new BETA OT calculation for consecutive agreements. The visual change in Quinyx is a checkbox in the Overtime settings. We expect an even more refined version in Q1 2023.
Quinyx mobile app
The mobile app has its own releases and cadence, but during the fourth quarter, some mobile releases corresponded with the Quinyx web app releases. Some important new functionality during  Q4 includes: 
A new mobile login page design - Our login page has a new login flow and design. To log in to the app, now you begin by entering your email address. Then click to go to the next page to enter your password. When you've entered your password, you'll either be logged in to the app immediately or presented with several login options.
OAuth refactoring - This enables login to both web and mobile using OpenIDConnect or SAML Single Sign On (SSO) solutions, ensuring single configuration and consistency in capability between web and mobile apps.
Dark mode - You can now use Quinyx in dark mode in our iOS and Android apps. If you'd like to use Quinyx in dark mode, you must activate it in your phone's system settings, you can't configure dark mode in Quinyx.

What are the advantages of using dark mode:

It's better for low-light settings and can reduce eye strain.
Less blue light is emitted from your phone.
Your phone will use less energy so your phone battery will last longer.
---
---