Staff portal
Welcome to our staff portal! The staff portal is available for all Quinyx users and works great on a desktop, tablet, or phone. Enjoy work!
The Staff portal follows the mobile access rights. However, access to the staff portal is always enabled.
Log in
Employee role: If you only have an employee role, go to web.quinyx.com and log in with your credentials and you'll automatically be redirected to the Neo staff portal: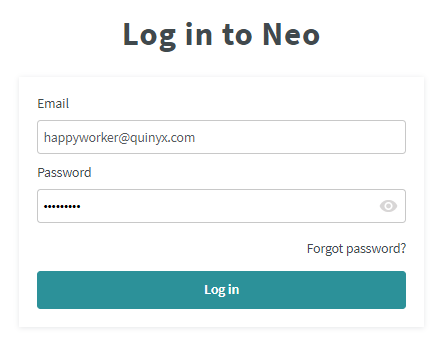 Manager role: If you have a manager role, you can go to the staff portal by clicking the settings button in the top right corner and click "Switch to staff portal". Once you've done that, you have to log in again, and then you'll enter the staff portal:

Once you're in the staff portal as a manager, you can click the settings button again and "Switch to manager portal":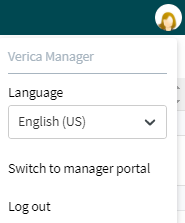 Schedule
When you enter the staff portal, you can see the schedule view. In the schedule, you can see your own shifts, colleagues' shifts, unassigned shifts, and more: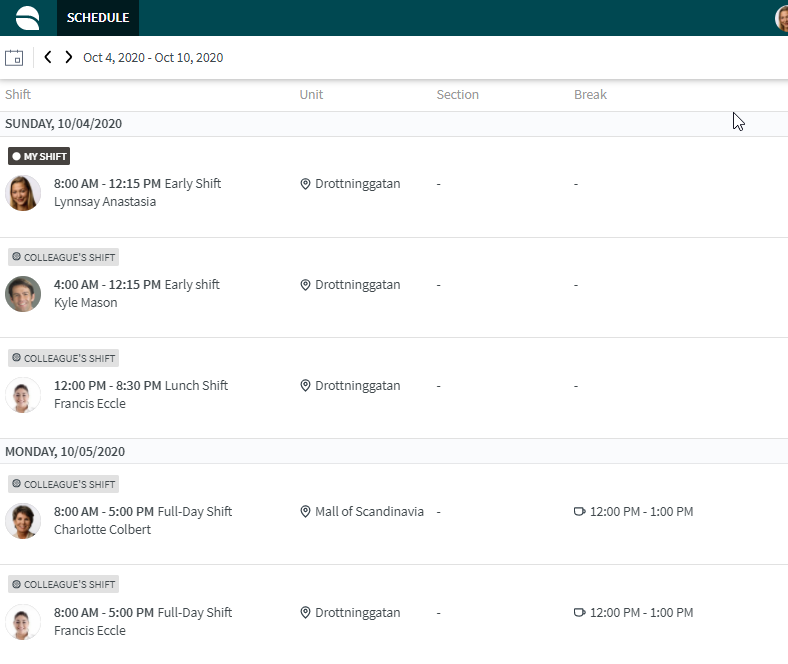 Scroll up and down in the schedule list to see more shifts. We have three options for filtering dates right now they are the following:
Week: This option will show you the current week.
Month: This option will show you the current month.
Calendar: If you click the calendar view you can choose a specific day that you click and jump to straight away.
Jump between dates: You can click on the right arrow to jump to the next week/month and the backwards arrow to go to the previous week/month.
Book shifts / make shifts available
It's possible to book shifts that are unassigned and have been made available for booking by colleagues. You can book an unassigned shift/colleague's shift by clicking "Book shift" in the shifts detail panel. You make your own shifts available for others to book in the detail panel as well: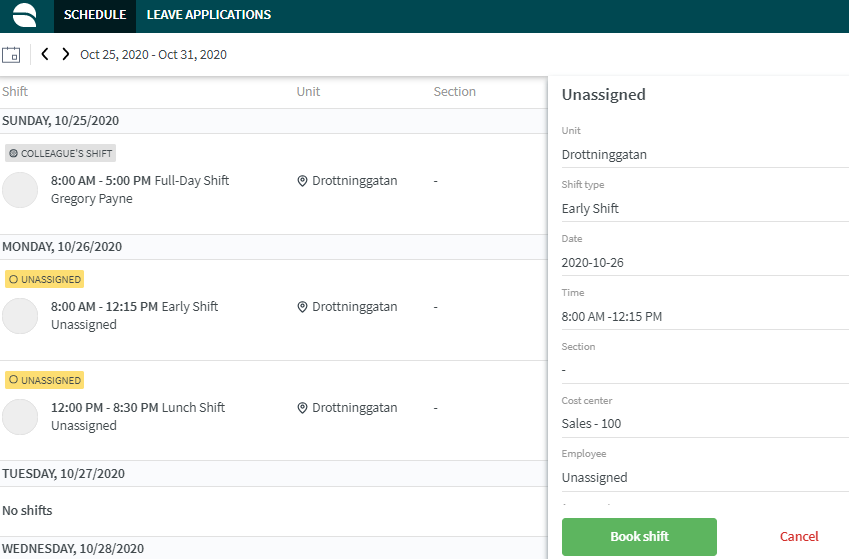 Absence requests
It's possible to see all approved, pending, and denied absence requests:

It's also possible to create a new absence request and edit a pending one: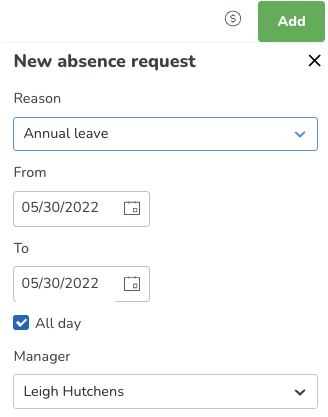 Time Trackers
It's possible to see Time Trackers from Absence requests by clicking the dollar sign in the top right corner.

Attest
You can attest on a daily basis or bulk attest a schedule period.
Filter in schedule
It's possible to filter in the Schedule view. You can filter by:
My shifts (turned on by default)
Swappable shifts (turned on by default)
Unassigned shifts (turned on by default)
Colleagues shifts (turned off by default)
Shift bookings (turned on by default)
Unit
Section
Shift type
Employee
Qmail
It's possible to see all Qmails you've received and sent and to send a new Qmail. You can filter on inbox, sent, and unread Qmails.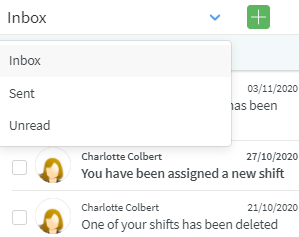 Languages
We support the same languages as we do in the mobile app, which are the following:
English (GB)
English (US)
Czech
Danish
Dutch
Estonian
Finnish
French
German
Greek
Italian
Japanese
Korean
Latvian
Lithuanian 
Norwegian
Polish
Portuguese
Simplified Chinese
Spanish
Swedish
Thai
Traditional Chinese
Turkish
Select English (GB) in order to use a 24 hour clock. Select English (US) if you want to use a 12 hour AM/PM clock.
Differences between the Staff portal and Mobile app
There are several differences between what you can do and see in the Staff portal and the Mobile app. Read all about Staff portal and Mobile functionality here.
---
---