Roll out your base schedule
When you are happy with your base schedule, it's time to roll it out, i.e. activate it. The shifts will appear in Schedule after roll out.
Please note that a base schedule can only be rolled out 18 months into the future.
You can roll out either all of a base schedule's employees or a subset of them. Rolling out only a subset is useful when one or multiple employees are joining, or leaving, your team in the middle of a schedule period and you need to update the base schedule shifts in your Schedule accordingly. The concept in Quinyx is that you roll out the employees you see, so to roll out only some employees, you filter on the ones you want to roll out. Then, click the "Roll out" button in the top right-hand corner.
Note that you always roll out an employee's full row. In line with this, and with the concept described above, you will receive a warning if clicking the roll out button in the right corner if you've filtered on shifts: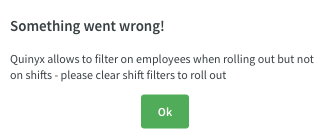 The following filter fields are considered shift filters and will generate the above warning:
Schedule items

If you've selected unavailability or shifts and unavailability, or tasks and unavailability.

Shift type
Shift status

Both assigned and unassigned generate the warning above on rollout.

Shift section
Once you've entered the Roll out panel, you're able to select a from and to date to which the Base schedule should be applied. The two following options exist:
To continue the rotation from the previous rollout
To set the start week of your choice
Rolling out a base schedule in the past
There are different reasons why you might want to roll out a base schedule into the past, one of them being you realize a mistake in a rolled out base schedule after the fact. Quinyx supports rolling out a base schedule as far as one year back in time.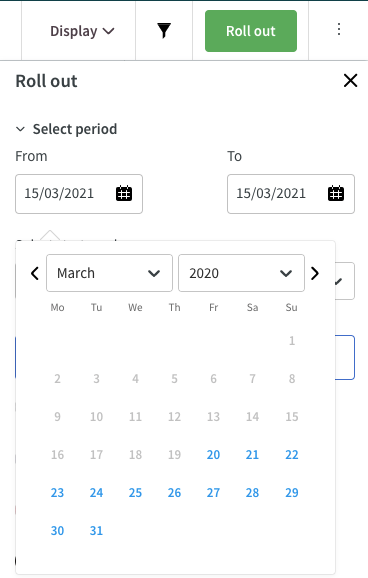 Agreement selection logic
Read more about agreement selection logic
here
.
Continue rotation from previous rollout
This option is only available for base schedules that have already been rolled out at least once in the past. The benefit of this option is that it greatly facilitates ensuring that your employees get the number of weekends off they're entitled to.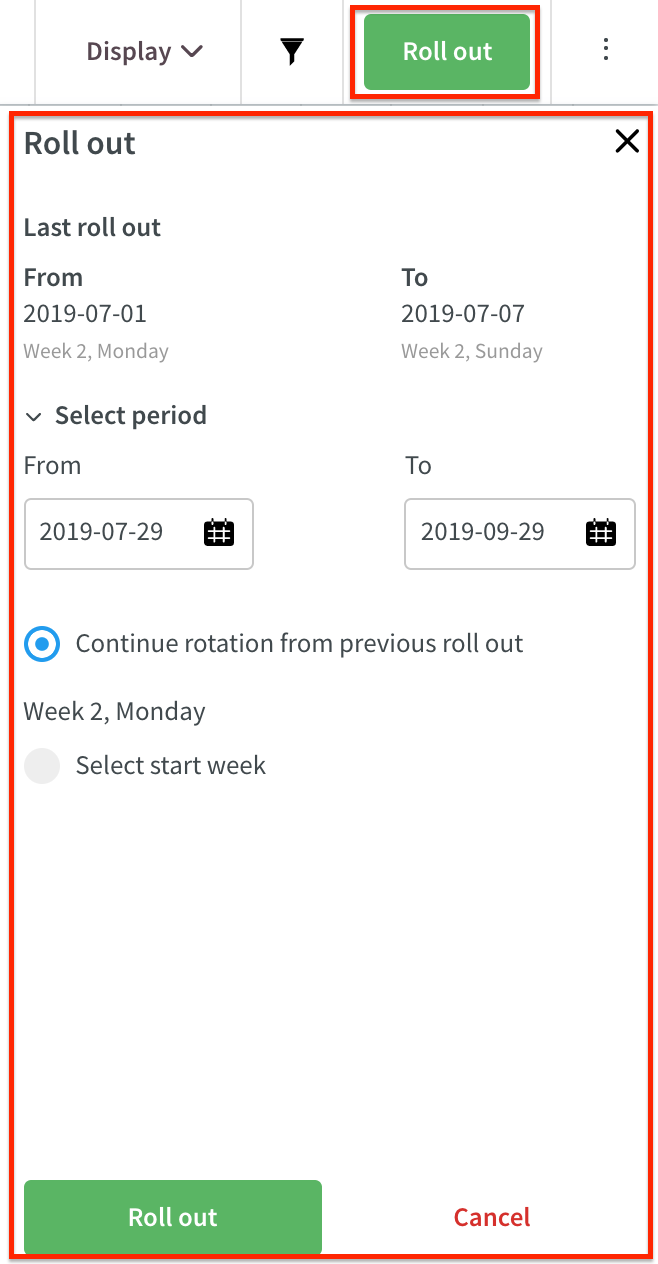 The base schedule in the image above is based on a 4-week template period. As you can see above, the dates of the previous roll out feature at the top of the side bar, as do the base schedule week and day of the beginning (week 2, Monday) and end (week 2, Sunday) of that roll out. Further down, the option to Continue rotation from previous roll out is pre-selected and the base schedule week and day of the beginning of your new roll out appear under it (week 2, Monday). As you can see from the below table, our new roll out continues on the previous rollout's rotation:
| | |
| --- | --- |
| Calendar Date and Day | Base Schedule Day and Week in Previous Roll Out's Rotation |
| Sunday July 7 | week 2, Sunday |
| Monday July 8 | week 3, Monday |
| Monday July 15 | week 4, Monday |
| Monday July 22 | week 1, Monday |
| Monday July 29 | week 2, Monday |
In order for your schedule template to always be correct, all employees in your base schedule will always be on one same rotation. The consequence of this is that if you use the "Continue rotation from previous roll out" option for all employees whereas the last roll out was only for some employees, then all employees will be put on the rotation of the last rollout. 
Reversed order of roll outs
Neo also offers the possibility to continue on the rotation of the previous roll out when the start date of that previous roll out is after the end date of the new roll out. With the selection shown in the below image, you would still ensure your employees get the number of free weekends they're entitled to at the September/October turn of the month: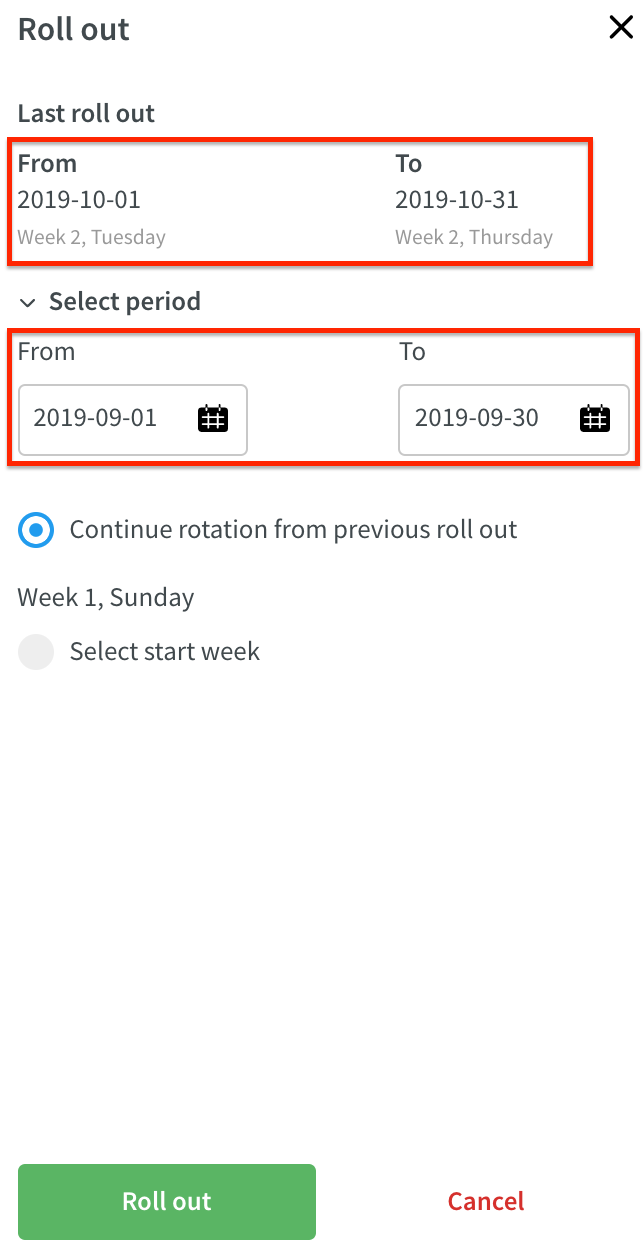 Base schedule copies
If you create a copy of a base schedule and you want to continue on the rotation of the original base schedule, just simulate a roll out for your original base schedule to identify what base schedule week and day you should use for your copy using the Continue rotation from previous roll out feature. You may then return to your copy and use the Set start week feature to "manually" continue on the original base schedule's rotation. See below for more details on the Set start week functionality.
Set Start Week
This option consists in selecting which base schedule week should be used as start week when rolling out a base schedule. In the below image, we're choosing to roll out the base schedule from 2020-02-01 until 2020-02-29 with week 2 as start week.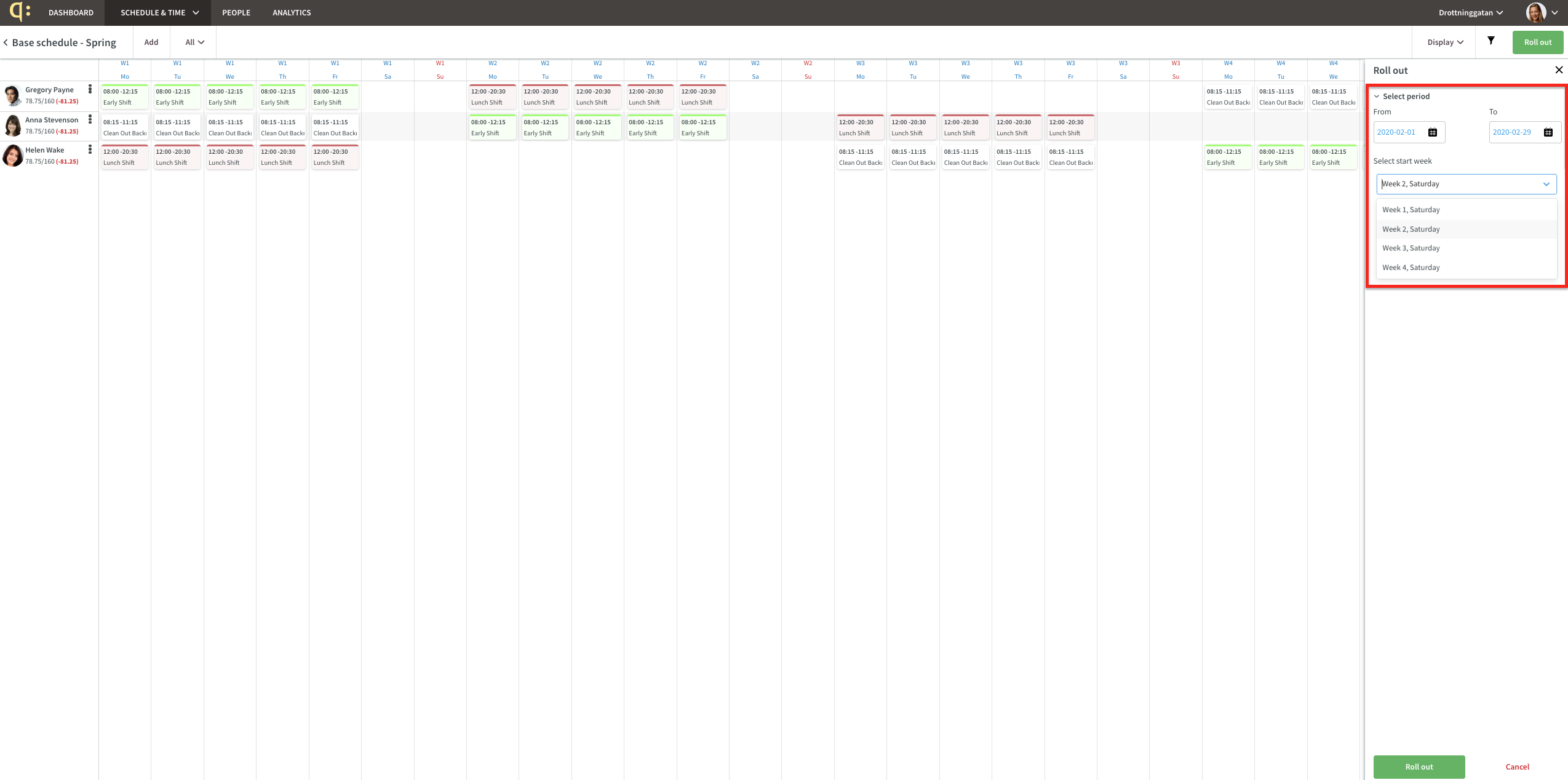 In the above image, the weekday appearing on all four rows of the dropdown menu is Saturday. The weekday appearing in this dropdown will always be that of the start date of the selected rollout period, in this case Saturday since 2020-02-01 happens to be a Saturday. This is to preserve the template functionality of your base schedule.
The below is an image of the rolled out schedule in Schedule; the first week of the rollout period has been populated with the shifts from base schedule week 2 shown above. Please note there were no shifts on Saturday, nor on Sunday, in week 2 of our sample base schedule, which is why the first shifts you can see below when reading from left to right are those of base schedule week 3.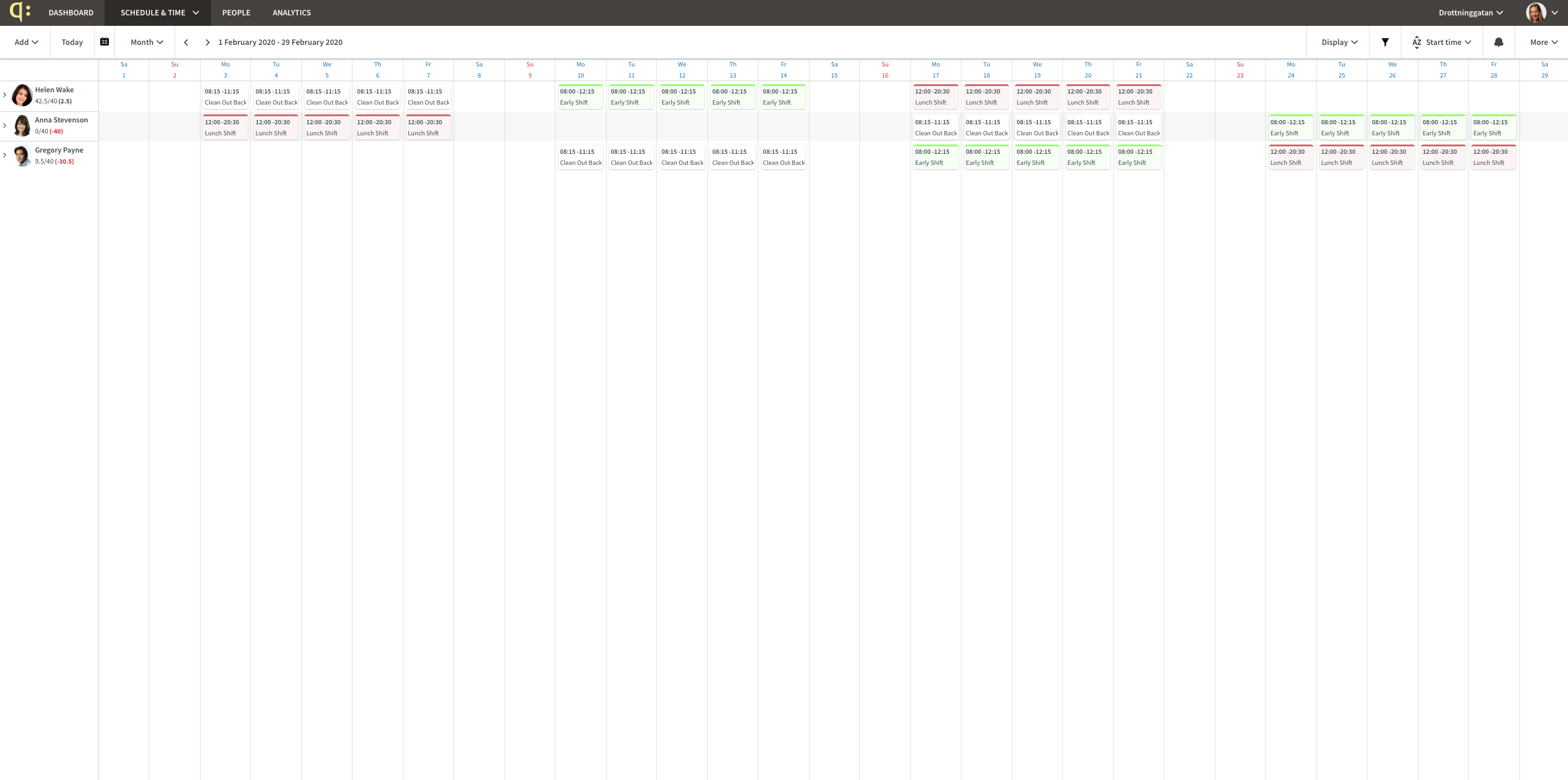 This feature is convenient for instance when you have one or multiple new hires on a separate base schedule - to have your new hires' schedule sync with your previously published schedule for existing staff, you might want to use week 2, 3 or 4 as start week rather than week 1.
Last rollout information
At the bottom of the Rollout-panel, you'll find a section called "Roll out summary". This section contains a box indicating whether or not unassigned shifts are rolled out; they're always rolled out if you're rolling out all employees, whereas if you're rolling out a subset of employees, they're not rolled out. Below, a list of the employees that are to be rolled out appears. Last rollout information is displayed by employee. If the employee has never been rolled out before, "No previous roll out" appears in that field.  The sorting of the list of employees in this panel reflects the one in the base schedule. 
At least one employee must appear in your base schedule for you to be able to roll it out.
Confirmation message
After you've successfully rolled out your base schedule, you'll receive the notification "Your base schedule has been rolled out. Sincerely, Your Quinyx team" via Qmail, SMS, or email, depending on your notification settings. This notification is always sent and receiving it is not not currently optional. If you've approved warnings, you will receive another confirmation message after those shifts are rolled out.
Vacation factor
For customers using the vacation factor, please note that when a base schedule is rolled out for a subset of employees only, the vacation factor is only updated for the rolled out employees.
Rolling out over absences
If you roll out a base schedule over an absence, those shifts will automatically be deleted and added as underlying shift to the absence.
---
---