Tags and tag content
List and add tags
To add new tags or list existing ones, go to Settings > Tags.
Account settings - you can define to which group the Tag belongs

, or if it is Global belonging to no group

.
Group settings - the tag will belong to this group.
On the tags page you can see:
A list of already present tags
Tag codes
Tag category
Group the tag belongs to -

Global tags will state Global

Option to copy a tag
Scan pages if there are more than 20 Tags configured
Search field
Option to add tags

To add a tag:
Click Add, and fill in the various tag properties. See Tags Overview for more information.

Tag external Id must be unique within the tag category.

For tag properties that can carry multiple values (coordinates, periods and custom fields), just click Add to enter additional values.
To copy a tag
Click Copy to copy a specific tag from the tag list: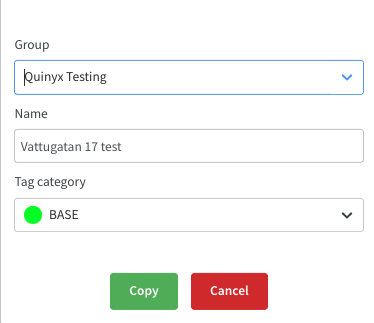 You can copy the tag to another group or within the group. The tag copy will be void of external Id, and otherwise identical. Edit and tailor the tag copy to your needs.
---
---