Mobile - Manager functionality

There is no separate manager's app, but as a manager, you log in to the same app and have more functionality. Under the Manager tab, you can manage shift bookings, shift swaps and leave applications. In the Schedule view, you can also add, remove and change shifts in the schedule.
Managing shift bookings
Select the Manager menu 

Click Shift Bookings to see details of the desired shift booking. An exclamation mark indicates you will contravene the employee's contract by giving them this shift. 

You can see which regulations are breached if the shift booking is approved.
You can write a comment (free text) and select Reject or Approve.
After you have managed a shift booking, it disappears from the view.
Note that shift swaps are managed in a similar way, but there are two rows to approve or reject.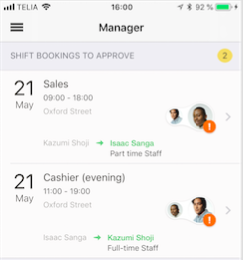 Managing leave applications
Select the Manager menu 

Click on the leave application under "Leave applications to approve" to see the details of the request and to be able to manage it.
This displays the time period plus the scheduled shift during the period, you can change all shifts at once, or one at a time. 



Tip: Select the Time Trackers icon on the top right corner to see how many holiday days the employees have left before you approve a holiday application. This is assuming your organisation uses this functionality. 

Write a comment (free text) and select Deny if you want to reject the application.
Otherwise select shift by shift to select what is to happen with the shift before the absence is approved.
If you select the yellow ball where it shows Unassign, it will bring up more options you can choose. 


Select Unassign if you don't know who will be replacing the employee when they are absent.
Select Remove if the shift does not need to be replaced.
Select Reassign if you already know which colleague will take the shift instead.
Select Keep if the employee may not take time off for that particular day and that requested period.

When you have made all selections, write a comment (free text) and select Deny or Approve.
After you have managed an absence application, it disappears from view.
Scheduling - Add, change, remove shifts
Select + to add a new shift. 
Select an existing shift to Change or Remove. 

---
---