Adding a second absence - replace or overlap
When you add a second absence in a period where there already is an absence, you are able to replace parts or all of the existing absence with the one you're creating. Depending on your settings, you may also have the choice of creating overlapping absences.
Overlapping absences
If you already have an absence on a certain day or in a certain period, you can add an additional absence. In the below example, Sara is already on part-time (50%) long-term sick leave but is now going on holidays for three days in that same period. This means she'll be completely absent from work during those three days. We'll want to add a second absence, of another absence type, to reflect that. When adding the second absence, you'll get the choice of either replacing her existing sick leave or creating an overlapping leave: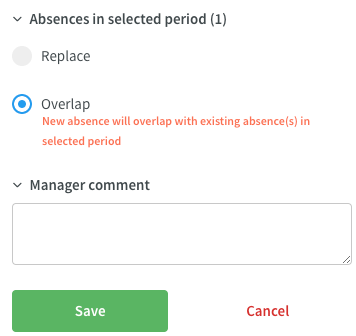 If you select "Overlap", Sara's two absences will appear in the Schedule:

The option of creating overlapping absences requires the "Allow overlapping leaves" setting in unit settings to be ticked.
Quinyx currently only supports two overlapping absences at any one point in time - attempting to add a third one will trigger an error message:

Replacing absences
No matter what your settings you have, you can always replace an existing absence with a new one.
In the below example, the employee already has an approved vacation between the 4th and 7th of March, but wants to go on parental leave on March 5th. When adding the additional absence in the system, the leave will be split into 3 parts:
Vacation
Parental leave
Vacation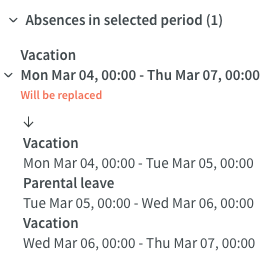 Overlapping leaves/absences
It's also possible to choose whether to replace or overlap a leave request with an absence. When "allow overlapping leaves" setting is enabled on the unit card and an employee sends in a leave request where there is already an absence, the manager can choose to replace or overlap the absence when approving the leave.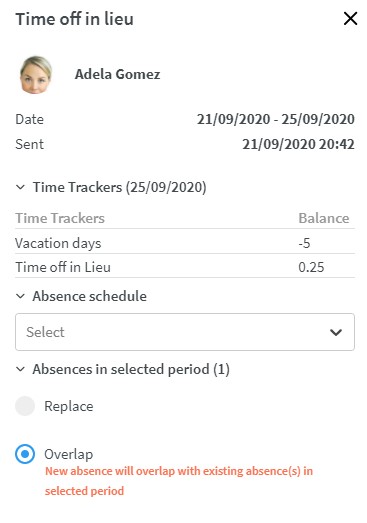 Restrictions: 
It's not possible to choose the option "replace" if the leave request is in the middle of the absence. It's only possible to replace if the leave is in the beginning or end of the absence (this is also the current behaviour in Classic). 
The "quick action" in the Notifications panel 

Currently, we only look at absences within the same unit to see if there are any other absences overlapping the leave application. If the employee has a leave on another unit, we won't inform the user nor will it be possible to replace absences on other units. 
The leave request can only be sent from the mobile application (not Classic staff portal) if the setting is enabled.
---
---