Adding an absence
To add an absence, you need to open the "Create an absence" side panel. You can do this two different ways. You can navigate to it either by clicking + > Absence:

or, you can click on an employee's shift in the schedule, and then click More options > Add absence: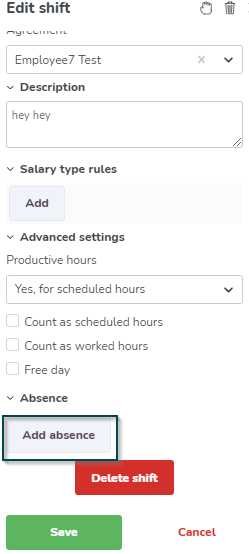 Both of these methods open the Add absence side panel where you can enter all relevant absence information for an employee.

Mandatory fields are indicated with an asterisk *.
To add an absence:
Select the employee for whom you want to add an absence.
Add the date and times of the absence. Tick the "All day" box if the absence is for one entire day, 24 hours.
Select an absence type.
You can select whether the absence should be attested by the employee, manager, or both. Depending on your settings, the employee for whom the absence relates to may need to attest the absence before the manager is able to so. 
You can view the Time Trackers set up for the employee. Read more about Time Trackers here.
Enter an absence schedule, if necessary. Read more about absence schedules here.
You can select the part time absence option if you want to split shifts based on a percentage of absence. For example, perhaps an employee is on 75% sick leave for a period of time, then their shifts will be split into two based on the percentage entered. You can then select whether the absence should be at the beginning on the shift or at the end and what will happen with the shifts during the times the employee is absent (delete, unassign or reassign).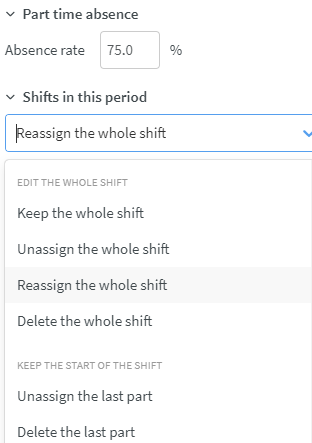 Add an optional comment.
Click "Save"
It's possible to add an absence after an employee end date has passed.

Example: Today is the 3rd of September. Employee X's last date to work was the 2nd of September. It's possible to go to a date when the employee was still employed and add an absence.
It's possible to change the absence reason in an absence where you have an absence schedule. It's not possible to change the absence schedule in an absence (in that case you need to create a new absence). 
Employees are notified when the date or time on an existing absence is changed (given the manager hasn't paused notifications).
It is possible to create an absence with a duration up to 24 months.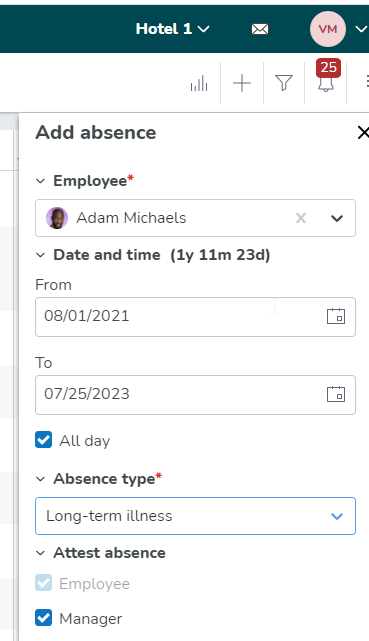 Absence visualized in Schedule
Absences are visualized differently in the actual schedule depending on whether or not a shift is affected by the the absence or not:
Absence with absence shift
An absence with an absence shift displays both the absence and the previously scheduled shift:

Absence without an absence shift
An absence without an absence shift displays the absence reason only: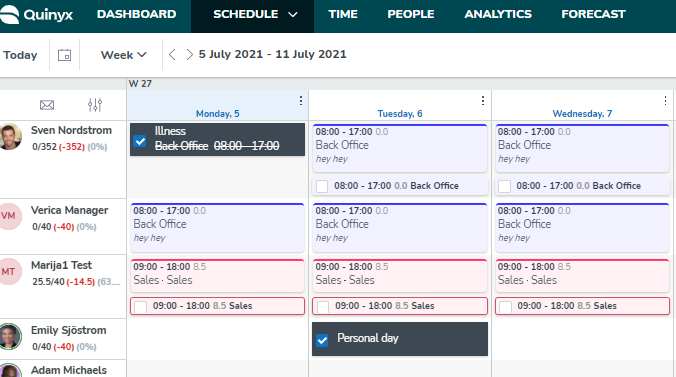 Watch a short video tutorial
here
!
---
---