Frontline Portal - Widgets
Widget functionality is brand new functionality that was released on November 1, 2023, in Version 0172.
Good to know! You can only create and edit widgets if you have content manager permissions.
Important!
When using this functionality, we recommend limiting access to this powerful functionality to a select group of HQ users, as it grants the ability to shape the layout of the entire site. By restricting the number of individuals with this permission, you can ensure a secure and controlled environment to prevent issues that might arise if multiple content managers are using widgets concurrently.
If you require further information or have specific queries about these features, please do not hesitate to get in touch with your dedicated Customer Support Manager. Your CSM can offer personalized guidance on optimizing widget usage.
You can't grant permission to widgets to users yourself. If you're a Quinyx support contact, please reach out to our Support team. They can help you get started.
Why widgets matter
You can use Frontline Portal's widget functionality to group different resource types, target bespoke combinations of the most relevant content for your needs, and drive engagement.
By using widgets, you can customize your portal with task lists, event updates, or project timelines – all with a few clicks. This level of personalization ensures your portal becomes a functional hub tailored to your workflow. This also means that your employees can visit the Frontline Portal homepage and immediately find important information without having to search for it.
This gives content managers more options for customization. You can create as many widgets as you need, move them around, and change their appearance.
Widgets aren't just about aesthetics; they enhance efficiency and user engagement. By reducing the time spent searching for information, widgets enable users to focus on tasks and goals, and you can better address prioritization needs and have more control and ownership over pages' look and feel.
If you have content manager permissions and you can view a widget, then you have the option to edit the widget.
Use case
As a widget creator:
You can use the pinned carousel/default widgets to provide a context menu containing the widget creation and moving options so that you can move it and create widgets both above and below it. This gives you the flexibility to arrange the homepage as you see most useful.
You can move pinned carousels up and down.
You can add new widgets above and below the default widgets.
You can move default widgets up or down.
Add a widget
You can add a widget above or below any carousel on the homepage. You can also add widgets to stories.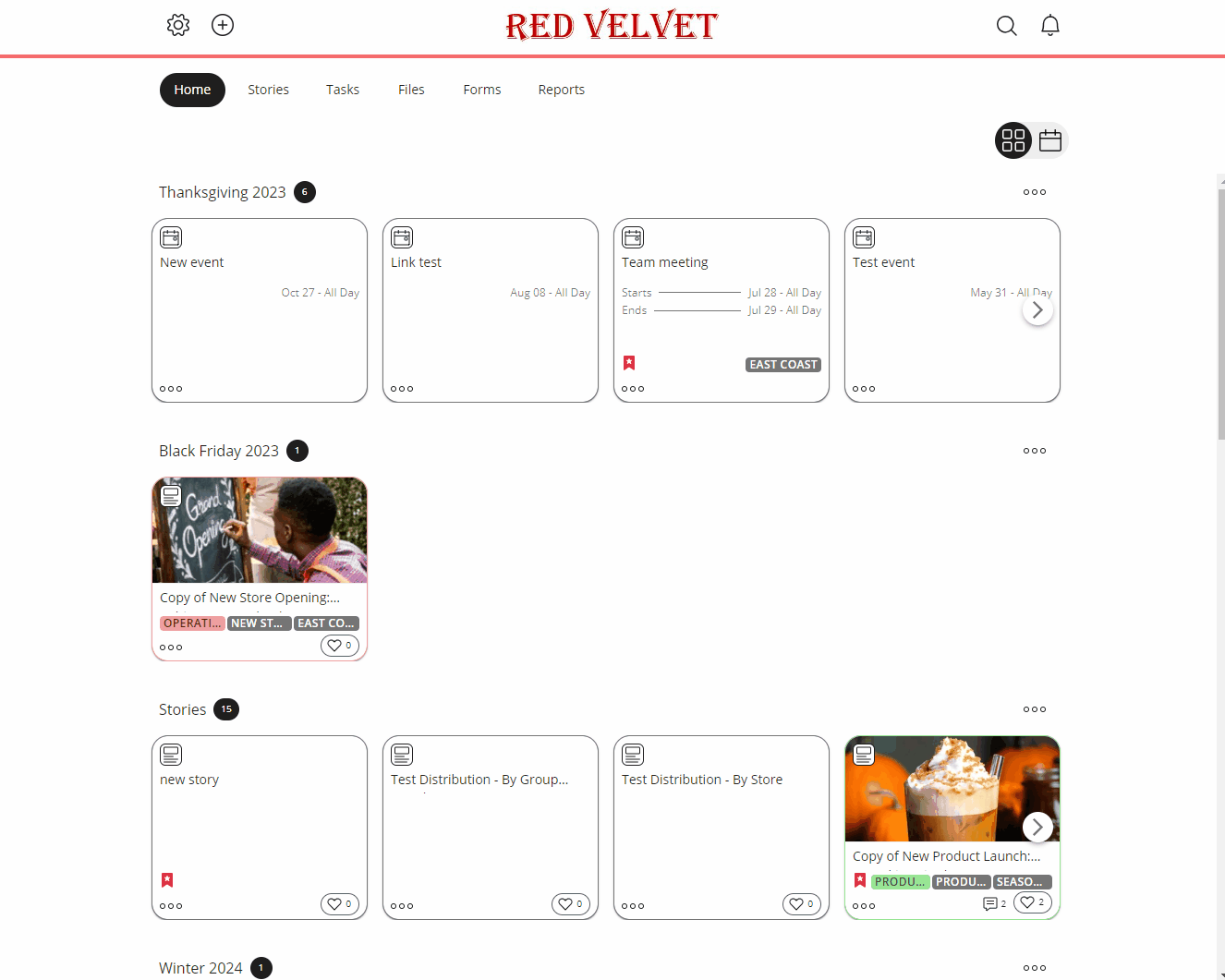 Widget title: Widget title is mandatory.
Widget type: You have the option to choose between a standard carousel and a hero carousel.
Sort order: Choose to sort by oldest first, newest first, alphabetical order, reverse alphabetical order, or the order selected.
Add items: You can add resources here by searching by name. When you add items, they will appear in the preview.
Tags: You can search for and add tags that you've added to any resource. If you add more than one tag, items will be displayed that contain all of the tags you selected. So, for instance, if you select two tags, Black Friday and Visual Merchandizing, the resources displayed will have both tags.

You can also search by system tags. All stories have the tag stories, all tasks have the tag tasks, etc.

Preview: You will see items in the preview when selecting by tag but also when adding by item name.
There is no limit to the number of list widgets a user can add to the homepage, user can add multiple
See all widgets
To view all resources, click the three dots on the widget and select See all.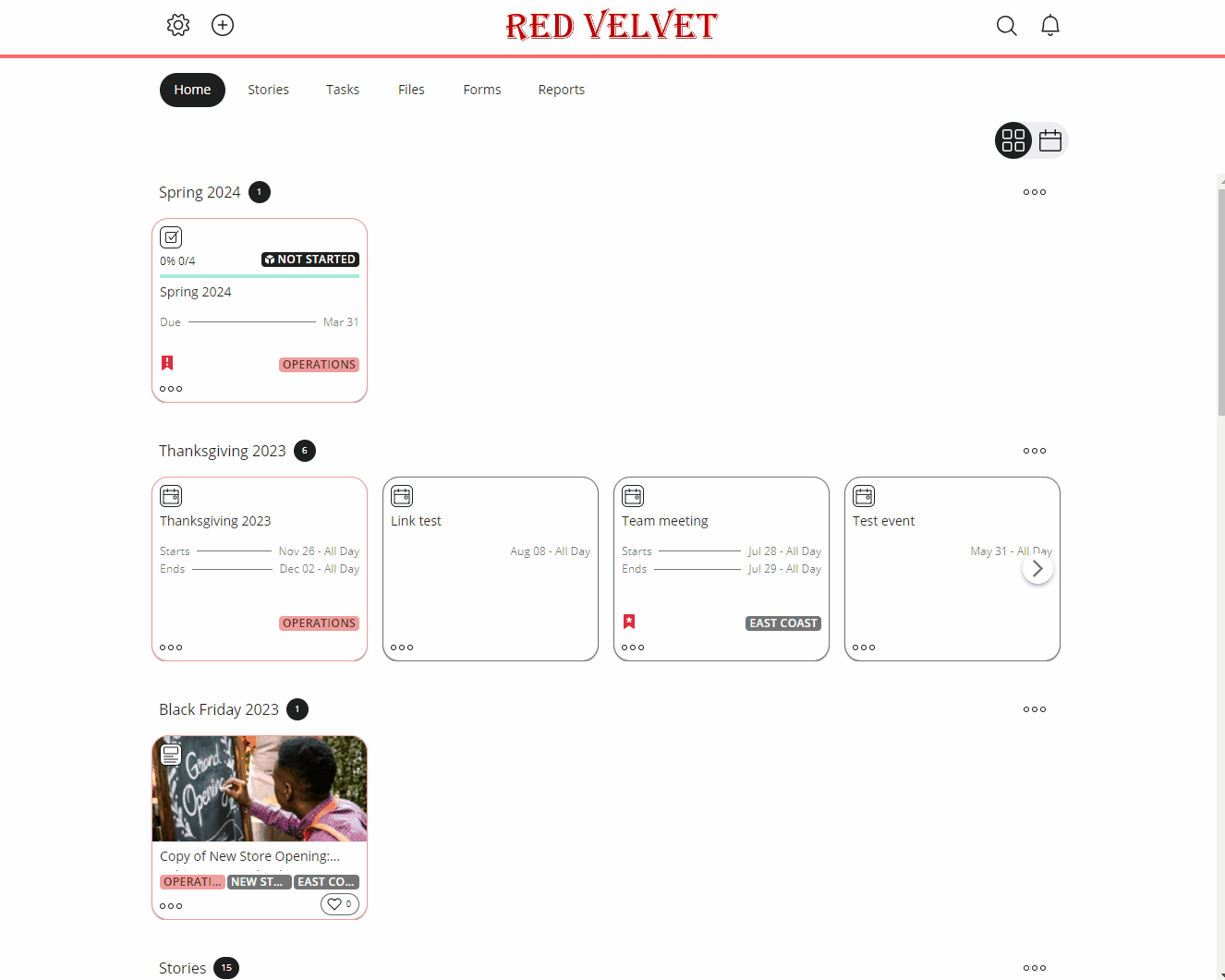 Edit a widget
You can easily edit an existing widget by clicking the three dots.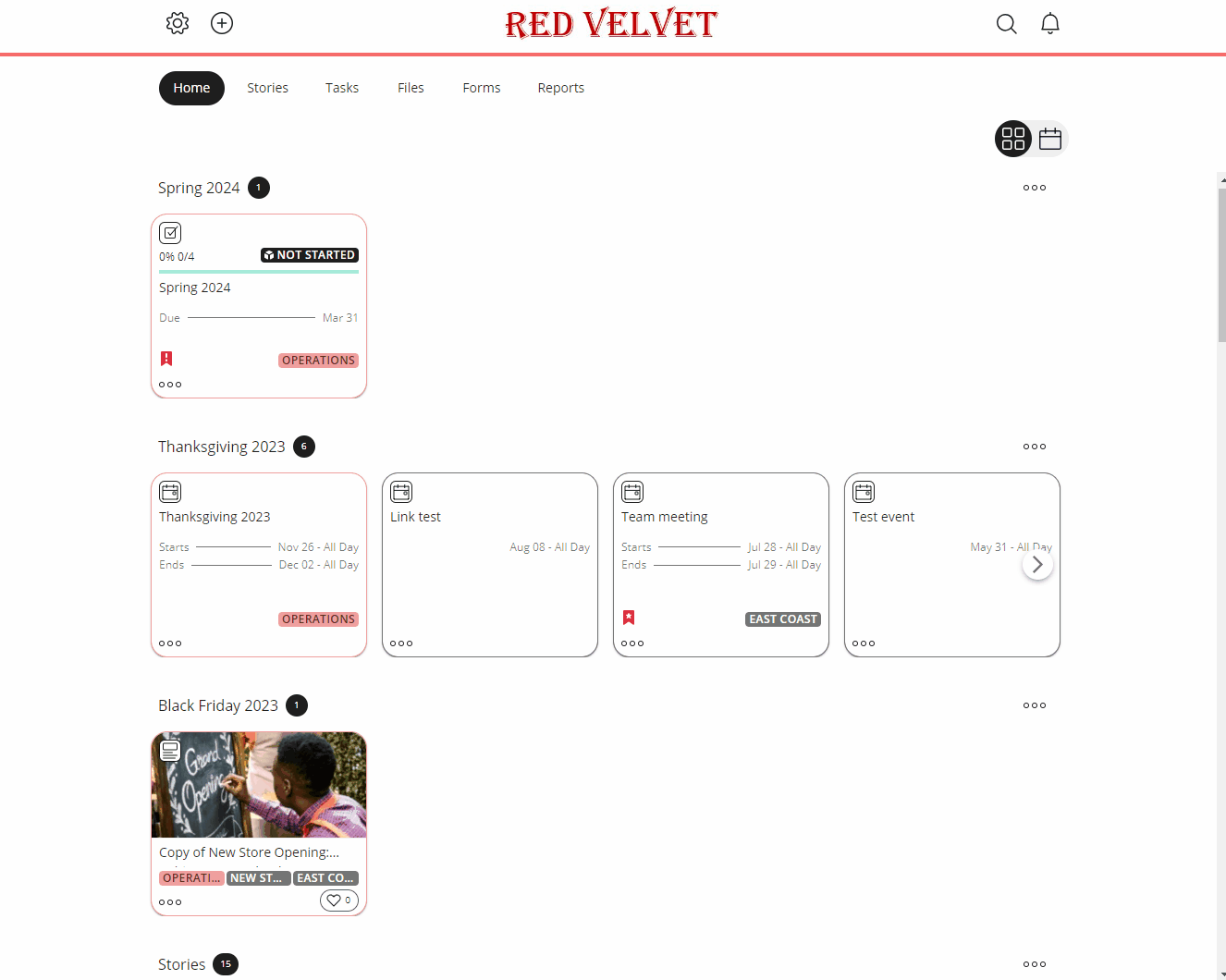 Delete a widget
Keep in mind that when you delete a widget, the action can't be undone, and you will lose it forever.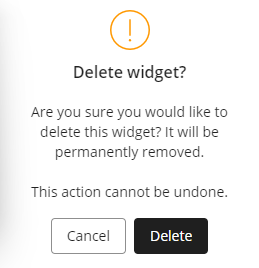 View widgets/resources
You can choose to display resources in either a single or double-column list.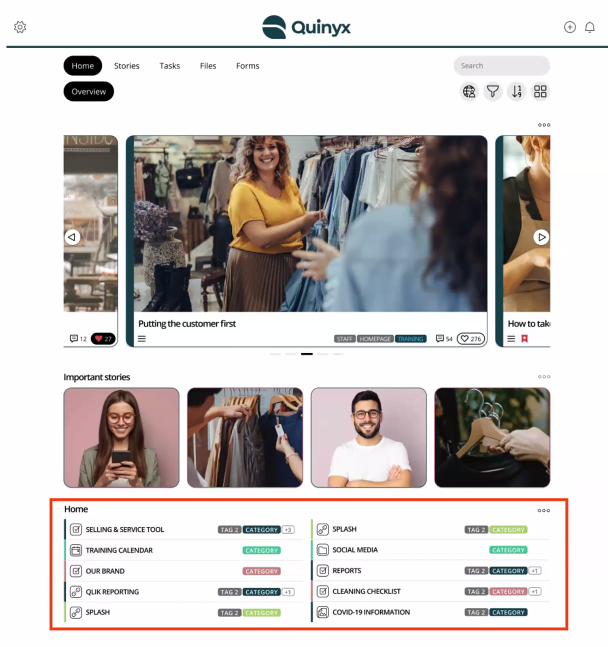 Single column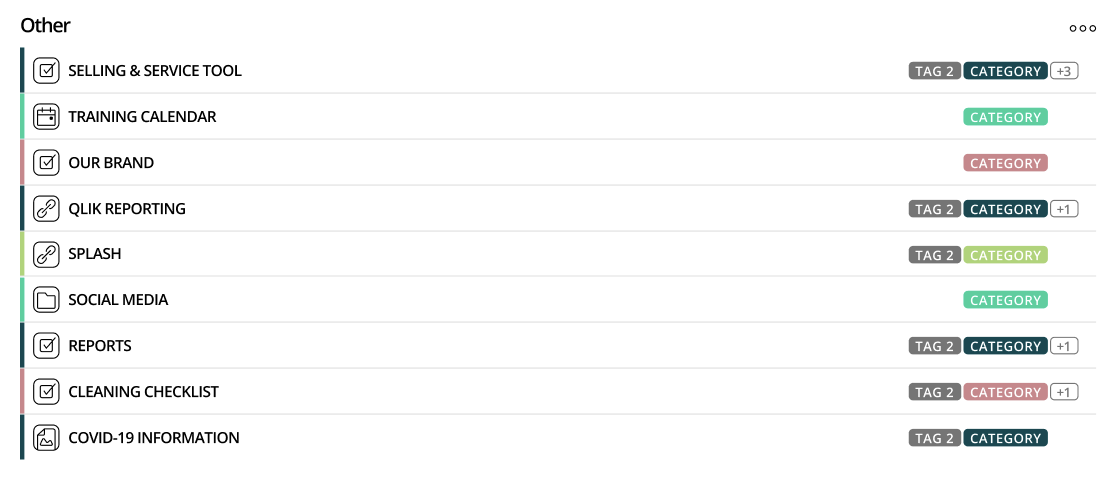 Double column

---
---