Forecast Overview
To be able to see the Forecast tab, you must have the Forecast module activated for your organization and have read or edit permission for 'Forecast Overview' for your role.
The Forecast tab provides an overview of your historical and predicted data in both graphical and table format. You'll be able to see standard variables, calculated variables, and input data as long as they have been configured to display within the Forecast overview. You can do this under Account Settings > Statistics > Variable Settings. Your role must have permission to access account settings to change these settings.
You can also choose to compare data between units using the comparison mode.
Overview Mode
Overview mode is the default view of the Forecast Overview, this view will load each time you click on the Forecast tab. This view provides a view of the group you are currently logged into, the date range you choose to show and allows you to see standard variables, calculated variables and input data in their display groups.
Overview mode is loaded by default when clicking on the Forecast tab, but can also be reverted to after switching to Compare mode by clicking on Adjust View, then selecting Overview from the Show dropdown list.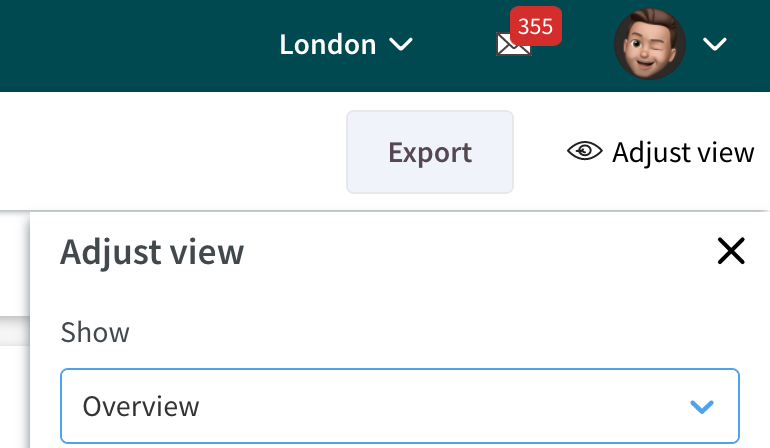 Viewing data
You can view data in the Forecast Overview at a Unit or Section level.
You can see the variables that have been configured to show in the forecast overview along the top of the page, as well as the date range you are currently viewing. Use the arrows to skip forward or backward to the next period.
In this example, we see Hours (standard variable), Sales (Input Data), and Salary % (Calculated Variable).

The currently selected variable is identified with a bold line underneath it. In the above image, we can see the standard variable Hours has been selected. Below the list of variables you'll see the graph relating to selected variable. Hovering your mouse over the graph will display details about the curves and their data. The list on the left of the graph shows all the data points available to show. You can show/hide a specific variable by clicking on its name in the graph.

Clicking on Adjust View on the far right, you'll be able select additional data points to show.
Display Options - these options will affect both the graph and the table below
Additional Columns - these options will not affect the graph, but add an additional column to the table.
If you have chosen to the display 'last year' data point(s), Quinyx will show the comparison between the same day last year, not the same date last year. example: the first Monday in December will compared with the first Monday in December last year regardless what the date of that Monday was.
If you're viewing input data, (in our example, Sales), the options that display here are related to any forecast configurations you've created under Account Settings > Statistics > Forecast Configurations.
Below, you can see an example where two forecast configurations have been created for a single Input Data (Sales), allowing the user to see the options related to both.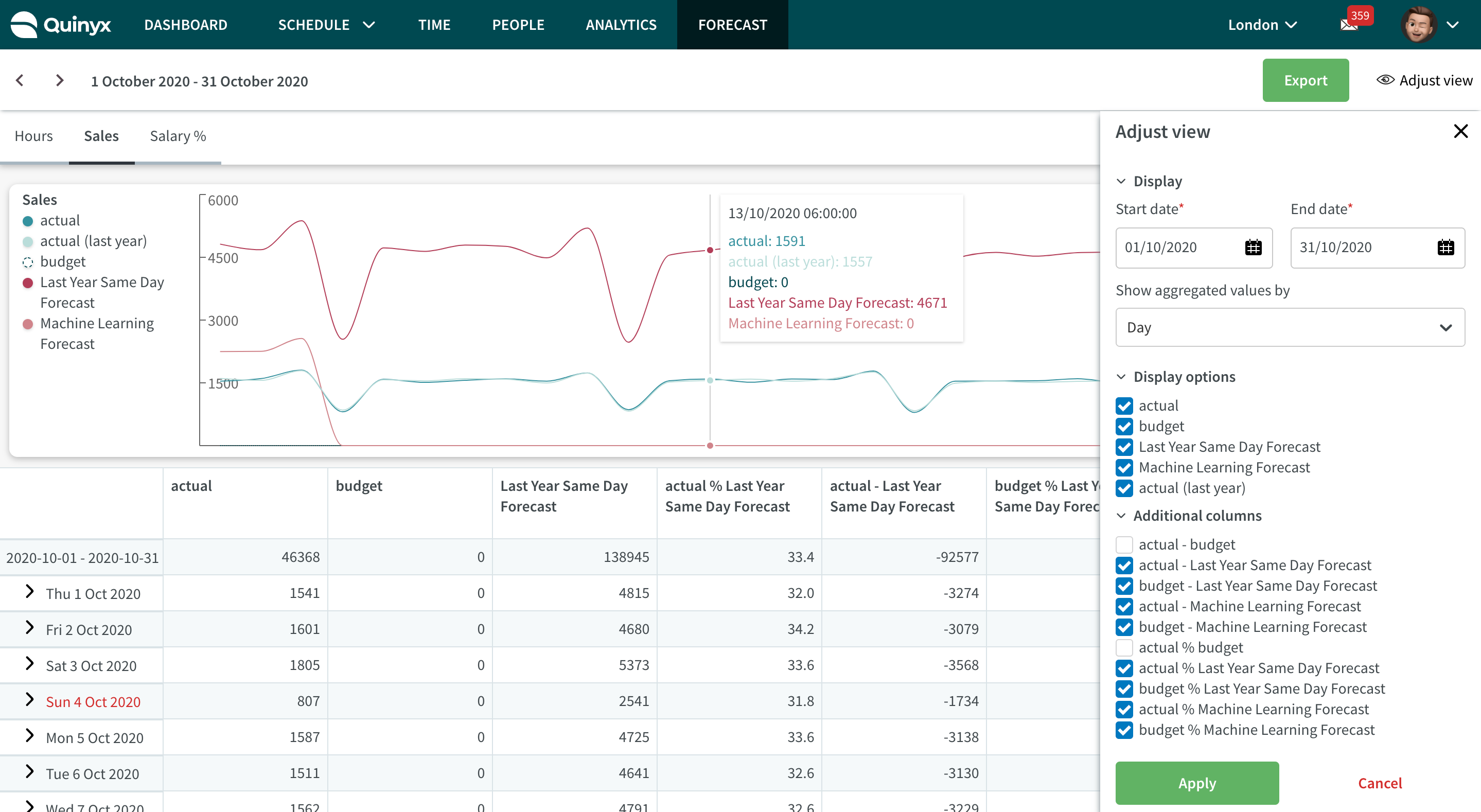 In this side panel, you can also adjust the date range you want to see and how data should be aggregated - by day, week, or month. Changing these options will update both the graph and table views.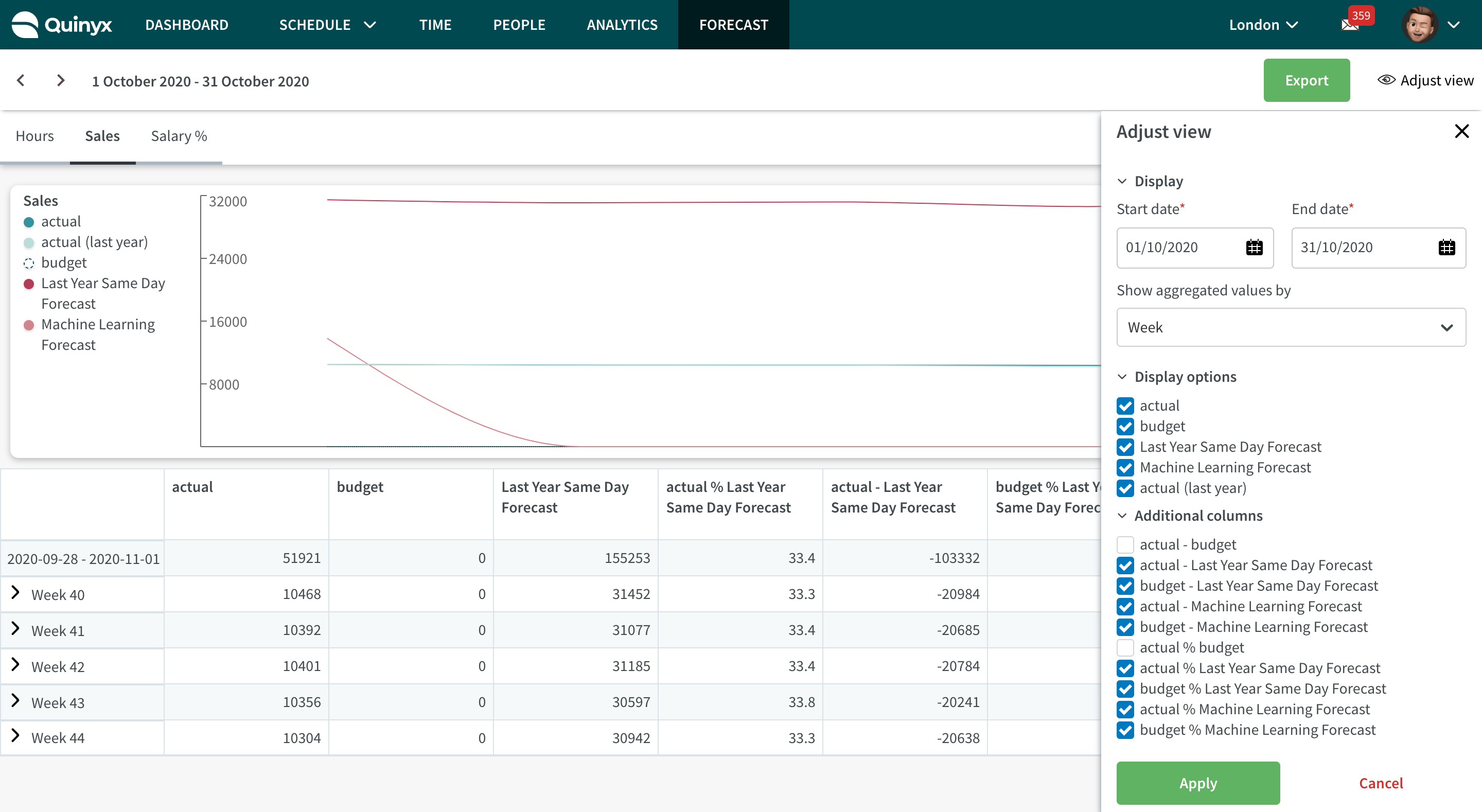 In the table itself, we can click the arrow beside each data aggregation point (day, week, month) to expand and drill down further. Currently, the lowest available resolution to show is hourly. Click the arrow again to roll the data back up.
If you've chosen to view more columns than there is space on your screen to show, you can scroll using the arrow on the far right.

Similar to viewing forecast related data in Statistics, any prediction that's been manually edited will display with a line underneath it. Hovering your mouse over this data point will show the original prediction and the current (edited) value.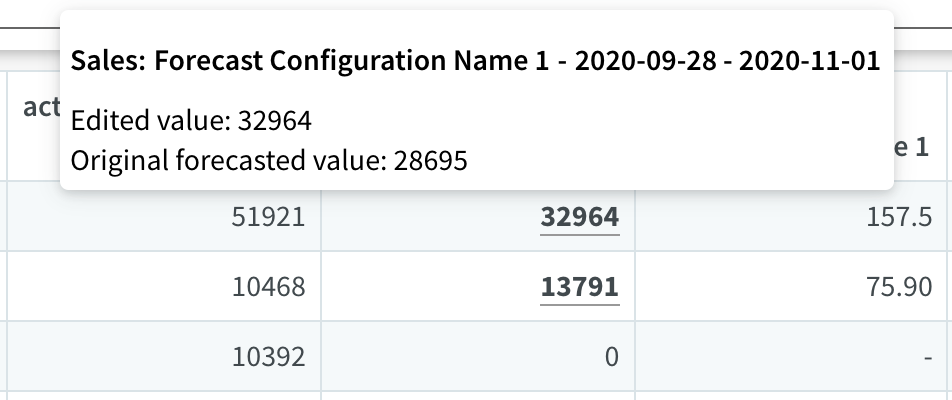 Exporting data
It is possible to export a CSV file of the data currently being viewed on screen by clicking the green Export button in the top right.

Editing data
You are only able to manually edit predicted data for a future date. You cannot edit historical, actual, or budget data manually, this must be done via the API.
When you click on a forecasted data point for a future date, this will open the Edit panel. This panel is divided into three sections.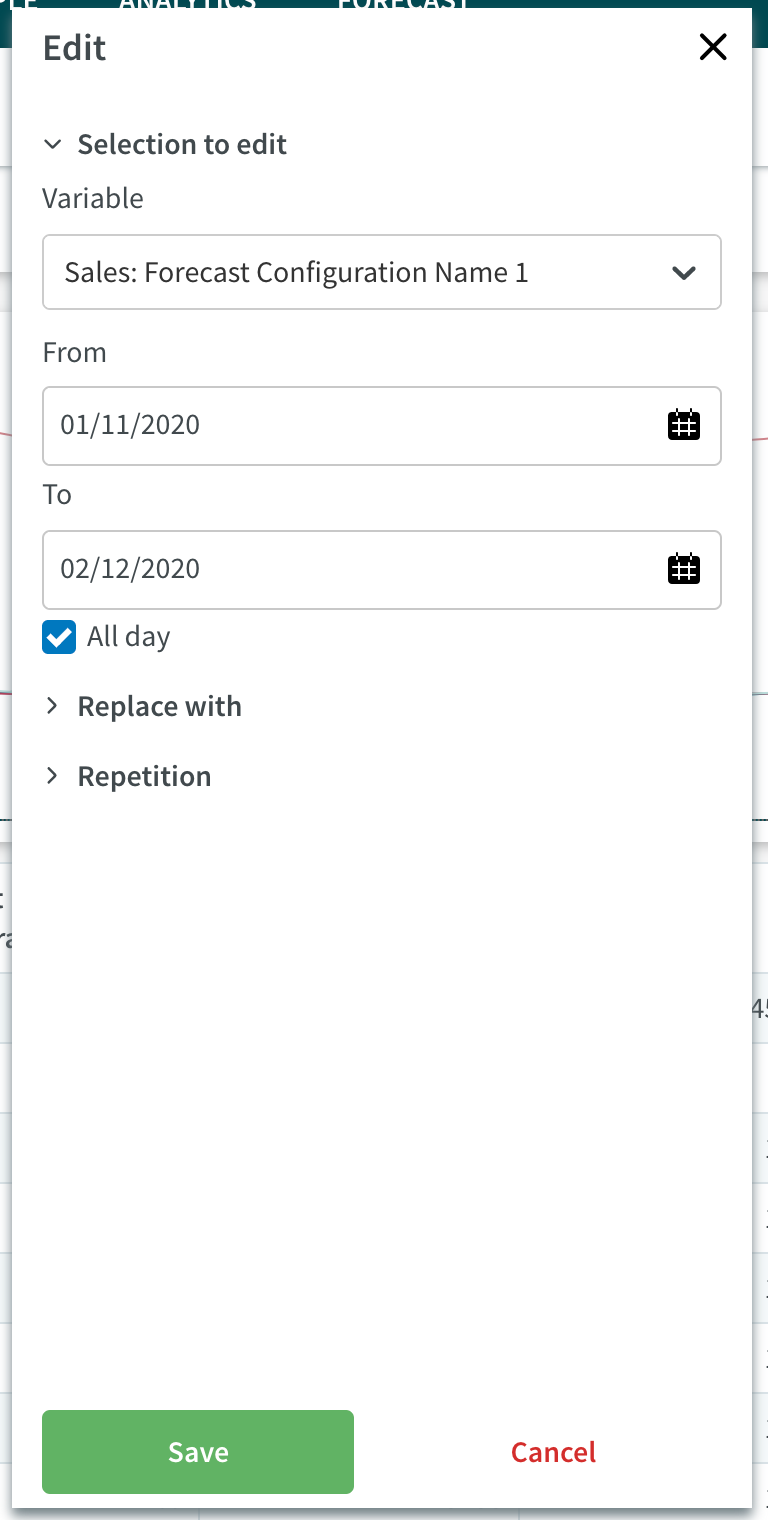 Selection to edit
Here you can select which variable and date range you want to edit data for. i.e. What do you want to edit?
If All day is unticked, you're able to select specific times during the day you want to edit data for.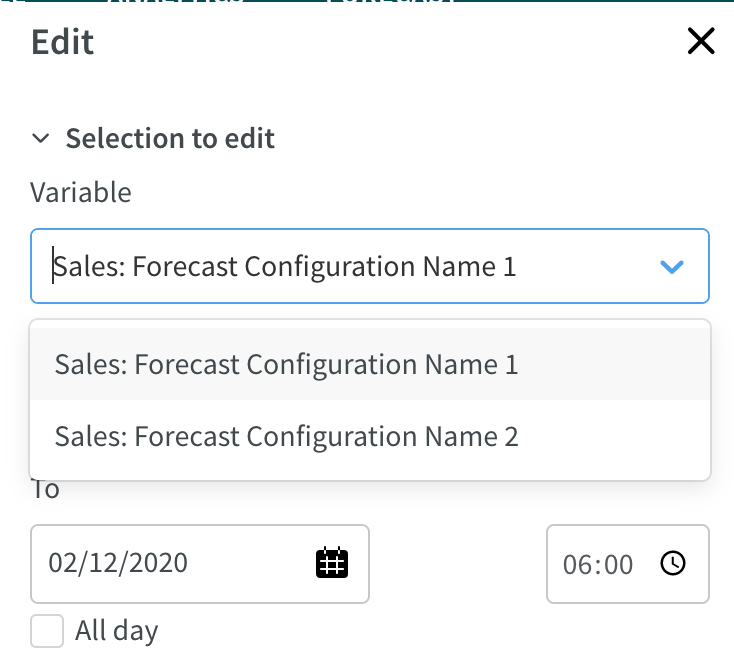 Replace with
Now that you've selected what you want edit, you can use this section to create the new value.
In the drop-down box, you'll see some predefined options, including the ability to replace the data with:
A new, manually entered value.
A percentage modifier eg +10% or -10% of the existing value.
Actual data from a historical date range.
Budget data from a specified date range.
Data from another forecast configuration.
Clicking Save will apply your edit.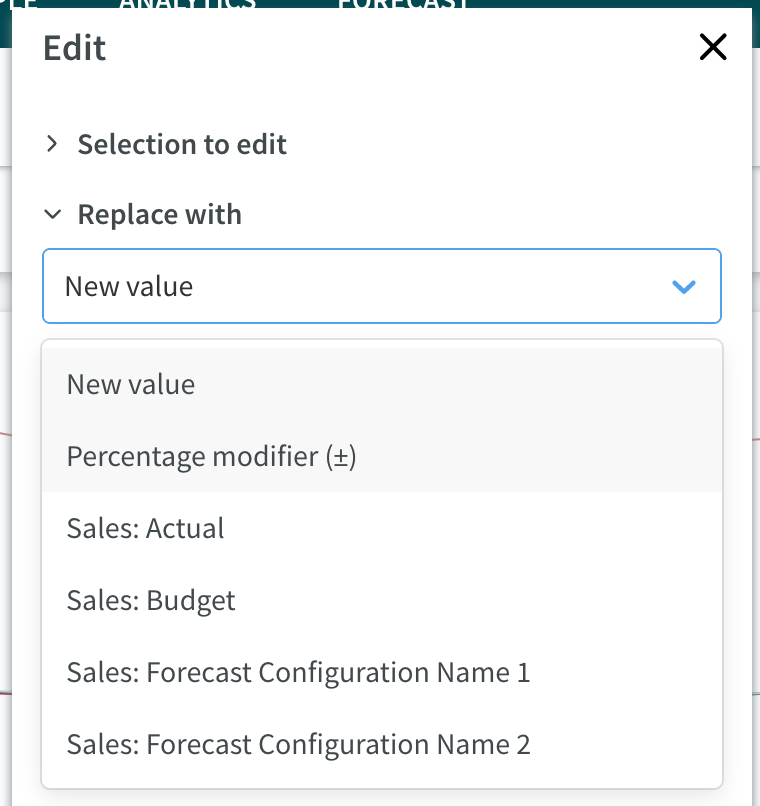 Note that it is not possible to edit data from Quinyx Classic from within Neo. Classic data is restricted to view only. Classic variables are identified with the term (Classic) listed after their name.
Repetition
If you've selected a single day, you have the option to repeat your edit every x-week until a specified end date.
You can also select which specific days you want this edit to occur.
Click Save to apply your edit.
You can only configure a repetition for the date range you have selected to view within the Forecast tab.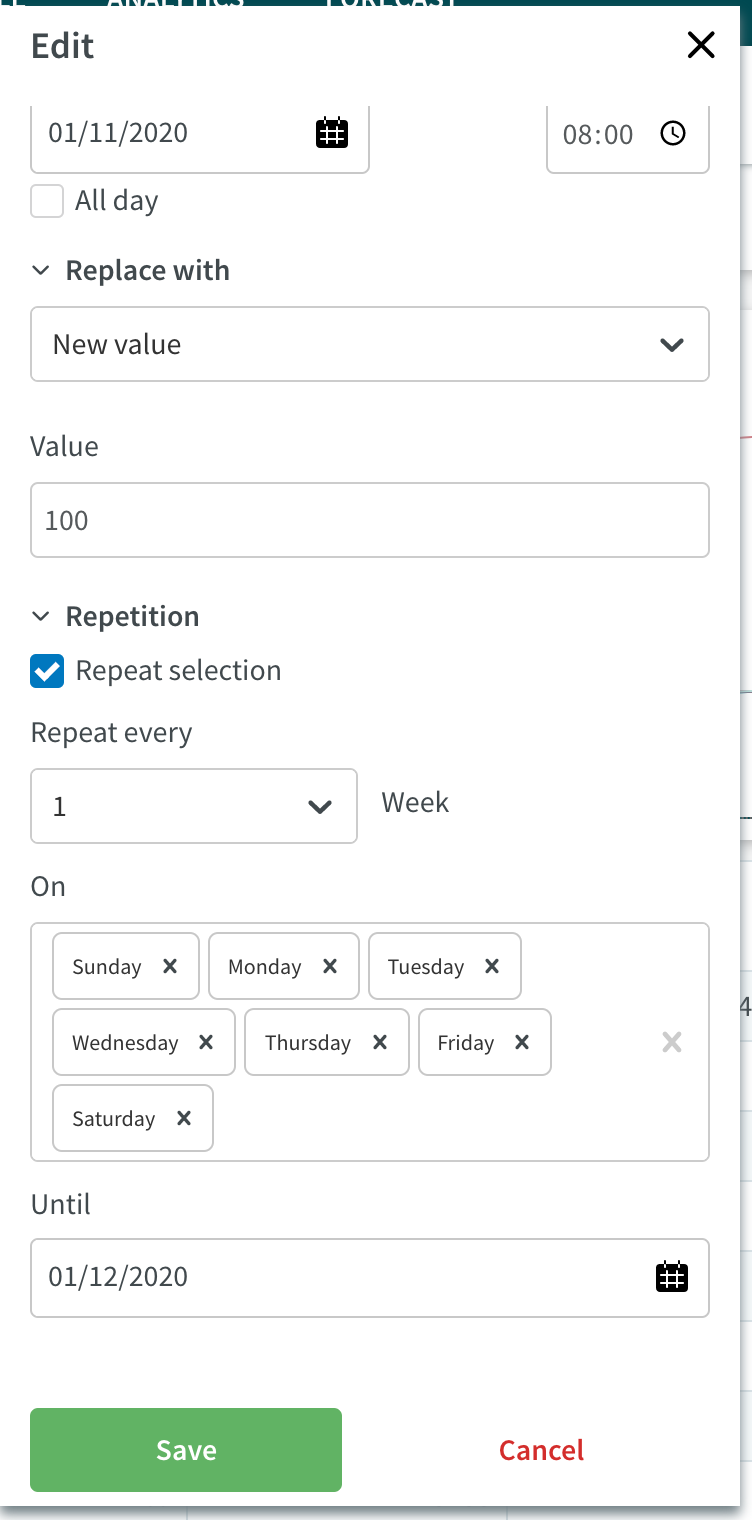 Click
here
for more information about Forecast.
Comparison Mode
Using comparison mode you are able to compare a single variable across up to 10 different units. Comparison is only currently supported on a unit level.
To enter comparison mode, click Adjust View, then select Comparison from the Show dropdown list.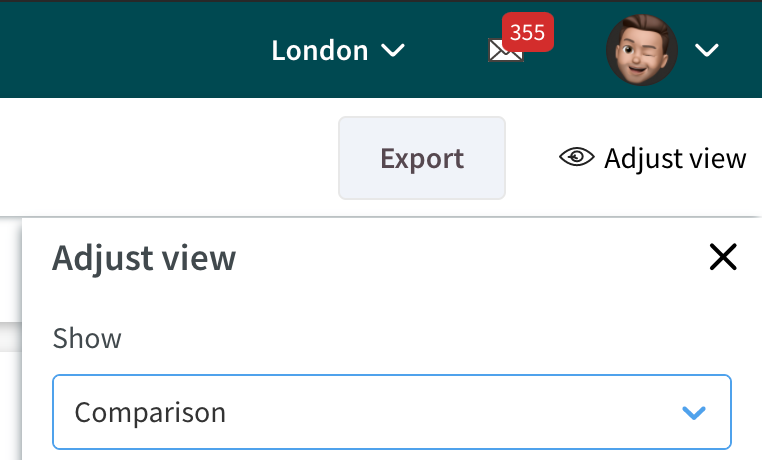 Once you have changed to Comparison mode you will see additional options appear in the list below.
Select which variable to compare - you will be able to select a single variable to compare across all units
Units - you will be able to select up to 10 units.
Start date & end date
Show aggregated values by - day, week or month, similar to the aggregation options you can use in Overview mode.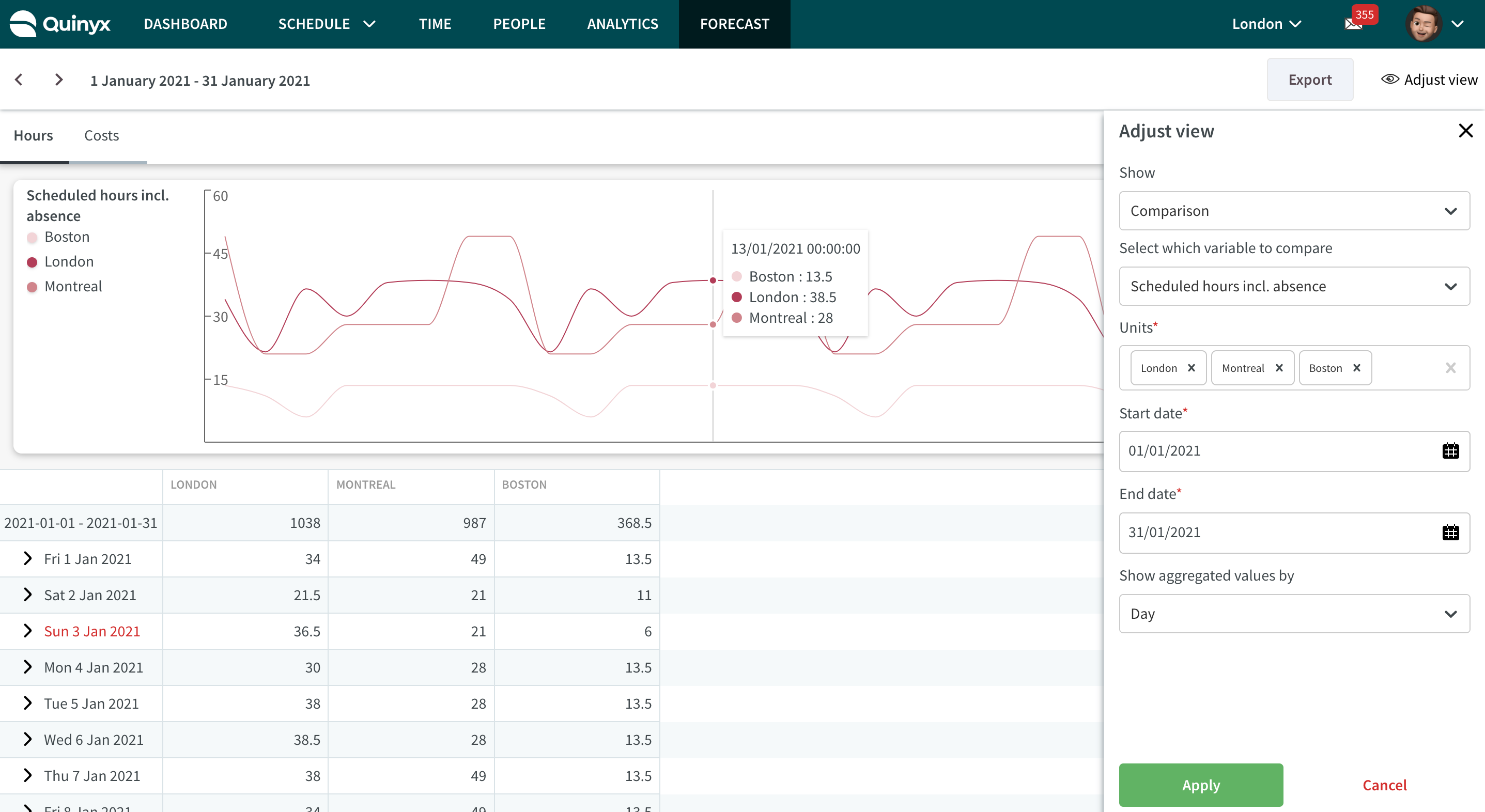 Once you have made your selection, you will be able to see your selected units in both the graph and table view. You can turn off/on a particular unit from the graphical view by clicking on its name in the graph.
You are still able to edit a particular unit's input data within compare mode.
Note that if you navigate away from Comparison, the forecast overview will revert to Overview mode by default.
---
---