Detailed breaks and tasks (BETA version)
The Detailed breaks and tasks report intends to make break and task information available in a format that helps managers control the payroll outcome. Previously, the data presented in this report was only available in the web portal for the manager to access. By gathering relevant data and structuring it in a report, we hope to have created better visibility into how actual break time and task time are used compared to the planned time.
This way, a manager using Quinyx can easily see how well their planned schedules - including shifts, tasks, and breaks - match the actual outcome. We hope that this report will also help optimize your schedules in the future, improve understanding and communication with your employees, and provide faster insight into time spent on certain tasks.
You might notice that this report has a different layout than previous reports; the reason for this is that we want to make it easier for you to filter out the information needed. 
How do I create this report?
Per usual, all our standard reports are found in Analytics. You will locate the Detailed breaks and tasks report under Time.
When creating the report, you can use the following filter.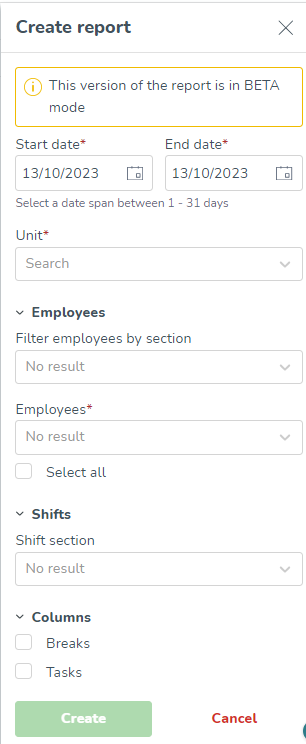 You can choose up to 31 days and choose one unit at a time for the report.
---
---