UT and Overtime Periods
This article relates to Classic.
Under Settings or Time and  UT/Overtime/Bank Holidays you can define global settings for unsocial  time, overtime periods, bank holidays and special days.
These global settings are then used by default in agreement templates and individual agreements if you choose not to uncheck Use default and build other periods for a specific agreement.


To create all the values above, go to the tab Time or Settings and then to the submenu UT/Overtime/Bank holidays.
Unsocial hours
Here, you define what unsocial hours type is applicable to each unsocial time period from Monday to Sunday, 00-24. Up to 8 levels representing different salary outcome levels can be used. You set the number of available levels in the unit card under the Miscellaneous tab.
Create unsocial hours periods
Click Add.


Enter Time range
Enter the unsocial time to apply for the selected time range
Save
Continue until you have filled in the unsocial time settings for all relevant unsocial time periods
Save

Overtime periods
During overtime periods, you can state the periods 00-24 from Monday to Sunday on which overtime is to occur, and what type.
Create Overtime periods
Click Add.

Enter Time range
Enter the overtime to apply for the selected time range
State whether any deviating overtime is to apply for part of the period
Save
Continue until you have filled in the Overtime settings for all relevant unsocial hours periods
Save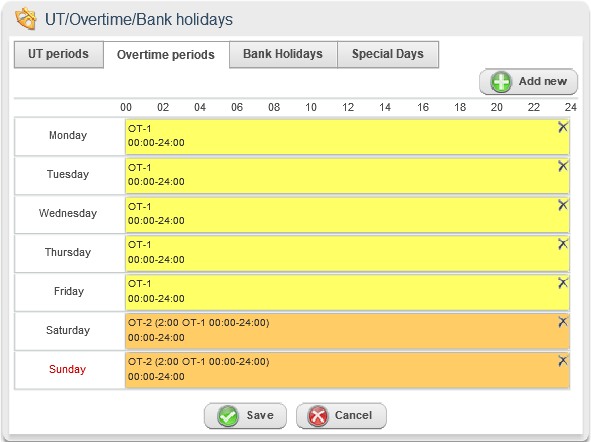 ---
---