Tables - Leave reason types
Leave reason types are created to group leave reasons and in certain payroll systems determine where the transaction will end up in the payroll file. You can specify for each leave type whether it will generate salary (but not which pay type) for the employee and whether it will be considered as time worked. You can also set whether the leave type will be considered as sickness, leave, holiday or another type of leave.
Leave reason types are created under the Settings tab and the Tables menu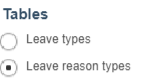 Create leave reason types
Leave types need to be created before leave reasons as a leave type then has to be selected for every leave reason.
Click Add, give the leave reason type a name, indicate whether it should create pay, what type of leave it is and whether it is to be counted as active time. Select Save.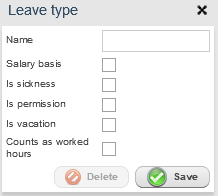 ---
---