Skills
This article relates to Classic.
Staff can be assigned different skills in Quinyx, so for example, you can decide who is able to book which shifts on the basis of expertise/skill. For example, everyone who has a key to the premises can be assigned the skill "Key", and at the same time specify that the opening shift in the schedule requires a key. This makes it possible to control who is allowed to do what. These skills are added to the preferred shift type in order to determine who is permitted to perform which tasks. If the employee does not have the right skills for a shift, a warning message will appear to indicate this when attempting to allocate the shift. Setting up skills for shifts and employees makes Quinyx more capable of suggesting appropriate candidates for free shifts.
Of course, it is also possible to just assign skills to personnel without linking these skills to shifts. This allows you to create a list of which staff members have completed a CPR course, for example, or who are able to speak a certain language.
Create skill categories
Skills must be grouped into categories. Example:
| | |
| --- | --- |
| Skill category | Skill |
| Language | English, German, Spanish |
| Training | CPR, Authorized teacher, Fire safety representative |
| Authorization | Open, Close, Till experience, Over 18, Key |
Skill category
To create a skill category, go to the Staff tab and then to the submenu Skill/Experience, then click "Skill categories".
Click Add New. 

Enter a short name for the category in the field Group, and a name in the field Category description.

Click Save
Create skills
To create a skill, go to the Staff tab and then to the submenu Skill/Experience
Click Add New. 

Assign a name to your skill
Link to a skill category already created

Link skill to employee
To link a skill to an employee, go to the Employees tab and then to the submenu Employees/Skills
Click the employee's name

Double-click the skill that you want to link to the employee
Where applicable, set an expiry date for the skill
Click Save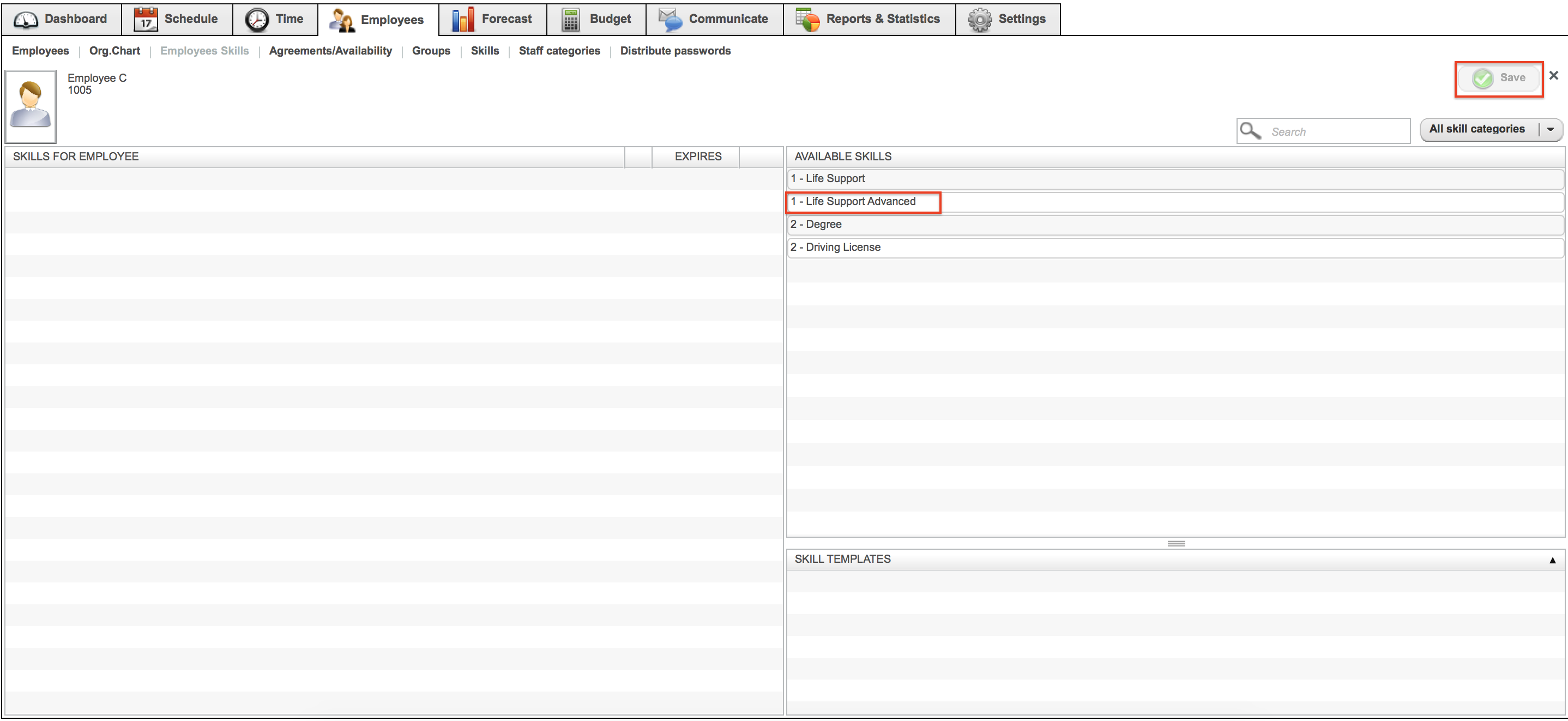 Skill templates
You can also create a skill template for a specific task or a field of responsibility that you wish to assign to a new employee. This may be useful for rapidly linking a group of skills to one person all at the same time.

To create a new skill template, click the grey bar containing the relevant name and then click on the upper right hand corner.
Assign a name to the template (e.g. finance officer) in the name field, you can then select the staff category to which it belongs in the drop-down list.
You then select which skills are preferred/needed from "Available skills". Double-click or use drag-and-drop to transfer them to "Skills in Template". You can choose to either scroll through all skills or use the search field and drop-down list on the right-hand side to select a specific category (e.g. Training). If you change your mind about a skill you have selected, it can be deleted from the list by clicking the cross to the right of the skill.
Finish by clicking .
Working with skills
Shift requirements
Skills can be set as requirements in shift types. For example, an employee may need to have the skill Keys to be able to work on the shift type Opening.

If you then attempt to schedule a person who does not have the skill required by shift types, a warning will be displayed.

Scheduled staff
You can filter on skills in Scheduled Staff view. This is useful to ensure that you have people with the right skills on site. For example, making sure that there is someone on site every day who is authorized to perform CPR.

Staff list/Search staff
You can filter staff with specific skills both in the staff list and under "Search staff". The "Search staff" function allows you to search for staff with specific skills so that you can send a Qmail just to them. This may be useful if you have a lot of free shifts where certain skills are required.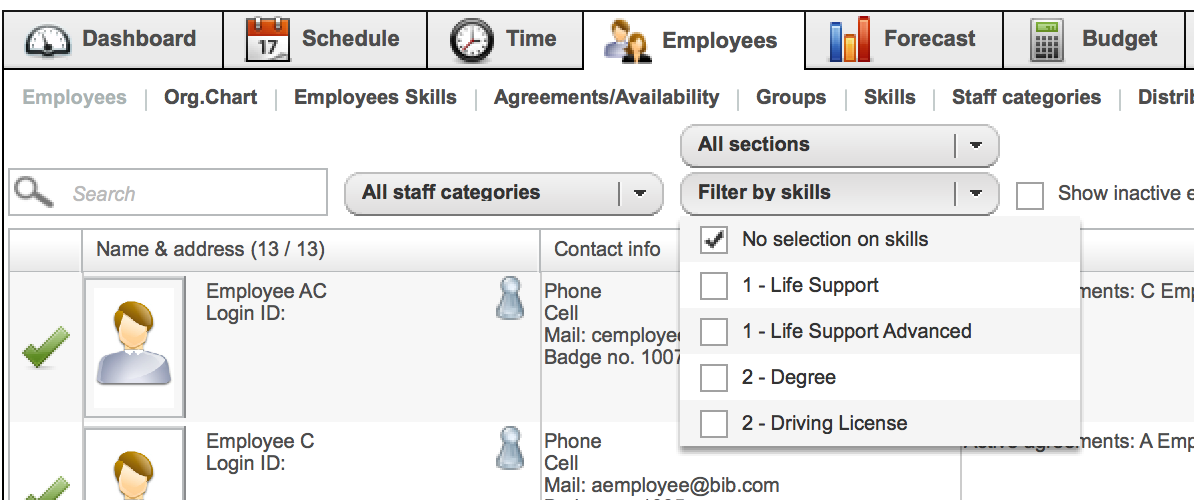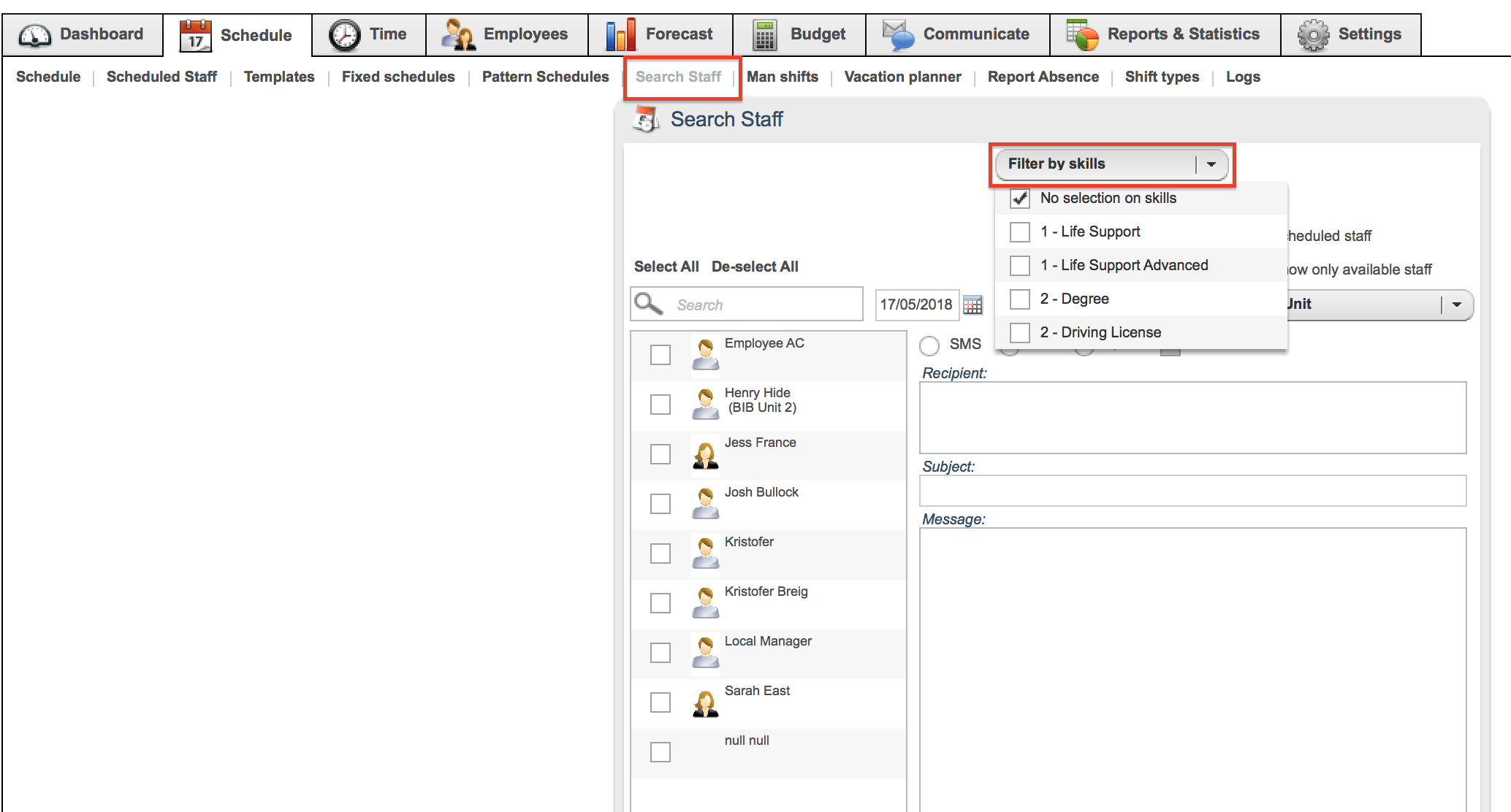 System information
3 months before a skill expires, the manager sees it in the System information pod under the Dashboard tab. This is useful to alert you to the fact that you need to review the skill. You may need to book a new CPR course for the employee in question, for example.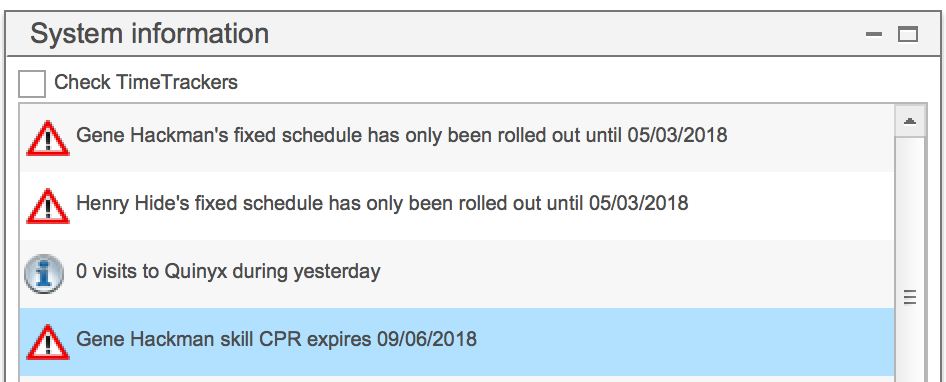 ---
---