Sorting
The default sort order of the schedule, except for unassigned shifts, is the shift's start time. The shift that starts earliest is on top of the schedule. You can easily change the sort order by clicking on the sorting drop down menu.
The following sorting options are available:
Start time

Sorts on the start time of the first shift, absence or punch displayed in the viewed period. Note that this means that if you've applied a filter where you display shifts, absences and punches, then the item with the earliest start time will appear on top, regardless of whether it's a shift, punch or absence. Unavailability is not considered in the sorting.

Employee name A-Z
Employee name Z-A
Diff of Scheduled/Nominal Hours 

This option will place the employees who need more hours to reach their nominal hours at the top of the schedule.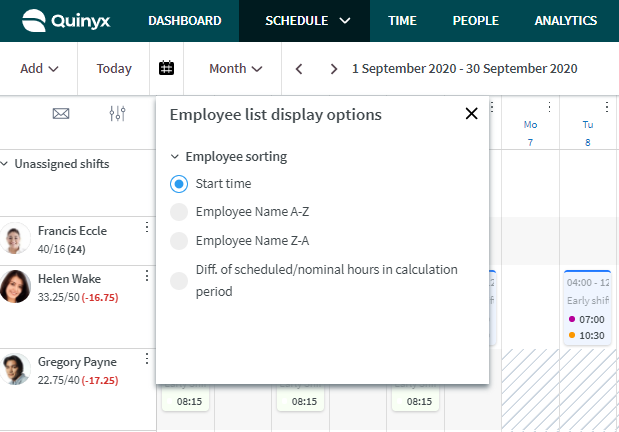 What does "Sorted by relevance" mean: 
Employees who are available or unavailable according to agreement and have a Notice of Interests (if notice of interests are not used, this part is not applicable)

Home unit 
Away unit 

 Employees who are available (according main agreement, no absence or shift)

Home unit 
Away unit

Employees who are unavailable (according main agreement, has an absence or a shift):

Home unit 
Away unit 
In the sorting logic we also take into consideration how many skills that are matching between the shift type and the employee.
If employees meet the exact same criteria, they are sorted in alphabetical ascending order.
---
---