How to upgrade to Neo
This is a suggestion from us, based on experience, on how to upgrade to Quinyx's new interface Neo on your own - also known as a self transition.
If you have any questions, you can, as always, turn to our Support for help. You can also find a lot of information in our online manual. See links at the end of this document.This is a step-by-step plan for how you can do Neo Transition on your own. 
Make sure your managers have the access they need before you let them start using Neo so they get the best experience.
Do you share employees between units? Once you start using Neo, you will need to use Neo's new staff sharing functionality as described in
Staff sharing FAQs
. Sharing an employee to a unit in Classic will not make them available for scheduling on that unit in Neo.
Train The Trainer session.
This is where you train your trainers to get them ready to start training your users.
Train first group of Neo users.
Find your ambassadors and let them be first. Tell them they are important for the success of Neo and have forums where you can discuss.
First group start using Neo.
Your ambassadors will start and give valuable feedback to you on your continued transition.
Review with the first group of users.
To find out the challenges for the first group, and what you can improve going forward, it is important to do a review with the ambassadors.

What has been the challenge?
What has been easy?
Can we do anything better/different?
Tips & tricks or suggestions going forward!

Start full roll-out.
Start with training for the rest of your managers. Make a plan and stick with it. Communicate what is expected and when.
All managers start.
Let all managers start using Neo on a daily basis. Set a date for when this is expected from them. Set goals for yourself to be able to track your progress.
Turn of modules in Classic.
Turn off selected menus or tabs in Classic to ensure managers don't use "the old" system, and this also forces them to use Neo on a daily basis.
Review with managers
After having turned off Classic modules, make sure you do a new follow up on how it is going. Follow up is the key to success.

What is challenging?
Is there anything not working?
How can we help you?

Shut down Classic.
Set a date when you turn off access rights for your local managers in Classic. This is the date when you have completed transition for your managers and you are now upgraded to new Quinyx.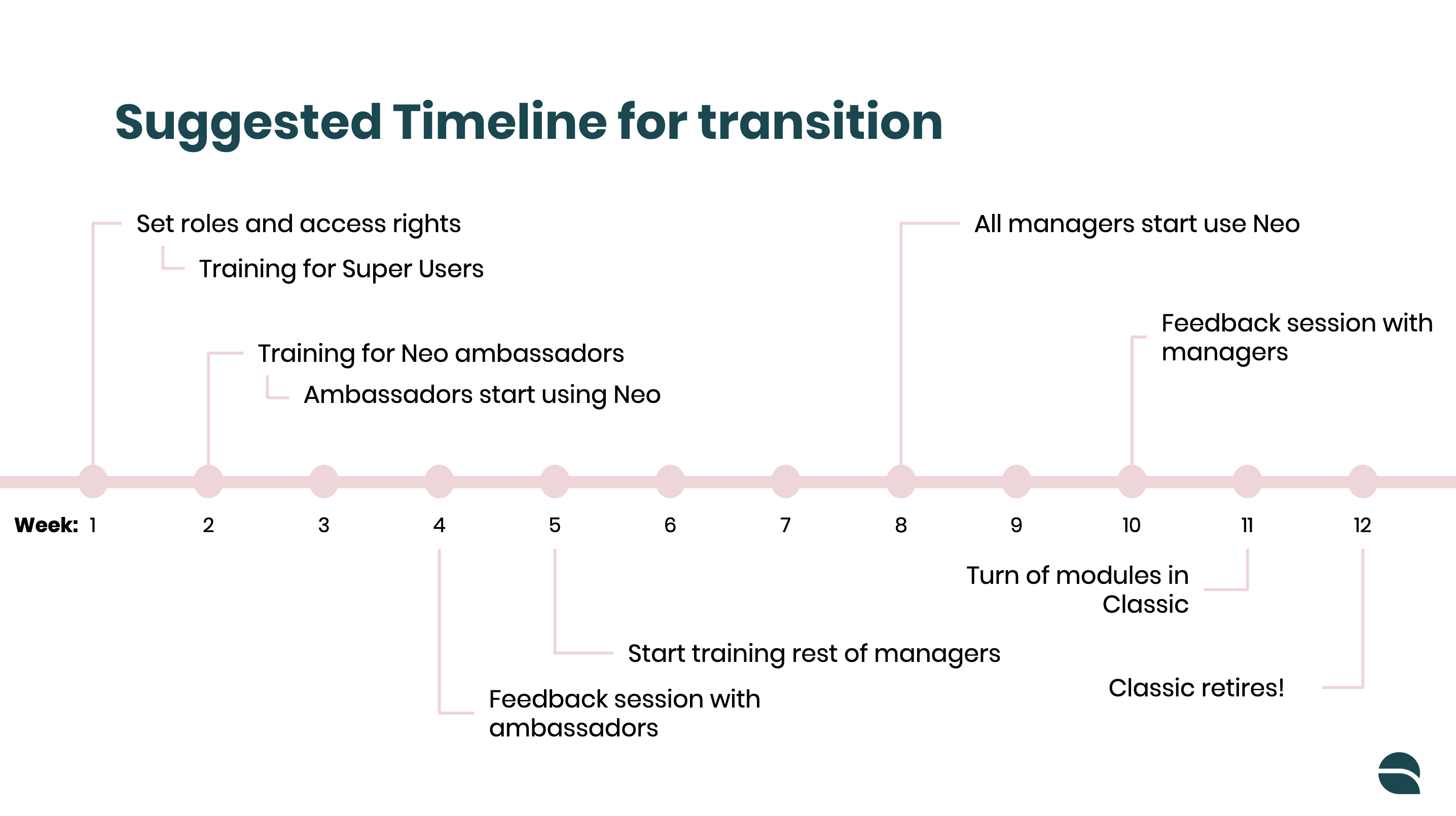 Communications
Tell users why they need to start using Neo. If you need any information look here: https://www.quinyx.com/neo-is-here
What to think about regarding communications:
Training dates?
When will the manager be expected to start using Neo?
When will Classic modules be turned off?
When will they no longer have access to Classic?
When will you have reviews?
Where should they turn when they have issues?
Where should they turn when they have questions?
Resources
| | |
| --- | --- |
| | As a super user, there are a few things you will need to do in order to get your organisation up and running with Neo. Start by following this guide in HelpDocs. |
| | We've gathered answers to all of the most common Neo questions right here. |
| | As the end of Classic draws nearer, we are doing more and more to encourage users to move to Neo, including changing the login experience in Quinyx. Read more about this in this HelpDocs article. |
| | During 2020, we are also gradually disabling views in Classic and linking them to the corresponding view in Neo. Learn more about which views we are disabling in this HelpDocs article. |
| | Neo is constantly being improved, with a new release every second week. Are you wondering which features Neo has? Or are you missing a feature and wondering when it will come? Check out this HelpDocs article. |
| | While we offer a wealth of written help documentation, we know a lot of you prefer "learning by doing", so we offer both digital classroom training and live webinars. Check out this HelpDocs page to find and book a future scheduled session. There's no limit to how many you can attend! |
| | Can't find a live session that suits your schedule? No problem, you can find recorded trainings right here. |
---
---