Agreement templates - Time Tracker association
Time Tracker is a function for keeping track of hours and minutes or days. This can be used for tracking vacation balances, time off in lieu, or flextime, for example. Employees can monitor their balances in the app.
Add Time Tracker association
Navigate to Account settings > Agreements > Agreement templates > <valid agreement template> > Time trackers, and click Add.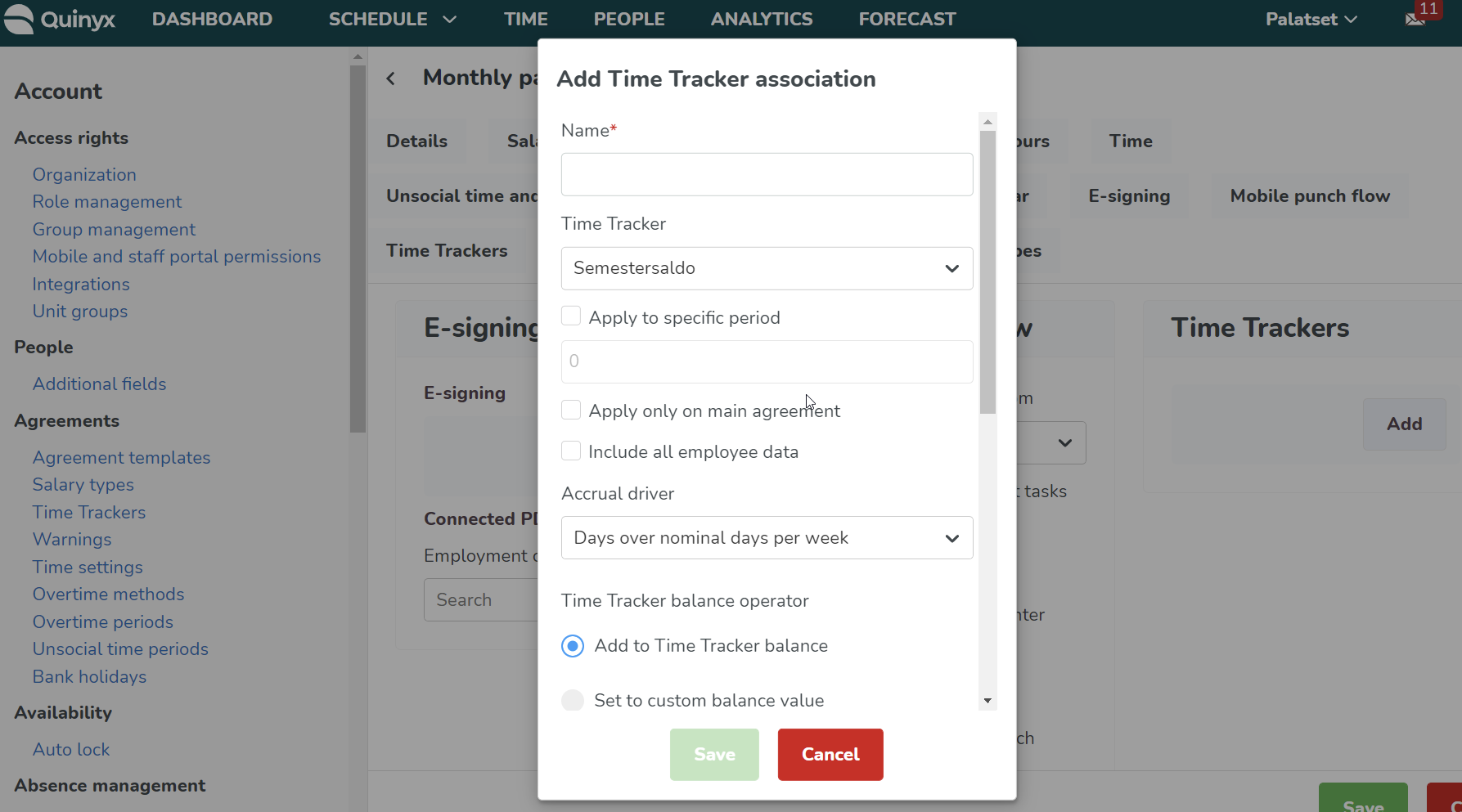 | | |
| --- | --- |
| Name | Give your Time Tracker a name. |
| Time Tracker | Type of time. (How to add time trackers) |
| Apply only on main agreement | Applies Time Tracker only on main agreement. |
| Include all employee data | Include all data for the employee, regardless of agreement. For example, create transactions within the entire employment period instead of just during the agreement period, i.e. includes all of the employee's shifts and punches in the calculation instead of just the ones belonging to the agreement in question. |
Accrual driver
| | |
| --- | --- |
| Days over nominal days per week | Days over nominal days per week. |
| Days scheduled to work (historically) | The value of the Time Tracker is increased for every day that the employee was scheduled to work. |
| Days with punches | The value of the Time Tracker is increased for every day that the employee has worked (i.e. has punched in/out). |
| Each day the agreement has been active (not leap year) | The value of the Time Tracker is increased for every day that the agreement is active (valid). |
| Each month after employment date | This is adjusted every month on the date of employment. |
| Each month after specified date of agreement start year | This is adjusted every month on a specified day of the month, but in the agreement's start year with the month specified. (Like all other value adjusters, it is not adjusted on a date before the agreement's start date or after the agreement's end date). |
| Each vacation leave day | Determines which day during leave is to affect the Time Tracker value. It's possible to set whether Saturdays should reduce the Time Tracker value, regardless if shifts take place on a Saturday. You can also select which days are not to reduce the Time Tracker value, regardless if shifts take place on a Saturday. |
| Each vacation leave hours | Determines which day during leave are to influence the Time Tracker value. |
| Each year after specified date of agreement start year | Adjusted every year on a specific monthly date. (Like all other value adjusters, it is not adjusted on a date before the agreement's start date or after the agreement's end date). |
| First day of each periodized tracking year | Means that this will occur on the first day of every year, such as 1 January or 1 April, depending on the settings under Account settings > Agreements > Time trackers. Click on the pen icon to edit a Time tracker and select Periodized in the pop-up window. |
| One year after each decreasing salary based on transaction | Works as One year after every increasing salary-based transaction, but adjusts on decreasing salary type-based transactions instead of increasing ones. |
| One year after each increasing salary-based transaction | Adjusted on every anniversary of each increasing salary type-based transaction. Can be used, for example, to "even out" the effect of a salary-based transaction and to create a temporary (at exactly one year) increase of the Time Tracker balance. |
| Punched hours | The value of the Time Tracker is increased at the end of every day by the same number of hours for which the employee was clocked on. |
| (Punched hours) Number of months after agreement start date | The accrual of hours starts X months after the agreement start date. |
| (Punched hours) Number of months after employee start date | The accrual of hours starts X months after the employee start date. |
| Years since birth (age) | The value of the Time Tracker is increased every birthday. |
| Years since start of employment | Number of years since employment began. |
Start date
| | |
| --- | --- |
| No reduction | This association would trigger on all days excluding bank holidays |
| Don't accrue on selected days of the week | This association would trigger on all days including bank holidays |
Time Tracker balance operator
| | |
| --- | --- |
| Add to time tracker balance / Set to custom balance value | Choose whether to add the balance operator to the Time Tracker balance or set to your own custom balance value/carry-over to specific value. |
Factor level regulator
| | |
| --- | --- |
| Years since start of employment | The adjustment factor may be changed from 0.5 to 1 after the employee has been employed for 3 years, and from 1 to 2 after the employee has been employed for 5 years. |
| Age (in years) | Works as above, but with the difference that the adjustment factor will be on the basis of the age of the employee instead of the employment length. |
| Accumulated value of chosen accrual driver | The accumulated value of the accrual driver you choose. |
Accrual factor for employment rate
| | |
| --- | --- |
| Create transactions only for thresholds | With this option checked, a transaction will only be created every time a threshold is passed. All other future transactions will be ignored before it is applied – every threshold will only be used once, i.e. for one transaction. |
| Multiply accrual factor by value provided by accrual driver | |
| Multiply accrual factor by average nominal hours per day | If the accrual factor is to be multiplied by the average nominal hours for the employee. Average nominal hours is calculated from the employee's full-time work hours divided by working days per week. |
---
---