Q4 2022 Frontline Portal release recap
You can read about key functionality in the past few releases so that you always know about the latest functionality and don't miss out on any added value!
The fourth quarter of 2022 included several releases. The boxes in the image below represent the key functionality that we've released and in which area of the software. Please note that this doesn't contain everything. During each release, we do all kinds of bug fixes and add smaller pieces of functionality. We also make updates and performance improvements.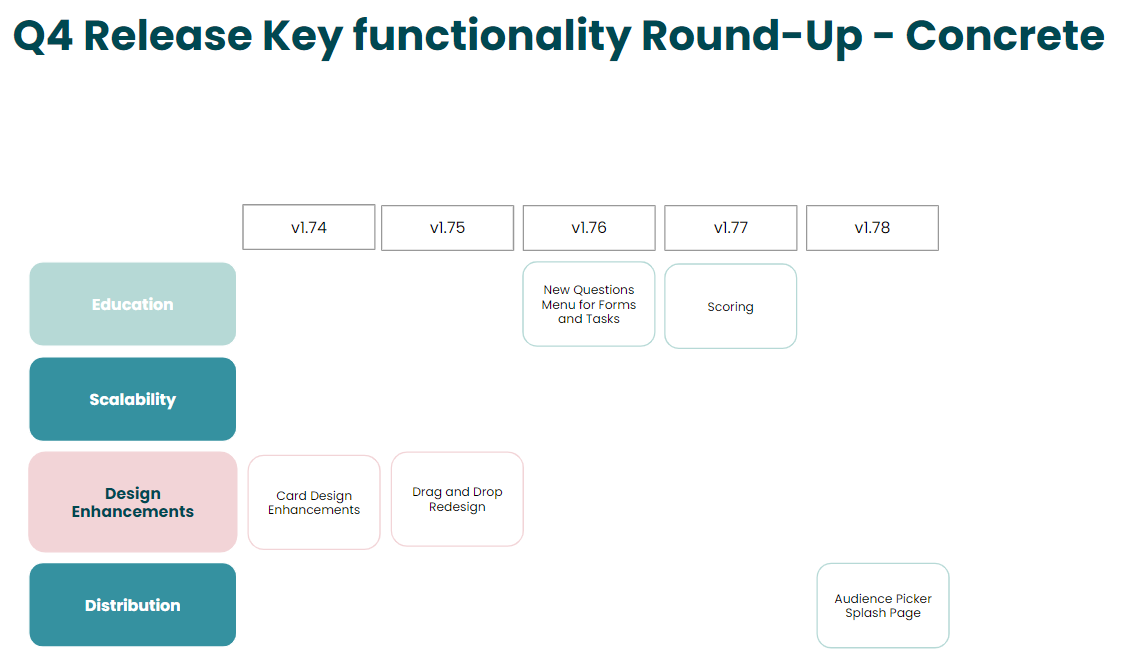 Version 1.74
Card Design enhancements
For better action tracking, we added a Not started task card recipient count. This allows you to better ensure that task deadlines are met, and if not, be proactive and reach out to respective parties ahead of time. 
We also made some spacing adjustments for our story cards and form submissions to improve the overall user experience.
Version 1.75
Drag-and-drop redesign
We enhanced and made improvements to drag-and-drop to ensure a better user experience, Some of these improvements include: 

A shadow drop hovering over a folder gives a better indication of when an item is being dragged and dropped into a folder.
A new radio button design for the selection of items. 
When a selected item is dragged, it disappears from its original position and changes to an item selection icon, as well as having a dashed outside border on its original position. 
When hovering over the destination folder, the folder's opacity changes to better indicate where the selected item is being placed. 
When there's an error, an error message appears, and the selected items snap back to their original position.
Version 1.76
New questions menu for forms and tasks
To further empower our mobile users, we have integrated the Add question selector from the web app as a full-page menu into the Concrete mobile app when creating Forms and Tasks. 
This ensures that regardless of the device used, you will have the tools to ask the relevant questions to your workforce.
Version 1.77
Scoring
In the past, users had to answer all questions correctly in order to complete a task/form. Now, recipients of tasks and forms can submit incorrect answers (if toggled) to questions and receive a score for their efforts. 
You can use this for audits, quizzes, checklists, and more.
Version 1.78
Audience Picker Splash Page
To ensure a better visual and UX experience, we redesigned the Audience picker splash page. In the future, this will allow for some cool new features to be embedded on the page.
---
---