Assigning Agreement Templates
This article relates to Classic.
You assign an agreement template to an employee under Employees, Agreement/Accessibility.
All employee agreements are chosen and edited in this sub-tab. There is a search field on the left where you can search by name. You can also use the drop down menus to filter on specific agreement templates, staff categories, sections and skills. The first screen summaries employee agreements, hourly pay, section and other information.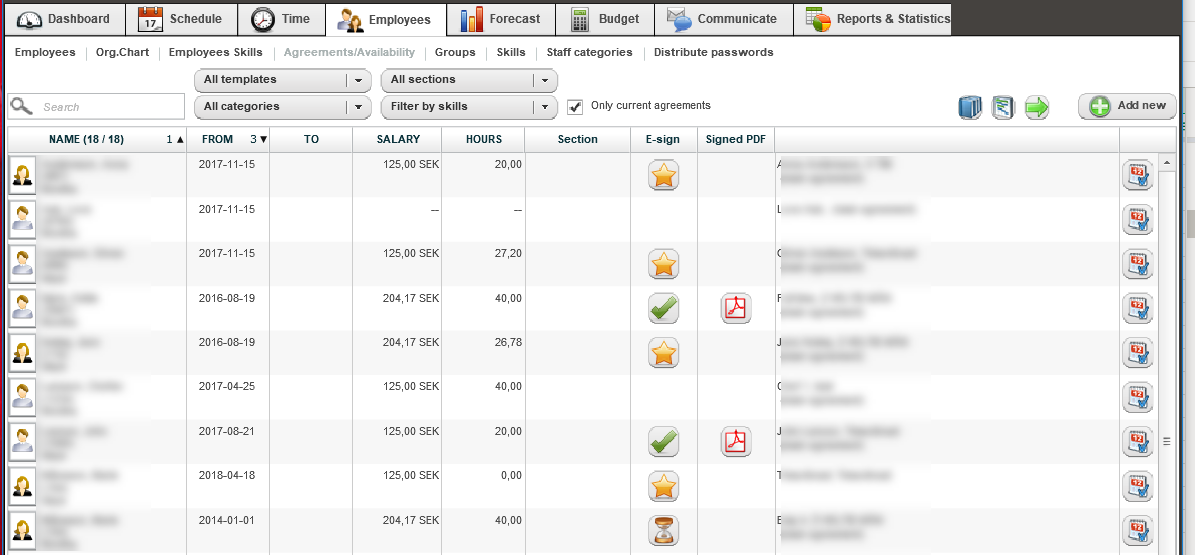 Note the checked box "Only current agreements", un check this to be able also to view older agreements that are no longer active.
Link agreement templates


changes several at the same time.
You can also change or add an agreement template by double-clicking a name in the list – this opens a new window divided into tabs according to function. Here, the employee can be linked to an agreement template or be assigned individual settings.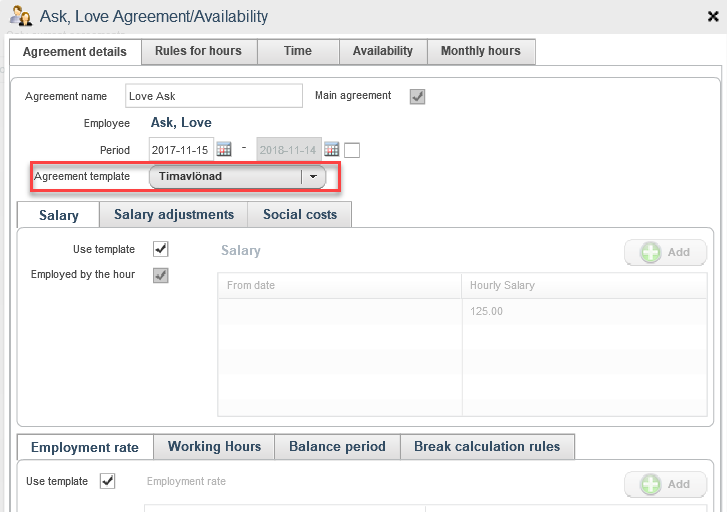 When you have assigned an agreement template, a start date must be entered to indicate when the agreement will begin An end date can also be set if the agreement has one. The name of the agreement is entered so that agreements can be identified during scheduling. This is particularly useful when the employee has multiple agreements.
Individual settings
You can define individual settings that deviate from the agreement template by unchecking "Use agreement template". The relevant field is then unlinked from the agreement template and you can define another setting for the agreement in question. 
Note that any changes made to the agreement template will then not take effect in the fields that you have chosen to uncheck in the individual agreement.
Detailed settings are in the chapter agreement template chapter. The most common settings changed on an individual level are as follows. 
Salary
Here, you can enter the individual's monthly or hourly pay and the date from which it starts.
Salary adjustments
You can create personal pay adjustments. This function can only be accessed in the individual agreements and is set up with a "From date" in the same way as salary. The personal pay additional salaries also support the option of adding a negative value if the person's pay is to be reduced.

Social costs
Social costs and holiday allowance are rarely changed at an individual level, but this is possible if necessary.
Employment rate
For part-time employees, this is where you specify the employment level as a percentage. 100% is generally the default in an agreement template, so if a person works half-time, Use agreement template needs to be unchecked and you then have to enter 50% by clicking on the percentage. You can also enter a from date and a different employment level that will come into effect in the future.  
Working Hours and Schedule Period
These are rarely changed in an individual agreement.
Balance period
Balance period is rarely changed in an individual agreement.
Change Agreements
A new agreement is required when a person changes type of employment. This is added under Staff, Agreement/Availability:
You add the new information first and then change the old agreement.
Add new agreement:
Give the agreement a name that can be identified easily.
Check main agreement (if it is to be a main agreement).
Select person.
Set start date.
Select agreement template.
Save.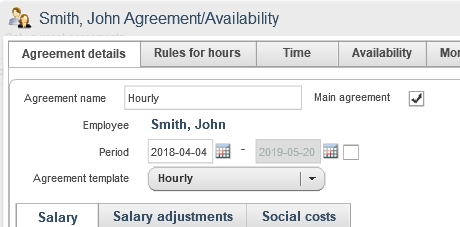 Change the old agreement:
Open the old agreement, the main agreement should now be unchecked.
Check end date.
Set end date.
Save.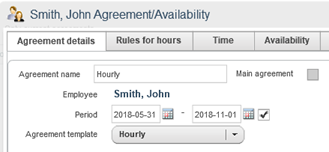 Hide tabs in individual agreements
Note that it is possible to control which tabs are to be displayed in the individual agreements by selecting Rights – if a local manager is not to be able to make any changes, for example. This right can be found under Settings → Rights → Admin Portal → Manager/Local manager/Section manager/District manager → Staff → Agreement/Accessibility → Agreement.
---
---