Settings - Units
This article relates to Classic.
Create Units
Go to Settings and Units to set up a unit. You can have as many units as you like, but only the ones with the Manager role can view multiple units if there is more than one. A district manager can view all the units included in a district.

Click Add.
General
Give the unit a name, the first unit should be a main unit. The settings in the main unit will then be the same for other subsequent units created. You can also select a district, manager and address for the unit. You can select how staff are to be sorted.
(Max capacity is used if you use the project module to limit the number of shifts that may occur simultaneously in the schedule so as not to exceed the capacity. Profiles are used in order to register unit profiles that can then be applied to units in the unit configuration.)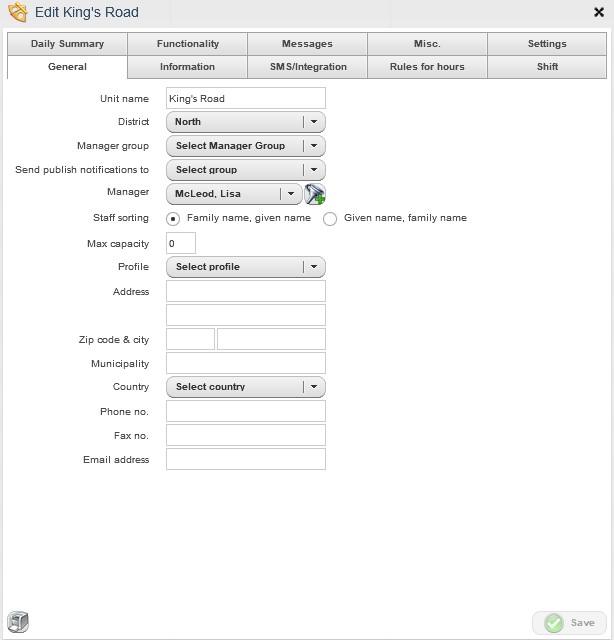 Information
If the unit is not a main unit, enter company information including company registration number. This is important in order to produce reports as personnel registers for the restaurant industry, for example.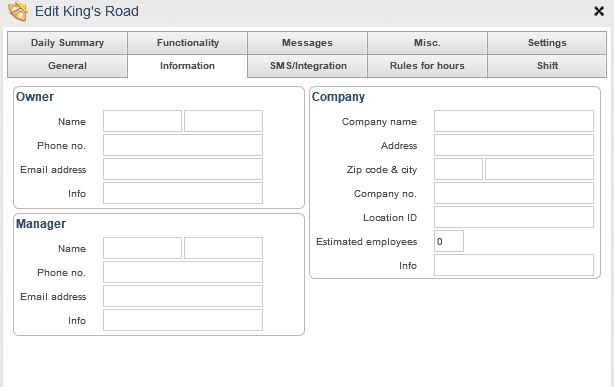 SMS/integration
This tab is used to control and adapt any integrations to other systems for recording times, for example. Your own SMS gateway is also set here, if SMS is included in your agreement.
This tab provides information about an API key that may continue to be needed if there are to be integrations with another system such as payroll or sales.
If there is to be an SMS service: Select - retrieve default settings for SMS- Link Mobility.
If clocking on via mobile is required, enter the longitude and latitude here. Define a clocking on/off radius in metres. When staff log in to the app for the first time, a key will appear in the employee card. You have to approve this.
Search for the location in Google Maps, then right-click and select what you find here. This will show you the latitude and longitude.
The latitude comes first and is followed by the longitude. Latitude is upwards (north/south), and longitude is sideways (east/west).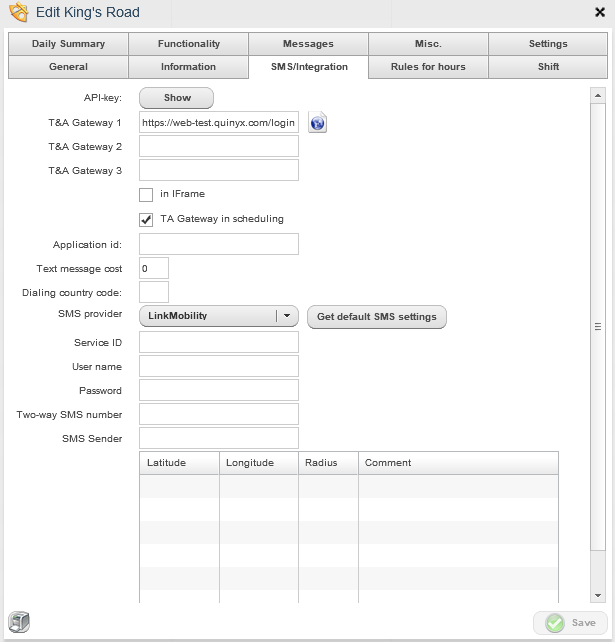 Time rules
Default time rules that are to apply when creating new agreement templates are entered here. You can also adjust the time rules per agreement and per individual.
In this tab, you can also set default rules for breaks during working hours, e.g. whether they are counted as worked hours or whether they are to be deducted, plus minimum and maximum break length. Although there is a max shift length that must not be exceeded before the first break must be scheduled.
You can also define here the minimum notice required for changes to the schedule, as some collective agreements have rules on this.
Daily rest controls the hours between which the system calculates min daily rest, min weekly rest, max hours per day and max hours per week.
Daily break in turn controls the break for calculation of nominal time, overtime and additional hours.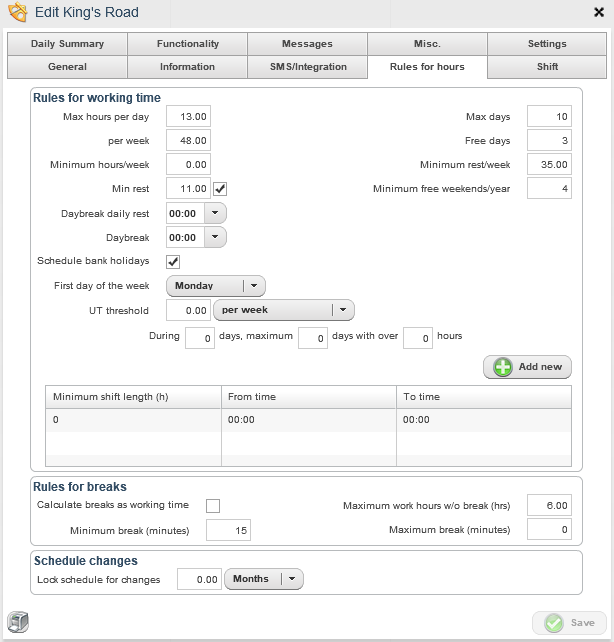 Shifts
In this tab, you select colours for different shift types. Check the colour from the shift type to view the colour selected for the shift type.
If you check Always used for free shifts, the default colour orange will appear for all free, unstaffed shifts. You can also select a default shift type. This means that if an employee clocks on without being scheduled, the selected default shift type will be selected instead of having a clocking on operation without a shift.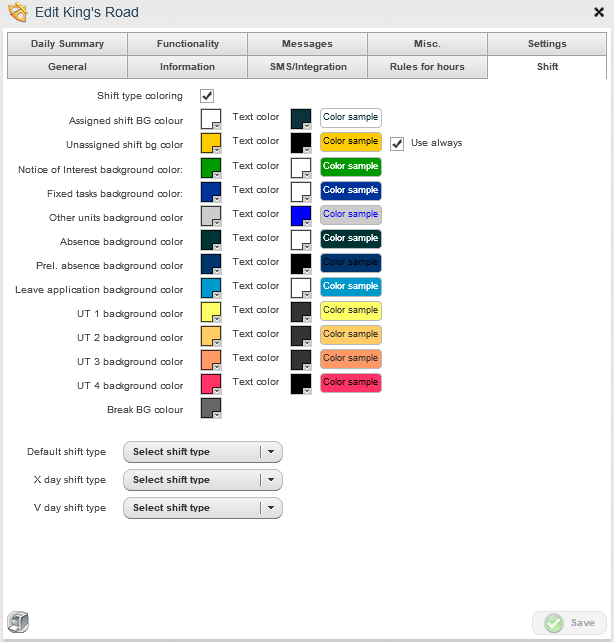 Daily summaries
In this tab, you can select the order in which you wish to view summaries of payroll costs, optimum staffing or forecast variables used to calculate optimum staffing if you use the Budget and Forecast modules.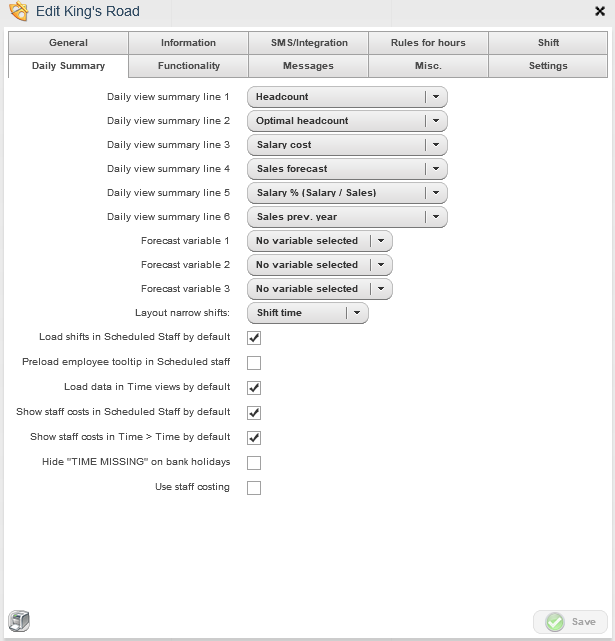 Layout, narrow shifts: Select which field is to be displayed for narrow shifts
Load shift in Scheduled staff by default:

Preload staff tooltip in Scheduled staff:

Load data in Time views by default:

Show salary costs in Scheduled staff by default:

Show salary costs in Time>Time by default:
Hide TIME MISSING on public holidays:

Salary costs

Functionality
Show NoI in weekly view: if you want to display expressions of interest in weekly view

Show NoI in daily view: if you want to display expressions of interest in the daily view.


Auto-approved shift bookings: if you want to permit shift bookings for staff, provided that all requirements for booking the shift are met.


Auto-approved shift changes: if you want to allow staff to change shifts when all requirements are met.


Select for changes: allow staff to choose who they want to swap shifts with.


Allow booking at other units: allows staff to book in with other units within the same group.


Show historical shifts: allows historical shifts to be displayed under My Schedule


Anonymous shifts: select whether the shifts displayed under "my schedule" are to be anonymous, or whether the names of staff are to be displayed.


Preselect home section: select whether the employee's administrator's section is to be preselected in the schedule screens – this means that only their own section is displayed by default.


Changes to leave: select whether it is to be possible to make changes to leave already approved.


Overlapping leave: select whether it is to be possible to have overlapping leave.  


Select manager at LA: select whether the employee's manager is to be selected automatically, or whether the employee is allowed to select a manager from a list.


Permit online clocking on/off: Check to permit online clocking on/off


Submodules: check for the submodules to be enabled for the unit. Permit online clocking on/off: select to permit online clocking on/off.


Delete NoI on shift booking: select whether expressions of interest are to be deleted when booking shifts.


Hide old shifts: select to hide employees' old shifts in the Employee Portal under My Schedule.


Show sim. shifts after publ. date: select whether simulated shifts are to be displayed in the Employee Portal for periods after the publication date of the schedule as well.


Show leave by default: select to show scheduled staff leave by default.


Print change form on shift change: select whether it is to be possible to print a change form when a shift is changed.


Submodules: Here, you can enable the Task submodules that are to be available for the unit


Use employment number: select whether employment numbers are to be visible in the employee card.


Permit rollout over shifts clocked on/off: Select whether to permit rolling out of fixed schedules over shifts with linked clocking operations.


Require PIN code for mobile app: Require the user to enter a PIN code every time they open the app. The user will be asked to create a PIN code when logging in for the first time.


Only permit clocking off within coordinates: Only permit clocking off if the employee is within the coordinate radius defined for the unit. If they leave the coordinate radius without clocking off, they will be clocked off automatically in accordance with the auto clock out settings for the agreement or agreement template.
Communications
Select which automatic message types are to be sent via QMail. The first four boxes applied to staff, and the three boxes at the bottom apply to managers.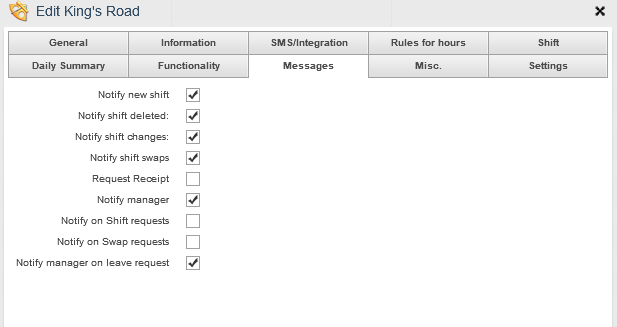 Misc.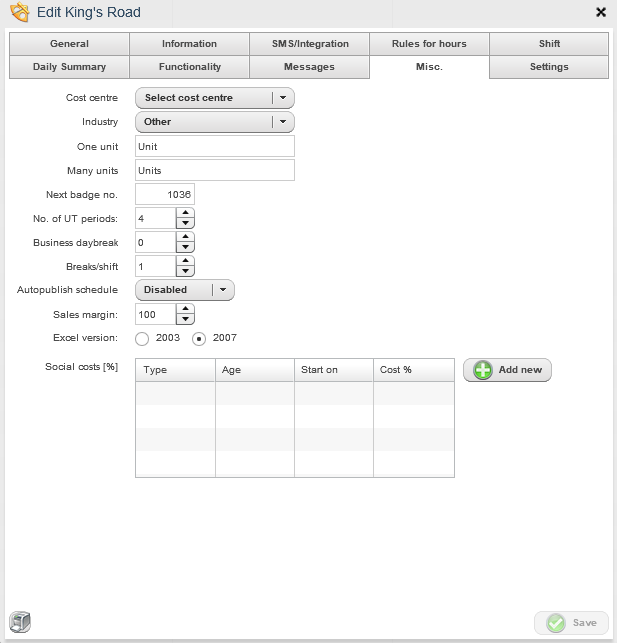 • Cost center: select a default cost center.
• One unit: select what a unit is to be called, e.g. "Unit", "Restaurant" or "Shop".
• Multiple units: select what multiple units are to be called, e.g. "Units", "Restaurants" or "Shops".
• Next employment no.: enter the next employment number for registration of staff, if Quinyx is to create new employment numbers on the basis of a series of numbers.
• Number of unsocial hours periods: select how many unsocial hours periods are to be used. It is possible to select up to 8 unsocial hours periods.
• Business daily break: select the hour from which the display is to begin in schedule view.
• Breaks/shift: select the maximum number of breaks per shift. Max 4.
• Autopublish schedule: select whether the schedule is to be published automatically, and at which frequency
• Sales margin: state the sales margin to be used when the forecast is compared with salary costs.
• Version of Excel: select which format is to be used when printing to Excel files.
• Payroll overheads: Add default settings in order to add payroll overheads to the salary costs.
Settings
Under the Settings tab, you can select the date format, first day of the week, time zone,  currency, minutes to auto logout, which time ranges are to be used when selecting times in drop-down lists, and whether to use the 24 or 12-hour clock. Show 30 days by default means that the monthly view of Time is displayed by default when the view is opened, instead of the weekly view.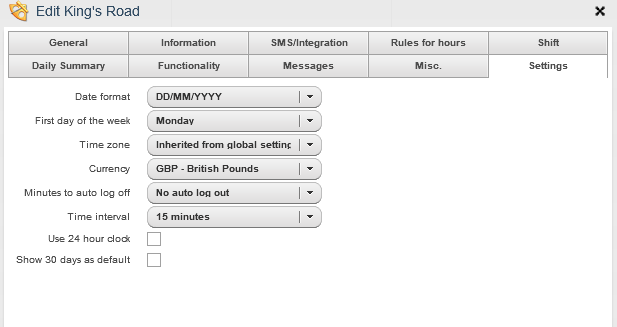 ---
---