Bank Holidays
Days with deviating rules for unsocial hours and/or overtime are set up under Bank holidays. These days will be marked in red in Quinyx.
Note that the bank holidays calendar must be updated every year.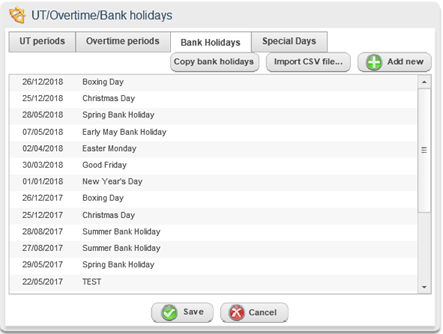 Add bank holidays
Days with deviating rules for unsocial hours and/or overtime are set up under bank holidays. You can also add special rules for the day before and the day after the public holiday in question, e.g. other unsocial hours payment from 18.00 on Maundy Thursday.
The rules for the bank holiday set up will replace the unsocial hours and overtime rules set up.  This means that it is not sufficient just to enter the deviating periods: unsocial hours rules and overtime rules for the entire 24-hour period from 00-00 must be entered for bank holidays as well. If anything is left blank, no Overtime or unsocial hours outcome will be generated for the day in question.
Click the Add button


Enter Date and Description (name of the day)
Enter unsocial hours and overtime periods to apply during the selected time range by clicking Add new
Enter when the unsocial hours and overtime periods are to apply on the public holiday


Enter if leave is to be created if there is no time punch


Reduction before bank holiday






This may be useful if staff are given a half day off the day BEFORE a bank holiday. You can choose to reduce nominal working hours as a percentage or as a number of hours.
Reduction public holiday


You must define how the bank holiday should  affect the nominal time for the calculation period. A 100% reduction of the nominal time on the day in question is the default. This is correct if this is an employee with nominal, agreed time per week with no bank holidays. In this case, the working hours must be reduced for the public holidays specified in the agreement. Note that this is dependent on the day of the week on which the bank holiday occurs: normally working hours are already reduced on Saturdays and Sundays, which is why a reduction should not be used when the bank holiday falls on a Saturday or Sunday.
For employees with an agreed/nominal time where this reduction has already been made to 38.25 hours/week, for example, or if there is any other way of resolving this, the nominal time must NOT be reduced and so the value should be changed to 0%.
Count scheduled hours between

Select  and det times if only certain times are to be counted against overtime and the unsocial hours limit.
Indicate whether the bank holiday can be scheduled two years in a row




Bank holiday rules
Specific public holiday rules for pay type outcome can be added for public holidays.


Select Add rule.

Example: Some collective agreements demand that if an employee is scheduled (according to a fixed schedule) to work on a bank holiday,  special remuneration must be paid. There is an option in the salary type rule dialog for the bank holiday that permits this. In this case, the salary type will be created for all hours clocked that overlap with shifts in fixed schedules that have at least one rolled out shift in the current schedule period.
Another example is when a different unsocial hours supplement is to be applied at certain times on the day before or after the bank holiday: In this case, you first select the unsocial hours supplement to be applied, and between which times. You then select "Pay for unsocial hours"


You can also use bank holiday rules to add an additional day off when someone works on a bank holiday.


It is also possible to configure a bank holiday pay type rule based on the employee's nominal hours. This functionality allows employees to be compensated on the basis of their nominal time. For example, if full-time is defined as 40h/week, an employee with an employment level of 50% (20h/week) will be compensated with 4 hours.


Salary type rules
You can add salary type rules in a bank holiday, in exactly the same way as for a shift type.


One difference between salary type rules for shifts and for bank holidays is that on bank holidays, the rules will also affect salary types that have been created from leave. There are a few things to keep in mind regarding leave:
The functions Generated hours and Punched hours will not work as both are intended for actual hours worked
The function Working hours under Quantity is called Punched hours in salary type rules for shifts. In bank holidays, it is called working hours as it also applies to leave


Not with other dates
Enter other dates that cannot be scheduled if they work on this public holiday.



For example, you may not want employees to have to work on both Easter and Christmas.
Copy bank holidays
The bank holiday calendar must be updated every year. This is easy to do by selecting the button Copy public holidays.



Select the year from which you want to copy, and which days. All rules that are already set up for every public holiday are copied across by default: the only thing you might need to do is correct the date itself, if the bank holiday falls on a different date the following year. Click on the Copy button to save.
It is important to remember to change reduction of working hours for the days that are changed from a weekday to a Saturday or Sunday, or vice versa. A public holiday which has 100% reduction of nominal hours and was on a Friday should have no reduction if it falls on a Saturday.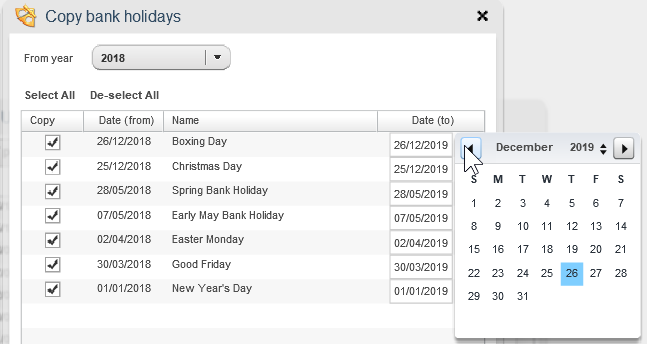 Grouping of bank holidays
It is possible to group bank holidays in Quinyx. This is useful if the organisation has different bank holidays in different districts or countries, for example.  The function "Unit groups" is used to set this up together with the new bank holiday settings option "Apply only to these unit groups".

Start by defining unit groups under Settings → Tables → Unit groups. Click the Add button, give the unit group a name and Save.
Which units belong to which group is defined under Settings → Tables → Unit group members. Click the Add button, select a unit group and select a unit to belong to the group, click Save. Repeat to add more units to the unit group.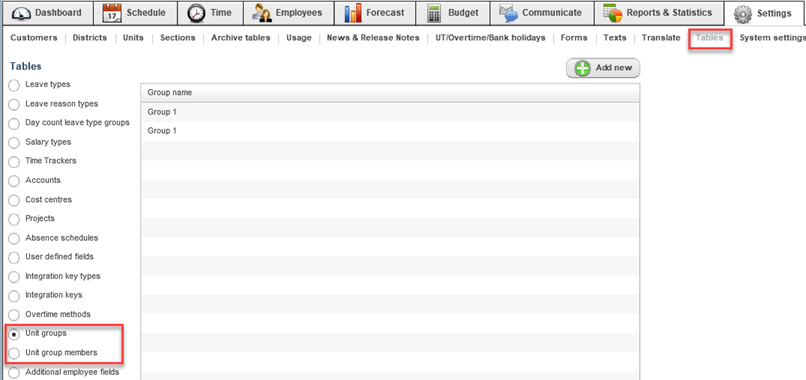 Then go to Time → Unsocial hours/Bank holidays → Bank holidays → Add (or edit existing). There is a checkbox named "Apply only to these unit groups". Check this – you can then select the unit groups which the public holiday belongs.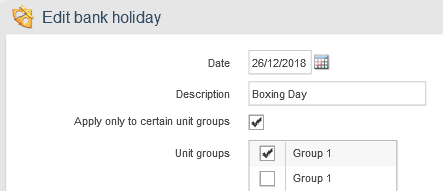 Note that the bank holiday rules are based on the employee's home unit. For example, if the employee has been lent to a unit in a unit group that does not have a defined bank holidays, Quinyx will look at the rules at the home unit.
---
---