How to open a new Service Request Form (SRF)
Any submitted Service Request Form (SRF) will be valid for 3 months starting from the date of submission. Starting from March 2023, a minimum of 4 hours will be invoiced for all types of service requests.
Introduction
When you need help with technical questions or when something isn't working as expected, the first instance is always to contact our Customer Support. A support ticket is to be registered in the New case tab. Requests sent to our Customer Support are always free of charge.
A Service Request Form (SRF) is registered when you, as a customer, require consultancy help from one of our Quinyx Application Specialists or Solution Architects. If your question requires more hands-on work, for instance, help with configuration, updates of payroll files, integrations, etc., you should fill in the Service Request Form. Service request work will be invoiced per hourly rate. A high-level estimate will be provided for you to approve in the final stage of submission.
An SRF can be initiated by a superuser/Quinyx support contact. This process is used by customers when the implementation phase is finished but you still need help with:
Training other than e-learning
Changing a payroll system
Setting up a new module (like Budget & Forecast)
Setting up SSO
Uploading data
Scrive
Integration support
SRF Process
How to register an SRF
If you're a superuser or Quinyx support contact, you can register an SRF in the Quinyx Support portal.
Select Service request from the navigation bar.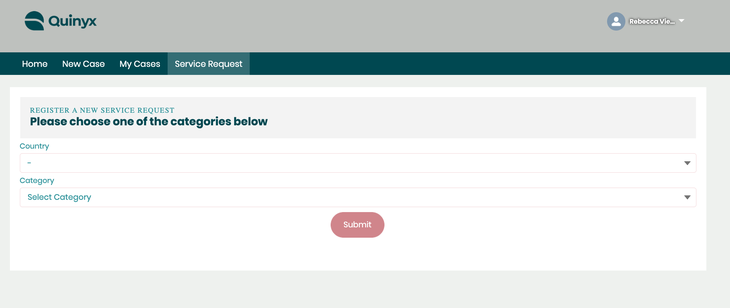 Select Country and enter your country.
Select Category and select the reason for the SRF.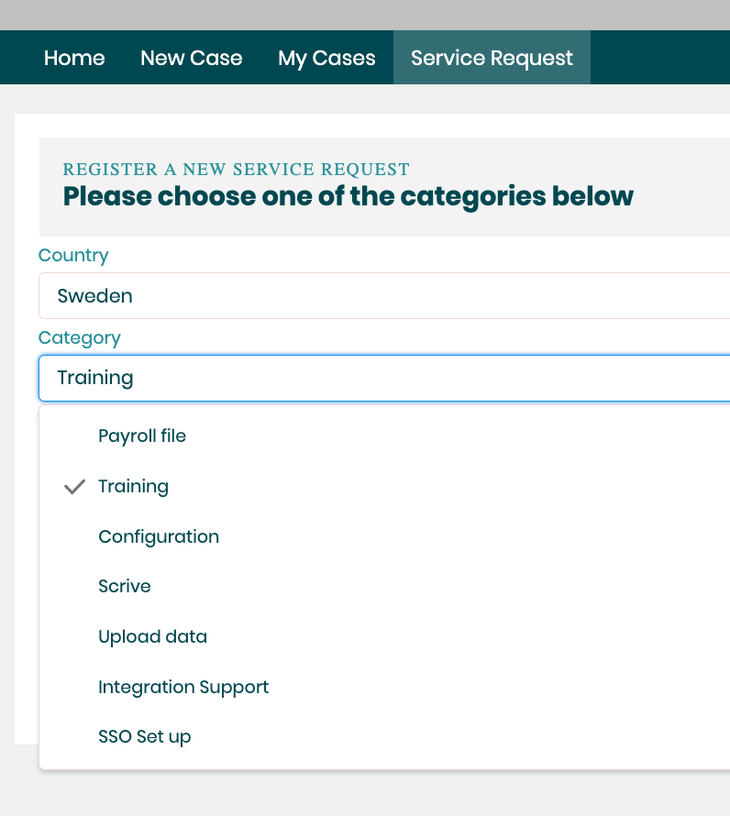 Then, add a more detailed description of your issue (type of assistance needed, workload estimate, etc.)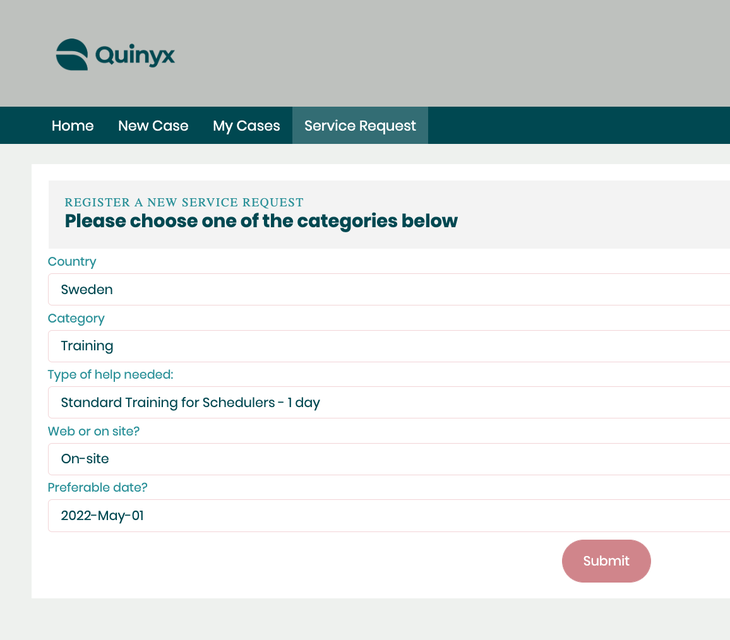 Enter any additional information you think is useful.

Workload estimate at top level
When you send an additional SRF, the following verbiage indicates that by accepting this, you agree to an "upper-level work order estimate" (the work order will be charged according to the actual work order).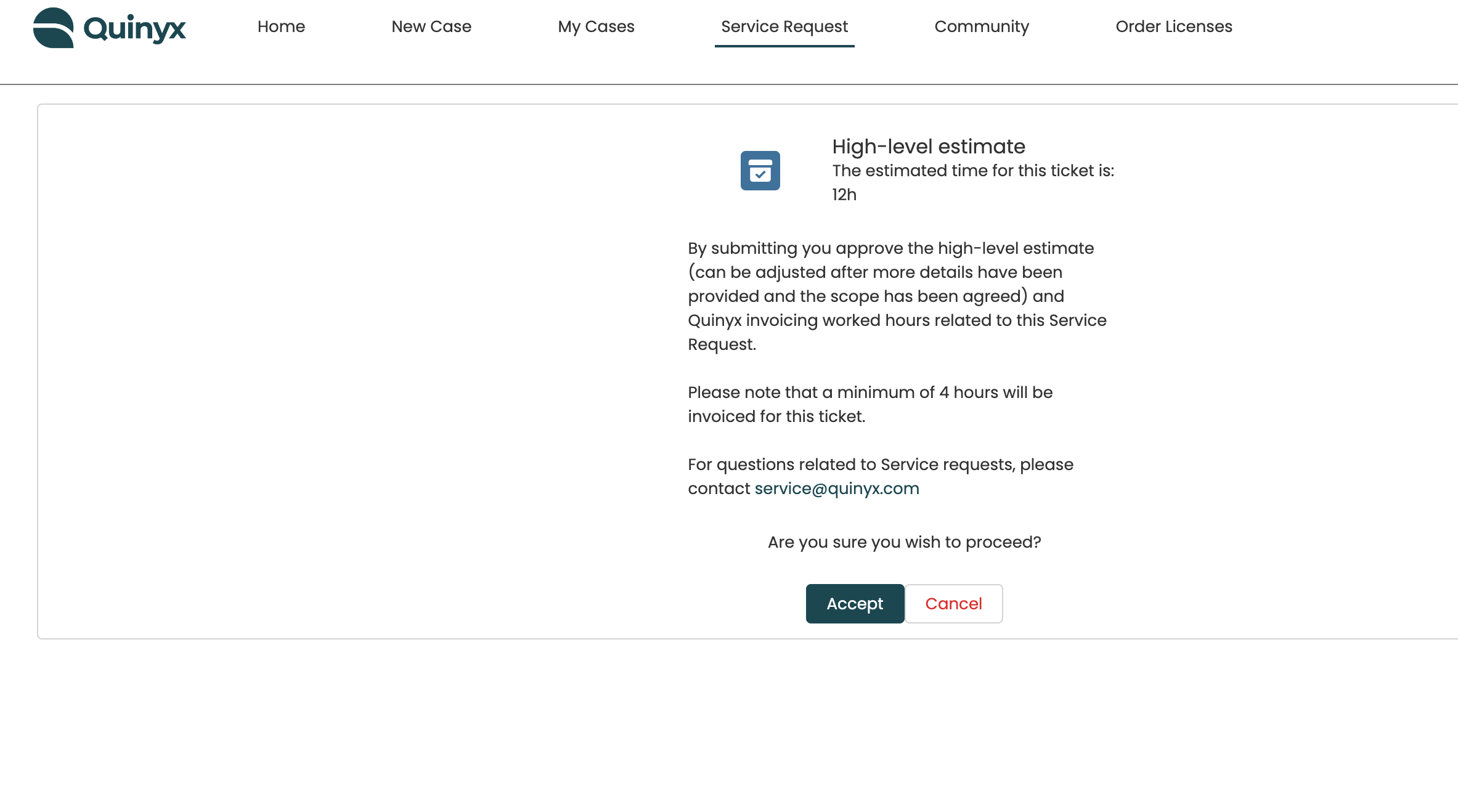 Starting March 2023, a minimum of 4 hours will be invoiced for all types of service requests.
Confirmation
Once the additional job request has been sent, you'll receive a confirmation email.
Dear XX,
Thank you for submitting a Service Request to Quinyx!
Quinyx will handle your request as soon as we can, please expect approximately up to 7 days before the response.
Please note, that the lead time for the request can be up to 1 month and payroll file development can take up to 3 months.
Thank you!
SRF price list
You can also find more information about prices in the Support Portal.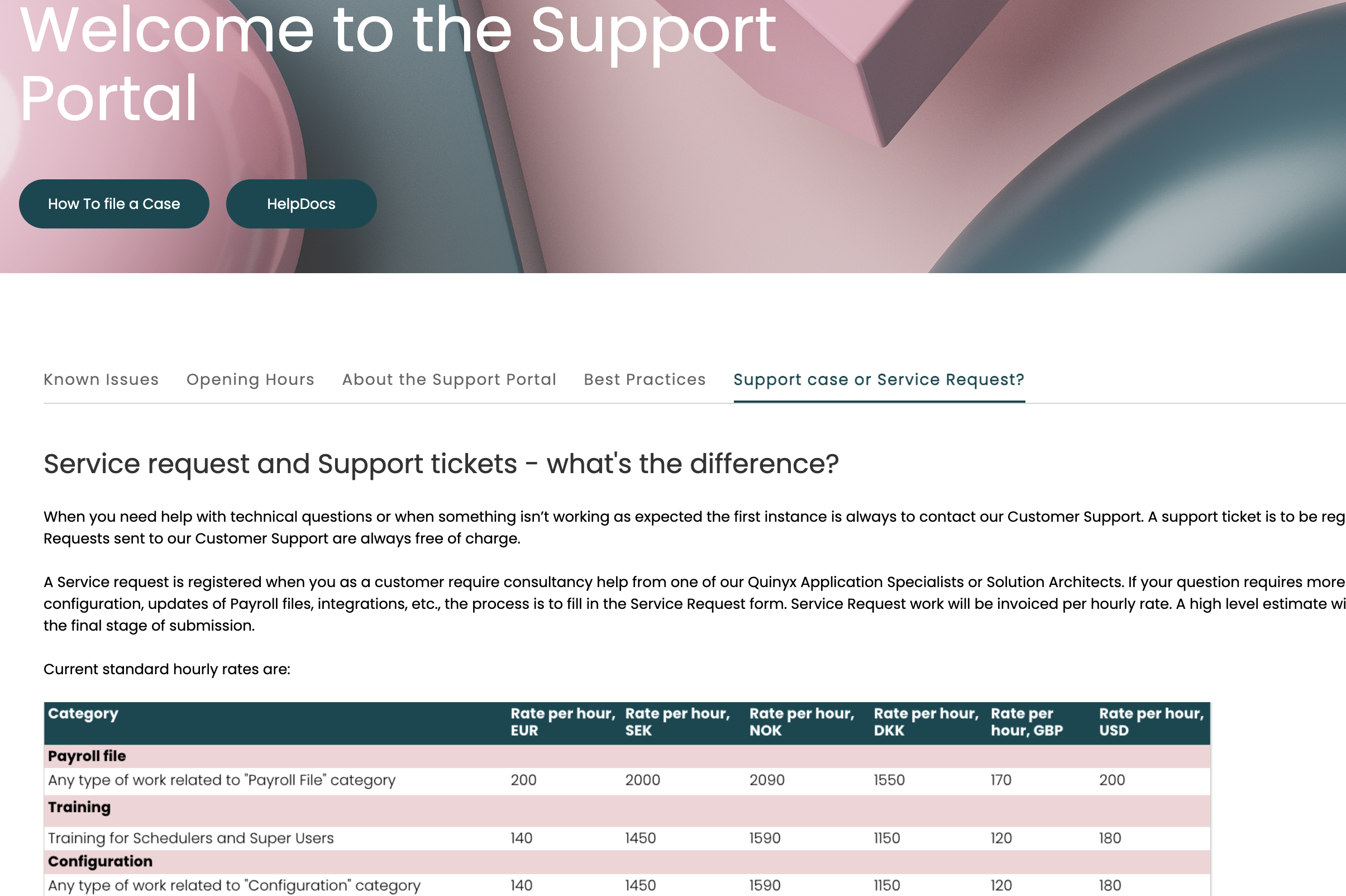 ---
---