Welcome to Quinyx!

Neo is our new web interface, available at web.quinyx.com. It's based on the same powerful core that you already rely on, but offers a faster and more user-friendly environment as well as new features. Don't worry! All your data is still there, e.g. employees, shifts, absences and Qmails. If you make a change to data in Classic it will be reflected in Neo and vice versa. However, it's important to note that Neo does include a few new concepts that you will need to familiarize yourself with - base schedules (which replaces fixed schedules and schedule templates from Classic), and a completely new and more flexible role management. Neo also features a completely new forecast module.
"Neo" means "new" in (ancient) Greek. We use this name for our new web interface so that we can differentiate it from our Classic interface and avoid confusion. Once Classic is completely phased out we won't need a special name for Neo anymore and it will simply be called "Quinyx" or "the web application".
Let's have a look at what Neo has to offer!
Why a new web interface?
We started building Classic already in 2007, and the technology it is built on will not be supported in modern browsers after 31 December 2020. But there more reasons why we needed to build something new:
Improve performance
Support for touch-based devices such as tablets
Improve usability
Upgrade to the latest web technologies to ensure forward-compatibility
Do I really have to move to Neo?
Yes. Classic is built on technology that will not be supported in modern browsers after 31 December 2020, so you need to make the move by then. This is unfortunately outside of Quinyx's control.
We want our users to have as much time as possible to become familiar with Neo before Classic becomes inaccessible. Therefore, to encourage them to start using Neo as early as possible, we have started turning off certain views in Classic during the year and directing them to the corresponding view in Neo instead. Read more about which views will be turned off and when, check Enabling transition by linking Classic views to Neo.
How do I make the move?
Luckily, we have plenty of resources to help you make the move on your own.
For super users only
| | |
| --- | --- |
| | As a super user, there are a few things you will need to do in order to get your organisation up and running with Neo. Start by following this guide in HelpDocs. |
| | As the end of Classic draws nearer, we are doing more and more to encourage users to move to Neo, including changing the login experience in Quinyx. Read more about this in this HelpDocs article. |
For super users and managers
| | |
| --- | --- |
| | We've gathered answers to all of the most common Neo questions right here. |
| | During 2020, we are also gradually disabling views in Classic and linking them to the corresponding view in Neo. Learn more about which views we are disabling in this HelpDocs article. |
| | Neo is constantly being improved, with a new release every second week. Are you wondering which features Neo has? Or are you missing a feature and wondering when it will come? Check out this HelpDocs article. |
| | While we offer a wealth of written help documentation, we know a lot of you prefer "learning by doing", so we offer both digital classroom training and live webinars. Check out this HelpDocs page to find and book a future scheduled session. There's no limit to how many you can attend! |
| | Can't find a live session that suits your schedule? No problem, you can find recorded trainings right here. |
| | Visual learner? No problem, check out our list of Neo video tutorials. |
For staff
Our feature-filled mobile app will continue working as usual during the transition, and we encourage all staff to use it. However, if you don't have a smartphone or prefer not to use our app, we offer a lightweight alternative to the Classic staff portal in Neo, just log in to web.quinyx.com. If you are a manager, you will automatically reach the manager portal when logging in to web.quinyx.com, but you can easily switch to the staff portal by clicking "Switch to staff portal" in the top-right profile menu.
Read up on the Neo staff portal here: Staff portal.
Give us feedback!
Neo is being continually improved, at a much faster pace than Classic ever has, and the foremost driving factor in its development is the feedback from our users. The most common improvement suggestions have the highest priority, so it's important to make your voice heard.
In Neo, there is a "Give us feedback" feature in the profile menu. When you send us feedback it goes straight to our Product team. Sometimes they might get back to you with follow-up questions.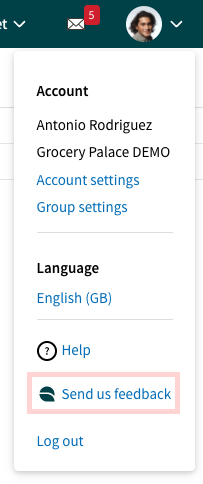 ---
---