Dashboard
The Dashboard is a handy tool that lets you easily access information about events, staffing, and scheduling. Depending on your selection in the group selector, it will display the relevant data for your district, unit, or section. The default widgets are:
Upcoming Events
Staffing
Scheduling (there is no title of this widget)
Upcoming Events
The Upcoming Events widget contains information regarding various events about to occur and is sorted on occurrence in time, with the events closest in time appearing first in the list. The following information is displayed in this widget:
Birthdays
Skill expiries
Agreement expiries
Shift bookings of unassigned shifts
Shift swap requests
Notices of interest
Absence requests
Assignment request for approving manager
Shift unassignment requests
Depending on your access rights, only items belonging to some of the above categories may be displayed.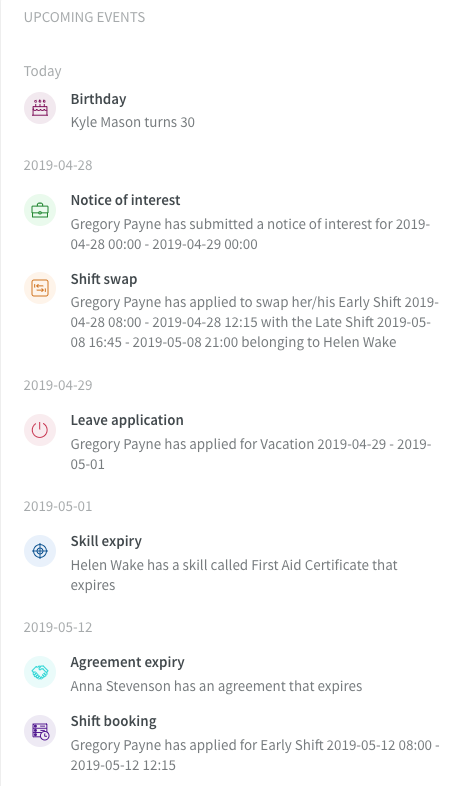 This widget displays items that are taking place in the upcoming four weeks (28 days).
Staffing
This widget is set to display data for the current day, week, or month. The widget contains a chart displaying scheduled hours in relation to worked hours. Selecting the daily view will show the amount of scheduled and punched hours grouped by hour of the day. Selecting the weekly or monthly view will show the same data but grouped by day of the week or month respectively.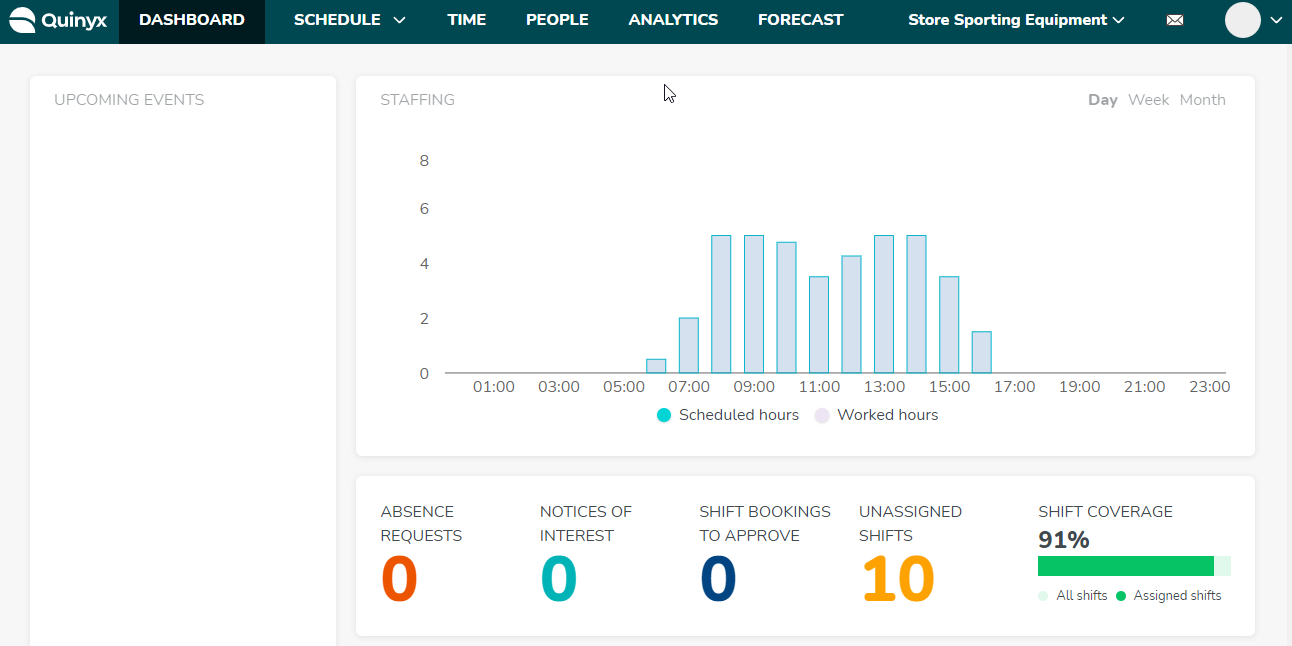 Hovering over a bar in the chart will display the number of scheduled vs. worked hours for that hour or day.

Scheduling
This widget contains scheduling-related information and fetches data for the coming four weeks (28 days).

In this widget, you can view:
Absence requests: The number of absence requests is counted for the coming 28 days.
Notices of interest: The number of notices of interest.
Shift bookings to approve: This is the number of shift bookings and not the number of shifts for which employees have applied. For instance, if there is one shift for which four employees have applied, this will be displayed as four shift bookings and not as one. Shift unassignment requests are not included in this count.
Unassigned shifts: The number of unassigned shifts.
Shift coverage: The shift coverage indicates what proportion of all shifts are currently unassigned. The formula used to calculate this percentage is: (Number of assigned shifts /(Number of assigned and unassigned shifts)) * 100.
Customizing widgets
In addition to the widgets Quinyx displays by default, you can display forecast-related widgets. To do this, go to Account settings > Variable settings and allow the various widgets in the Dashboard column.

Access Rights
Please read more about Access rights for more detailed information about what access rights are required to be able to view specific items on the dashboard.
---
---