Agreement templates - E-signing
E-signature is an add-on service. Employment agreements can be created, signed, and distributed digitally via Quinyx.
You can set up e-signing in Account settings > Agreements > Templates. The E-signing section of the agreement template is where you can configure signatories to sign an employment agreement. Click Add to add one more signatories on the agreement: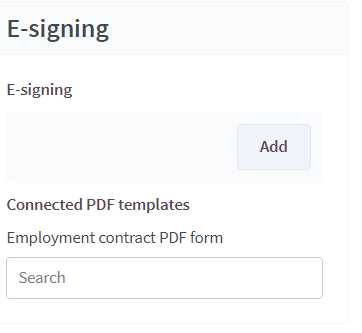 Add the signatories who will sign the agreement. Tick the Signatory checkbox if the employee is required to sign the agreement. Any people added but not ticked as signatories are informed of the contract but not required to sign it.
Selectable positions are:
Employee: Employee connected to the chosen agreement.
Logged in manager: Manager currently in active session.
Legal guardian: Field from employee card. Must be specified if chosen.
Unit manager: Manager set on unit card.
Specified e-mail: Any email address, and it does not have to be unique.
District manager: Manager of the district for which the employee works.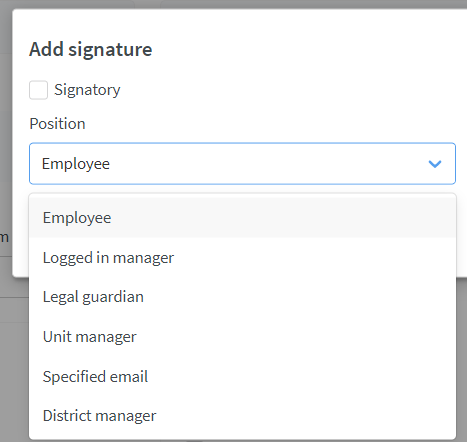 You can select as many signatories as you want, and you can also add email addresses for, say, a future employee or others outside of your organization.
Once you have finished setting up the signatories on the agreement, a green check mark will display beside the positions designated to sign.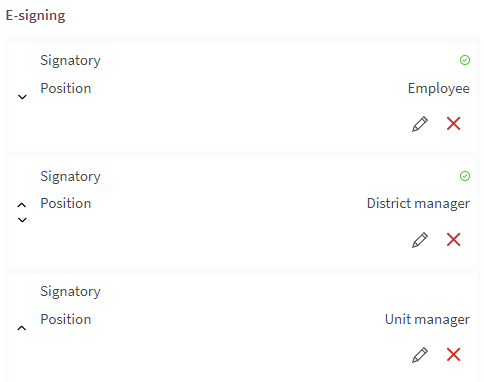 You can associate one or more employment contract forms, which must be in PDF format, to the agreement template.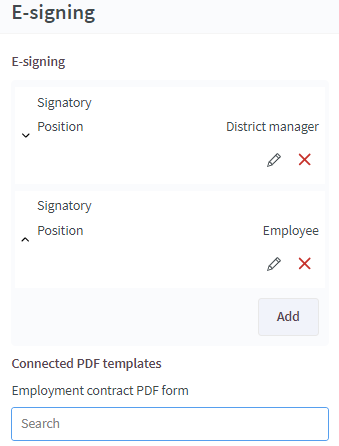 Refer to
E-signing
for more information about how to set up e-signing for individual employees.
---
---